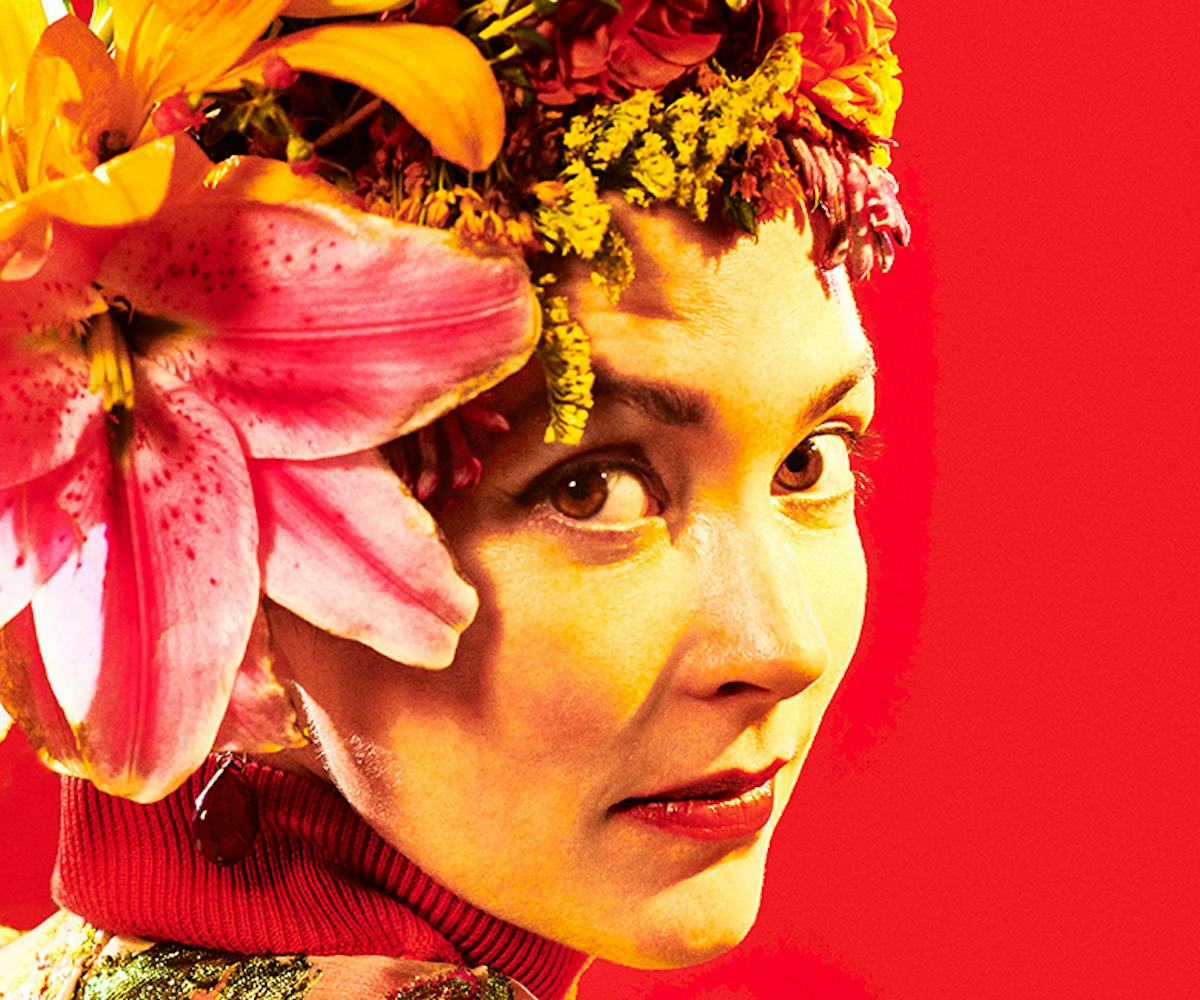 Photo by Elizaveta Porodina
Amanda Shires On The Plane Catastrophe That Inspired One Of Her New Songs
Her album 'To the Sunset' is out today
Less than a minute into "Parking Lot Pirouette," the opening track of Amanda Shires' To The Sunset, she allows her voice to move from a quiver to a wail. Her simmering, Nanci Griffith by way of Elliot Smith timbre, bubbles over into something bigger, fuller, louder, as she regards the constellations in the night sky. They're everywhere, they're everywhere, they're everywhere. It is as good an opening minute to an album as I can recall. There is specificity, and detail, and after that, there's rock and roll.
"I wasn't born with Aretha Franklin's voice," she tells me over the phone. "A lot of things changed for me along the way, in the process of making records as I went from West Cross Timbers [Shires' sophomore 2009 release] to now. Finding more confidence and accepting myself and finding more gratitude in my life, I think, that's helped, made me feel more secure and that it's okay to sing the way I sing and holler if I need to."
Of those things that have changed along the way, chief among them was the starting of a family. She married songwriter Jason Isbell in 2013, and their first child, Mercy, came in 2015. Isbell's own career began to skyrocket around this time too, his 2013 album Southeastern a critical and commercial hit, leading to Shires being handed the title of the First Lady of Americana. And like, cool! But also, it reveals a perception in people that Shires was still the supporting act. A session violin player for country legends like Billy Joe Shaver and The Texas Playboys turned solo artist.
This album, then, feels like the platform on which she is running and, unsurprisingly, her violin still forms a key part of the sound. "I learned it at an early age, it was there when I was 10, then 12 then 15, it was the way I could find expressions with my feelings, at that age not having the vocabulary or even the insight to why I feel a certain way. Music and violin were that for me. I can't imagine my life not playing it."
Here, helped by country's producer du jour Dave Cobb, the man behind the controls for all of Isbell's recent records, plus more mainstream country artists like Chris Stapleton and the Zac Brown Band, it serves a different function. No longer even immediately recognizable as a violin, Shires plugs it in, and fucks it up, and creates this beautiful, beguiling, fluid sound that acts as a backdrop for the songs, not sounding like anyone but herself. "I was talking to Dave and saying I would really like it not to take the back seat, because it's very much a part of what makes me happy, and he said, 'Well, I've got some ideas.' And I said, 'Let's try em out!' It was a really good moment to be able to go forward and take my violin with me, and not have to abandon it in whatever, just because of the sound the record was shaping up to be."
A key moment in Shires' life happened when she was on the road with Shaver, before she'd moved to Nashville to, in her words, "embark on her dream of being a waitress." In the tour van, she played him some of her own songs, and he said, "You're a great songwriter, and you could be a really great songwriter." What's clear is that Shires has worked on adding that "really" into that description. She's thought about her craft, she's changed her life to facilitate her improving, she undertook a creative writing master's at Sewanee University, something she gives huge credit to in terms of helping her writing.
With "Break Out The Champagne," the album gives us another statement of intent. It's a song about going down swinging, told in three moments—being told the apocalypse is coming in the bathroom of a club, finding out an engine has failed when you're 35,000 feet in the air, and at the end of a relationship. Once again, there's detail and specificity here, told very economically, but also with a wry, Warren Zevon-esque sense of humor that underpins Shires' whole personality. Listening to it, it's amazing to think that the middle verse actually did happen to her, on a flight between Dulles and London. "In the middle of that, it felt like such a lonely place to be, and I just thought, Man, next time I should turn it into a party. Go out in glory." Talking about how she's able to translate difficult moments into song, she describes almost playing a trick on herself: "I rewrote the experience, so I almost believe that's how it happened now. A little bit of humor can make it easier." So now, instead of a memory about a silent plane cabin drenched in uncertainty, landing in an abandoned airfield in Maine, she's able to sing, Let's get on with the shitshow! as the world crashes down around her.
There is a moment, halfway through our chat, where I tell Shires about a heritage BBC radio show called Desert Island Discs. If you are a guest on Desert Island Discs, your task is to pick seven songs that you would take to a desert island with you. Seven songs that define your life. "Seven!? Just seven!?" she says. Just seven, yes. She rattles off Leonard Cohen, a songwriting hero, and specifically "Bird on a Wire." Tom Petty's "It's Good To Be King." Neutral Milk Hotel's "Holland 1945." Whenever I think that portion of the conversation is over, another person pops up: "Ryan Adams too!" "Oh, we can't leave out my all-time hero, Gillian Welch!" "Life wouldn't be very great if we didn't have Paul Simon's songs, y'know?" She then briefly started singing Counting Crows' "Miller's Angels." It was great. So much music is in Shires' head at once, and so much of it comes out on this record, and you feel will come on on subsequent records. She has spent enough time listening, and playing, and studying, and now she is front and center. Long may she continue there.