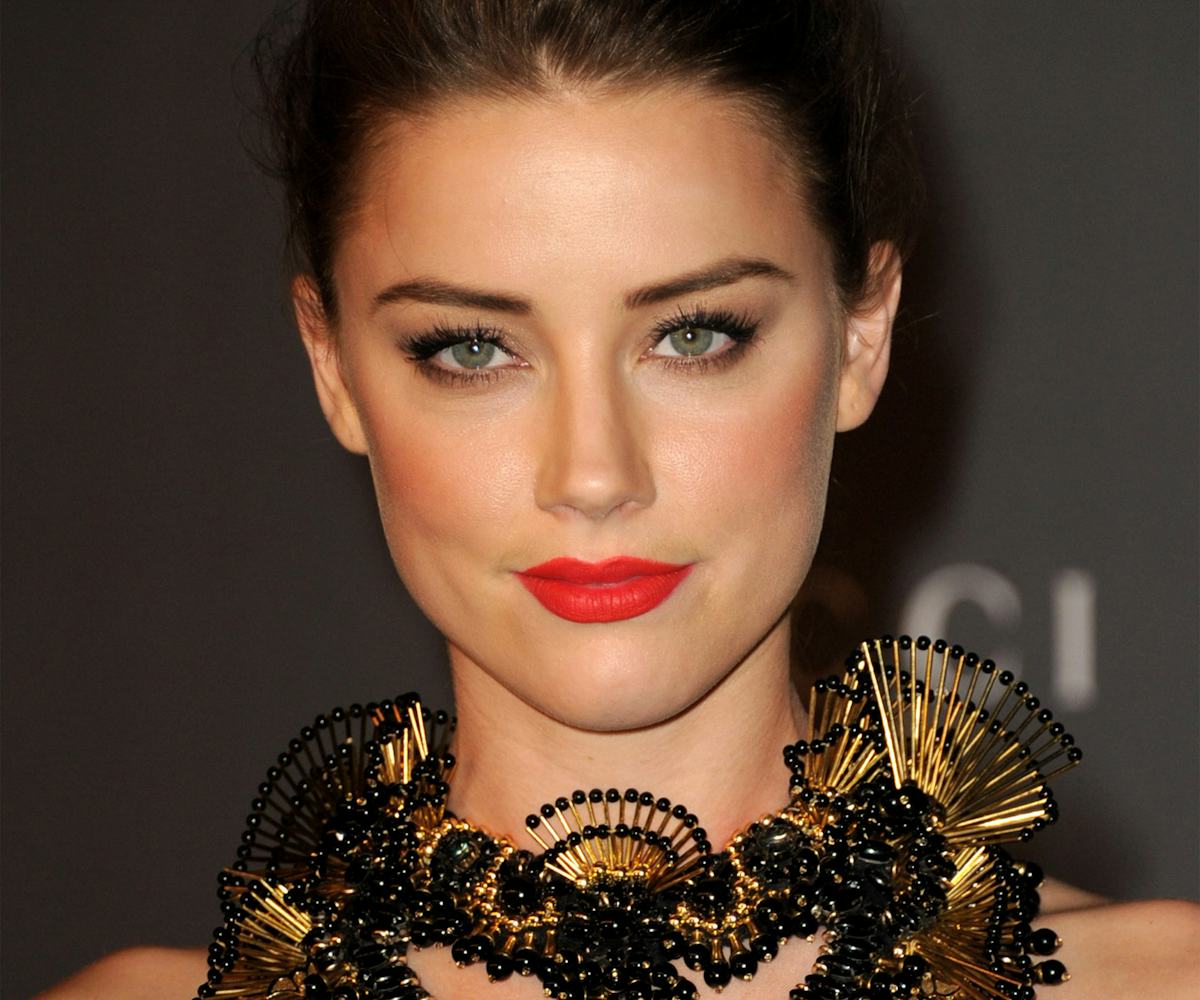 Photo by Getty Images
beauty queen: amber heard
why matching your lipstick to your blush is kind of genius.
When I first saw Amber Heard at this weekend's LACMA gala presented by Gucci, I thought, "Yup, there you go red lipstick, doing what you do best and making people look awesome."
But then I realized there was something more to it; we all wear red lipstick all the time and, sure, it can take us from I'm-so-tired to I'm-a-babe, but it doesn't make us look...dazzling. (Yes, I used the word dazzling. Wearing that necklace-dress hybrid will also elevate you to dazzling heights.)
Here's what it is: The actress matches her blush to her lipstick. So simple, so subtle, and yet, suddenly it goes from a perfect lipstick color to a perfect beauty look. What makes it even better is that for those of us who don't have makeup artists doing us up before big events,it can be tough to know just what products to pair together; if it's as simple as looking for a similar hue and taking it from there, we can all become pros, even if it's just in the confines of our shoebox apartments. And even better is that you don't have to be a red lipstick aficionado to rock the look; whether it's caramel hues or fuchsias that are your go-to, there's a blush to wear with it.
We'll have our full list of picks another time, but for now, here's how to get Heard's look:
BRIGHTEN IT: Crest 3D White Whitestrips 5 Minute Touch-Ups - $34.79
If you're going bold with your lipstick, might as well make those pearly whites look extra pearly.
LIP IT: Maybelline ColorSensationsl Vivids Lipcolor in Neon Red - $7.49
The perfect bright--not sheer--red with just a hint of orange. Oh, and it's under $8, so score!
BLUSH IT: Nars Blush in Exhibit A - $29
Don't let the bright hue scare you--just dab a bit on a blush brush, tap off the excess powder, and