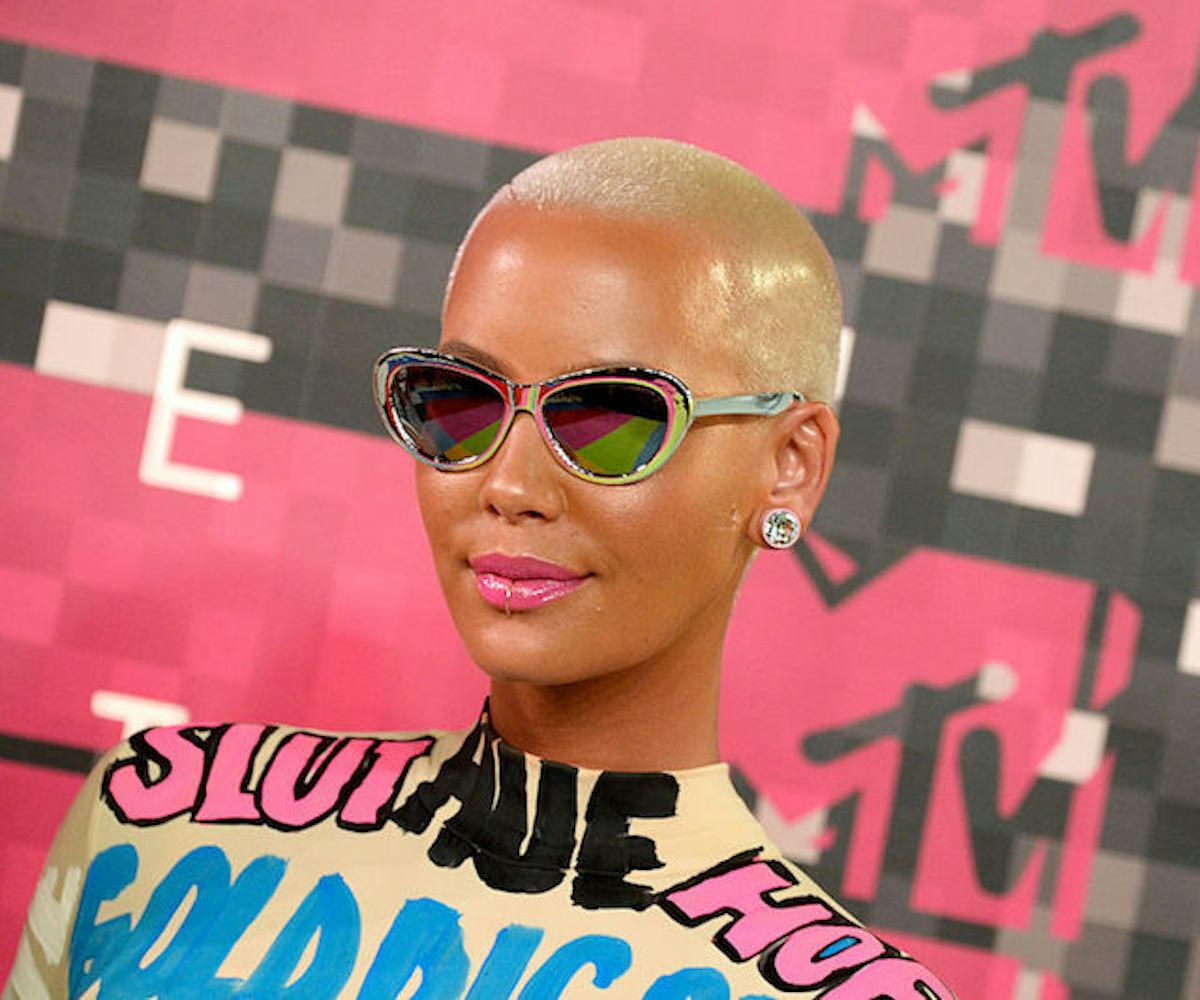 Frazer Harrison/Getty Images
Amber Rose Comes To Ex Kanye West's Defense Amid Taylor Swift Feud
As if the Taylor Swift/Kim Kardashian/Kanye West "Famous" feud couldn't get anymore heated, yet another subject is weighing in on the topic: Yeezy's ex Amber Rose. In a preview video for the upcoming episode of The Amber Rose Show, the reality star and TV host came to the rapper's defense regarding the ongoing controversy, PopSugar reports.
Swift may have her squad coming to her rescue amid her "character assassination," but West has a lethal defense team on his side, too.
At first, Amber Rose treads lightly by coming to her ex's defense regarding his 2009 VMAs backlash, which painted him as a villain. "I'm not the biggest fan of Kanye," she says in the video. "But I will say this. I was next to him at the VMAs that year and I remember the repercussions after that and I remember Taylor's mother and father coming up to us and saying, 'One day, Kanye, you're gonna have a daughter and someone's gonna do that to you.'" 
The former music video star then went on to make a point that back then, West only wanted to give Beyoncé her dues, and not necessarily take away Swift's moment for winning the Video of the Year award.
"And he was so remorseful," she continues. "I mean, he really felt so bad because it wasn't about Taylor. It was about Beyoncé and her video. We all know that Beyoncé should've won that, it's no shade. He didn't want to interrupt her moment, it really wasn't about Taylor. He didn't even know who she was at the time."
And because the rapper has been suffering the consequences for that incident seven years ago, Amber Rose claims he never wanted to deal with another similar controversy again—which brings us to the now-infamously Snapchatted call to the 1989 singer regarding the "Famous" lyrics.
"He really went though a lot of bullshit, and I know that Kanye would never, ever go through that again by not calling Taylor and saying, 'Heads up, I'm about to kinda go write this verse real quick. Just wanna make sure you're cool with it.' I know that about Kanye," she explains in the video.
But wait! Despite siding with Kanye and his wife Kim—who's made it her mission to clear her husband's name—Amber Rose wasn't just going to let the fact that she wasn't consulted on the "Famous" video slide. 
The mom of one ended the segment by addressing the use of her likeness in "Famous," and questioned Kanye directly for why she wasn't called about her look-alike figure being portrayed.
"So, I say all of that to say, why didn't I get a phone call for using a naked wax figure in your video Kanye?" she asks. "I mean, Taylor gets a call but I don't get a call. So please stay the fuck out of the news so I don't need to talk about your ass anymore."
Ouch! If this is a telling sign, it looks like this feud will continue to unfold on social media for a while.