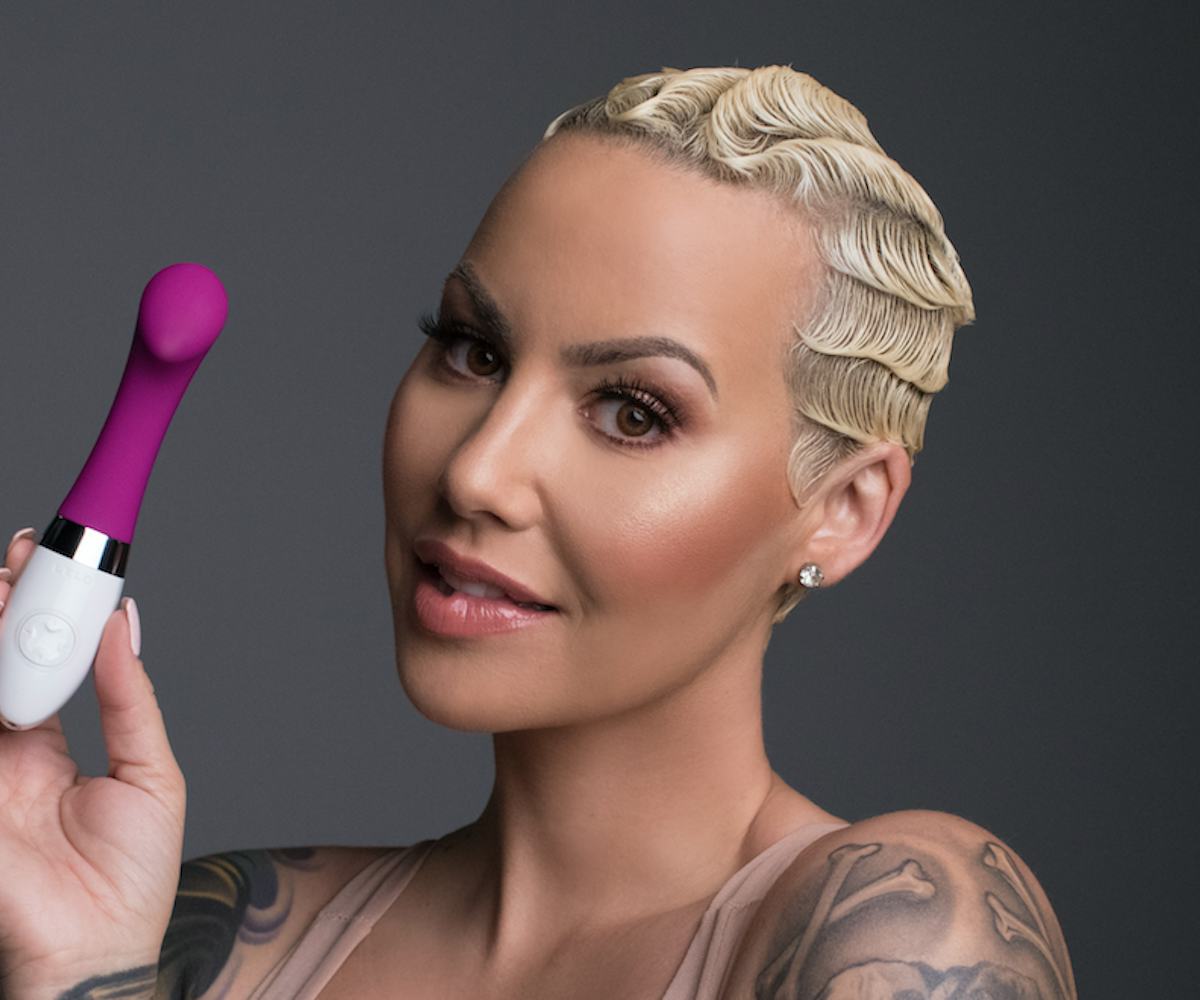 photo courtesy of amber rose/lelo
Amber Rose Wants You To Have An Exciting Sex Life
That's why she teamed up with LELO for her own line of sex toys
Valentine's Day may be in our rearview mirror, but that doesn't mean you can't practice self-love all year round. And Amber Rose wants to help you get there.
The sex-positive feminist has teamed up with Swedish intimate lifestyle company LELO for her own line of sex toys. She's doing it to help destigmatize masturbation, help women become more comfortable in exploring their bodies, and, ultimately, make sex more enjoyable for all—with or without a partner. 
Prior to this collaboration, Rose, who has always been one of the loudest voices educating the masses on how to practice and enjoy safe sex, hadn't had an extensive amount experience in the world of sex toys. In fact, in 2016, she admitted that she's never tried one. But, she says, that all changed once she gave LELO a go.
"I'll be honest, I was never really a fan of sex toys before," she tells me over the phone. "Then once I tried LELO's products, I was absolutely obsessed. It [the partnership] just worked out because, you know, I felt like I was kind of missing that for so long and I wanted to give this to my fans. I'm a big advocate for safe sex and masturbation in general, so I just wanted to provide some amazing products for people and their bodies." 
Ahead, we talked to Rose about porn, her favorite toy from her collection, and how sex toy newbies can feel empowered with her line.
You're one of the most prominent advocates for sex positivity and educating all genders on safe and consensual sex. How do these toys play a part in that conversation?
Masturbation is not only a safer sex, it's also a way to get to know your body and explore your body and understand that it's not taboo. You don't really need anybody else to help you with that. And then, also, introducing the sex toys into your relationship with your partner, having that conversation not in a forceful way but in a healthy and safe way. Because a lot of guys don't realize that, as women, we don't orgasm every time we have sex. So, to have a little extra pleasure to help us out in that department doesn't hurt—and it doesn't mean that the guy isn't good enough, it's just, you know, it's an extra little fun for us—and we deserve that. I encourage women to speak out and make it about them for once. 
How would you advise people who've never owned a sex toy on where to start?
I would say porn would help a lot. I've been working with Dr. Chris Donaghue who, on my podcast, has taught me a lot. He said, "You should try some different porn, 'cause you never know if it's gonna turn you on or not." So there's a lot of porn that does have girls who masturbate, and they do it in different ways. And, you know, it could be fun! You could be in your room, and you just try a bunch of different things that you didn't necessarily know about, and find out what works for you. You can try something that you didn't think would feel good, and it feels really good, and you're just like, Wow. What have I been missing for so long?  
How was your experience using toys for the first time? Were you afraid?
I'm not really afraid of anything. I'm kind of like the girl that's like, I'm cool with just trying and just figuring it out. I just tried a whole bunch of different ones, and that became what worked for me. 
Which one from your collection was your favorite to use?
Well, I haven't tried the Tiani yet, because I've been in recovery. Tiani's the one for couples. That's the only one I didn't try, but all the other ones I love equally. But I got all my girlfriends to try the Tiani, and they're absolutely obsessed. Since I was in bed recovering, I was like, "You guys need to go do some research for me." 
What do you hope people can take away from these toys?
I would say to just feel excited about sex. Sometimes you're in a relationship, and the sex becomes very repetitive and boring, and introducing these products into your relationship can be really fun, something to look forward to at the end of the day, or in the morning—whatever you're into. Then, also, trying it out by yourself is also pretty cool. You know, after work, you have something in your drawer waiting for you, so you can have a little fun when you get home. 
You can shop the collection, here, and click through the gallery to see all the products in Rose's line, below.
LELO x Amber Rose, GIGI, $139, available at LELO.
LELO x Amber Rose, INA, $199, available at LELO.
LELO x Amber Rose, LOKI WAVE, $219, available at LELO.
LELO x Amber Rose, ORA 2, $189, available at LELO.
LELO x Amber Rose, SONA CRUISE, $69, available at LELO.
LELO x Amber Rose, TIANI 2, $159, available at LELO.
LELO x Amber Rose, TOR, $139, available at LELO.