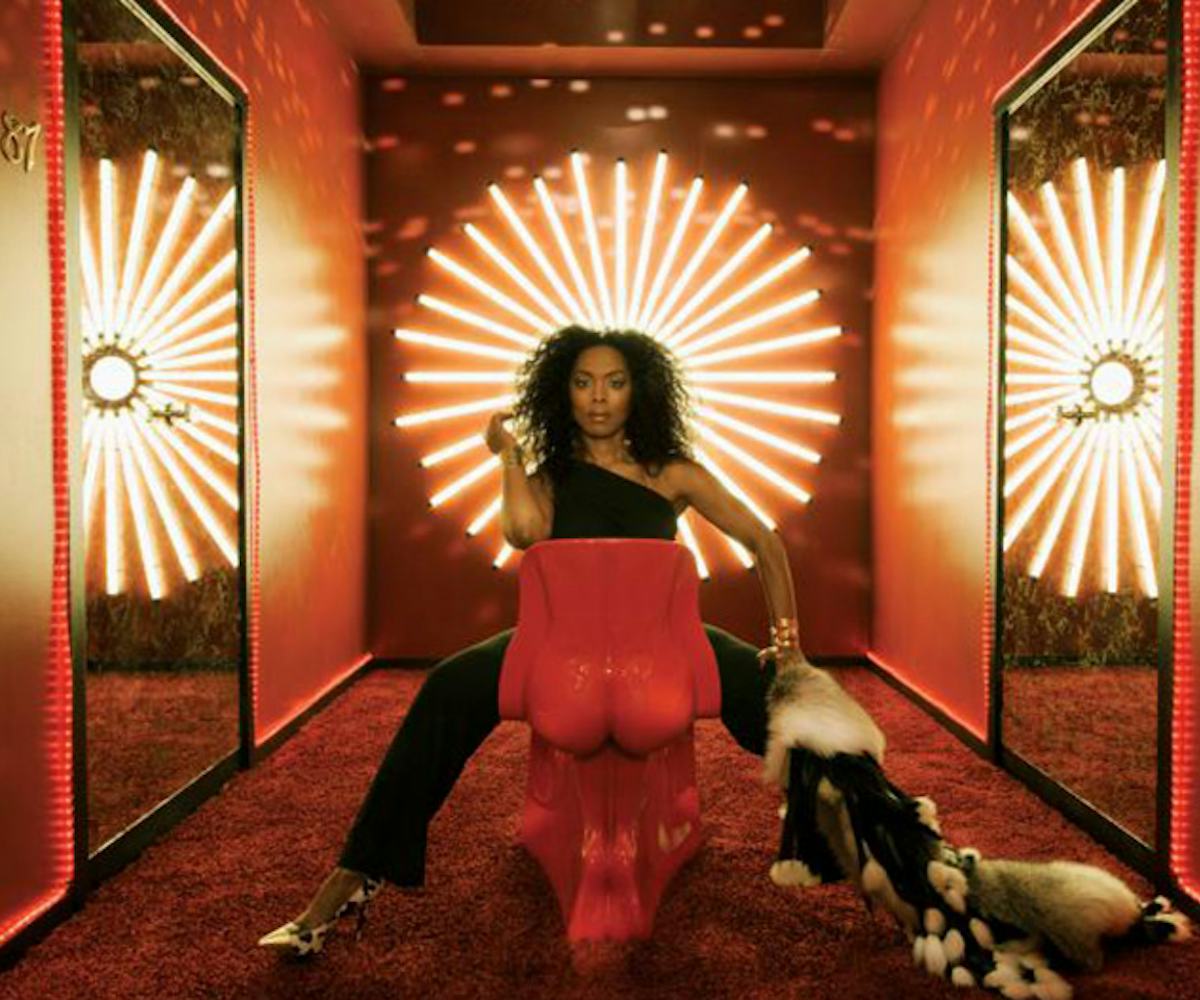 Photo: Frank Ockenfels/FX.
What Tricks The 'AHS: Hotel' Beauty Team Swears By
tips from some of television's best.
Monte C Haught and Eryn Krueger Mekash know a thing or two about the do's and don'ts of hair and makeup. This duo helps get the actors and actresses of American Horror Story camera ready as the Hair Department Head and Makeup Department Head, respectively. We got the details on their tips on the latest trends, thoughts on hair/makeup fads, and styling tips.
Monte C Haught, Hair Department Head, American Horror Story
What current hair trend is your favorite?
Exposed bobby pins. This is such a fabulous trend. bobby pins originally were exposed all the time in the 20s and then all of a sudden they were supposed to be hidden. Try it! You won't be disappointed.
What advice would you give to someone that wants to make a big change with their hair?
I would ask them to reexamine why they want this change. Are you bored? Emotional? Is it situational? Truly examine why it will affect your life. Do it for the right reasons!
What is your go-to product for combating frizz/building volume/taming curls/etc.?
HASK's Keratin Protein Collection. Specifically, the Keratin Smoothing Shine Oil, which works to revive and strengthen frizzy locks!
What is your best advice for dealing with color-treated or damaged hair for those that love to change up their hair a lot?
MAYO! Not fat free, the real deal. Put mayo on your hair and put a shower cap over your head—then go sit in the sun or a sauna.
What's your most unique advice for styling hair?
I style for characters and a distinct storyline. I swear by HASK Exotic Oils! They help me create "slicked back looks." You can use them in everyday life, too. If you're going to go swimming, apply your favorite HASK Oil, put on a swimming cap on, and take it off to reveal deliciously smelling locks that are conditioned and were not affected by harsh chlorine!
Photo: Frank Ockenfels/FX.
Eryn Krueger Mekash, Makeup Department Head, American Horror Story
What's your go-to beauty product to have on set?
I am a huge fan of Colorescience Mineral Corrector Palette. It's my favorite and works on everyone!
What's your advice for flawless makeup?
Flawless makeup includes a nice blush on the apples of the cheeks and a bit of highlight on top of the cheekbones.
What do you really think about contouring?
Contouring is for makeup hobbyists. The only person who did contouring correctly and with purpose is the late, great Kevin Aucoin and he did it for photographs. It's not meant for amateurs or everyday wear.
What's your favorite part of being the Makeup Head of AHS?
My favorite part of being a makeup artist is creating characters to tell the story. Doing makeups from past times and making them as realistic as possible is very fulfilling.
If you had to pick your #1 piece of advice, what would it be?
Wash your face!