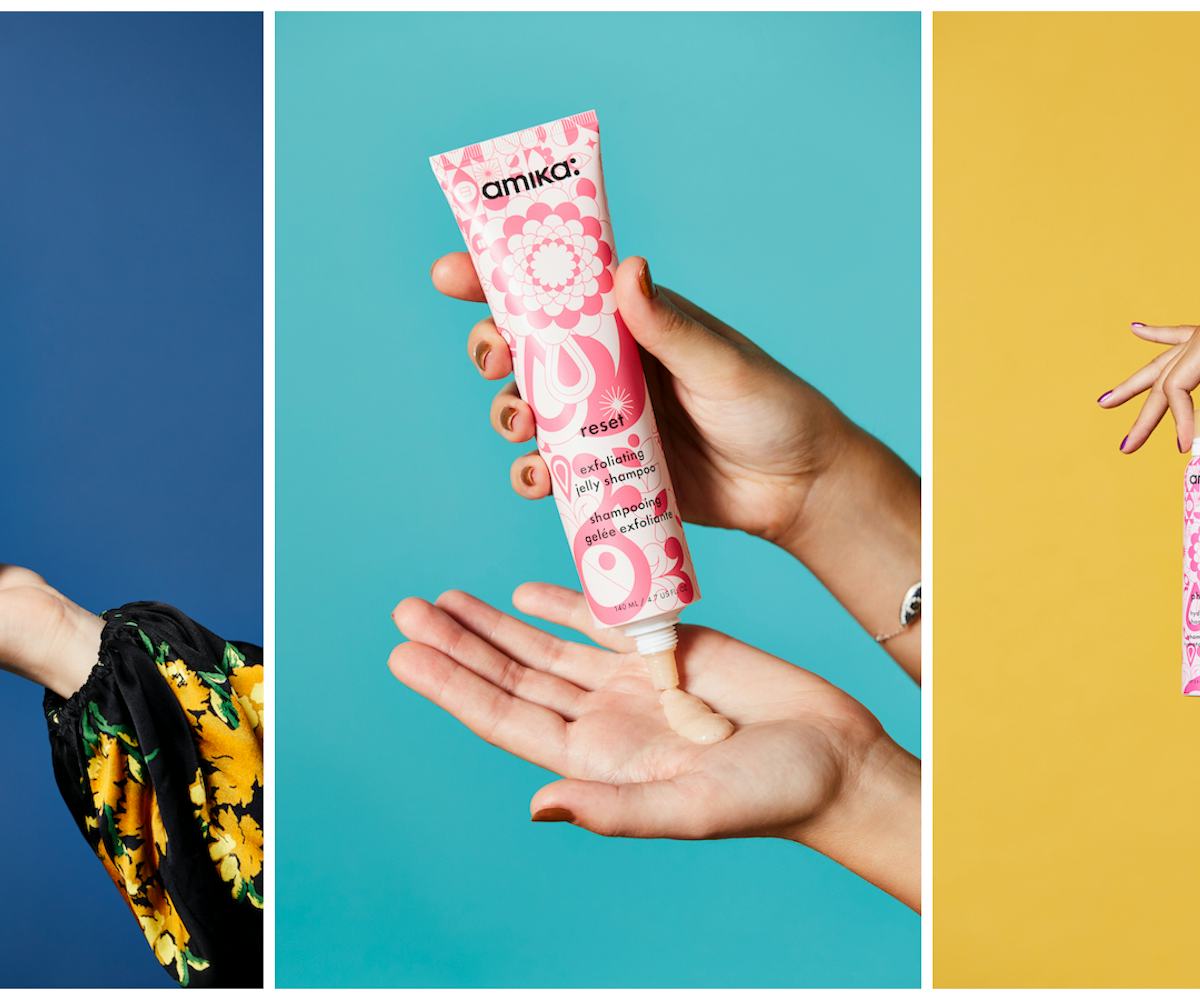 Photos by Lauren Perlstein
We Found A Detox That Actually Works (Hint: It's For Your Hair)
After a long week of work, there's nothing we need more than a full-on detox. But we're not talking about a juice cleanse—we're talking about a hair detox, a cure for a week's worth of product and oil buildup in one fell swoop. And this miracle cure can be found in amika's new Detox line, which completely resets and balances hair after a long week.
The Detox line boasts the ability to reset your hair after days of grime and product buildup. Formulated with pink clay, charcoal, and sea buckthorn oil, these products easily remove all that and invigorate and rebalance your hair and scalp so you'll be ready to get back to the grind.
Another reason amika's products feel so great is that they're vegetarian and free of sulfates, phthalates, and artificial colors. The brand is totally cruelty-free, so you don't have to worry about any animals being harmed in order to make you feel—and look—good.
Of course, all hair is not made equal, and we totally understand skepticism about whether or not different hair types could get the same level of promised clarity. To prove that amika can really get the job done, we tested its efficacy on three people with different natural hair textures. See the results, below.
Gabrielle
As our editor-in-chief, Gabrielle is constantly headed to events right after work, and needs to make sure her hair lasts through the night, and even into the next day. Working against this kind of longevity is the fact that Gabrielle often layers her hair with products right before heading out to an event, which can lead to serious buildup—including on the scalp. Plus, her hair is short and straight, so any buildup really shows.
Gabrielle hits reset with: amika's Pink Charcoal Scalp Cleansing Oil
Gabrielle presses reset on her hair and scalp by washing it with this cleansing oil pre-wash, which uses pink clay and charcoal to rid the hair of buildup and excess oils and the scalp of impurities. This leaves her hair cleaner for much longer than usual, so she can be sure to get from day-to-night-to-day-again looking as fresh as possible.
Irina
Irina only washes her hair once a week—two, max, if she's worked out during the week. With super-long, super-fine hair, it takes a lot of work to keep Irina's strands in shape for a full week's schedule. A blast of dry shampoo just won't cut it.
Irina hits reset with: amika's Exfoliating Jelly Shampoo
Since Irina washes her hair rarely, when she does, that clean feeling needs to last. Exfoliating your scalp does just that, extending the time between washes so that her hair looks just as sleek on day one as it does on day three (… or four). Plus, the deep clean of an exfoliator does the dirty work of clearing a week's worth of buildup without extra steps.
Erin
Between washes, Erin's naturally curly—and naturally dry—hair never responds well to dry shampoo. Instead, she needs serious moisture as her hair tends to get ultra-dehydrated and brittle. Erin wants the benefits of a dry shampoo and a deep moisturizer. Does that happy medium exist?
She quenches her hair's thirst with: amika's Phantom Hydrating Dry Shampoo
Unlike other dry shampoos, amika's Phantom Hydrating Dry Shampoo foam actually hydrates the hair and moisturizes the scalp. It's also light and airy (as you can tell—that foam!), so it's great for wavy, curly, and coily hair types as it allows for a super-targeted application.