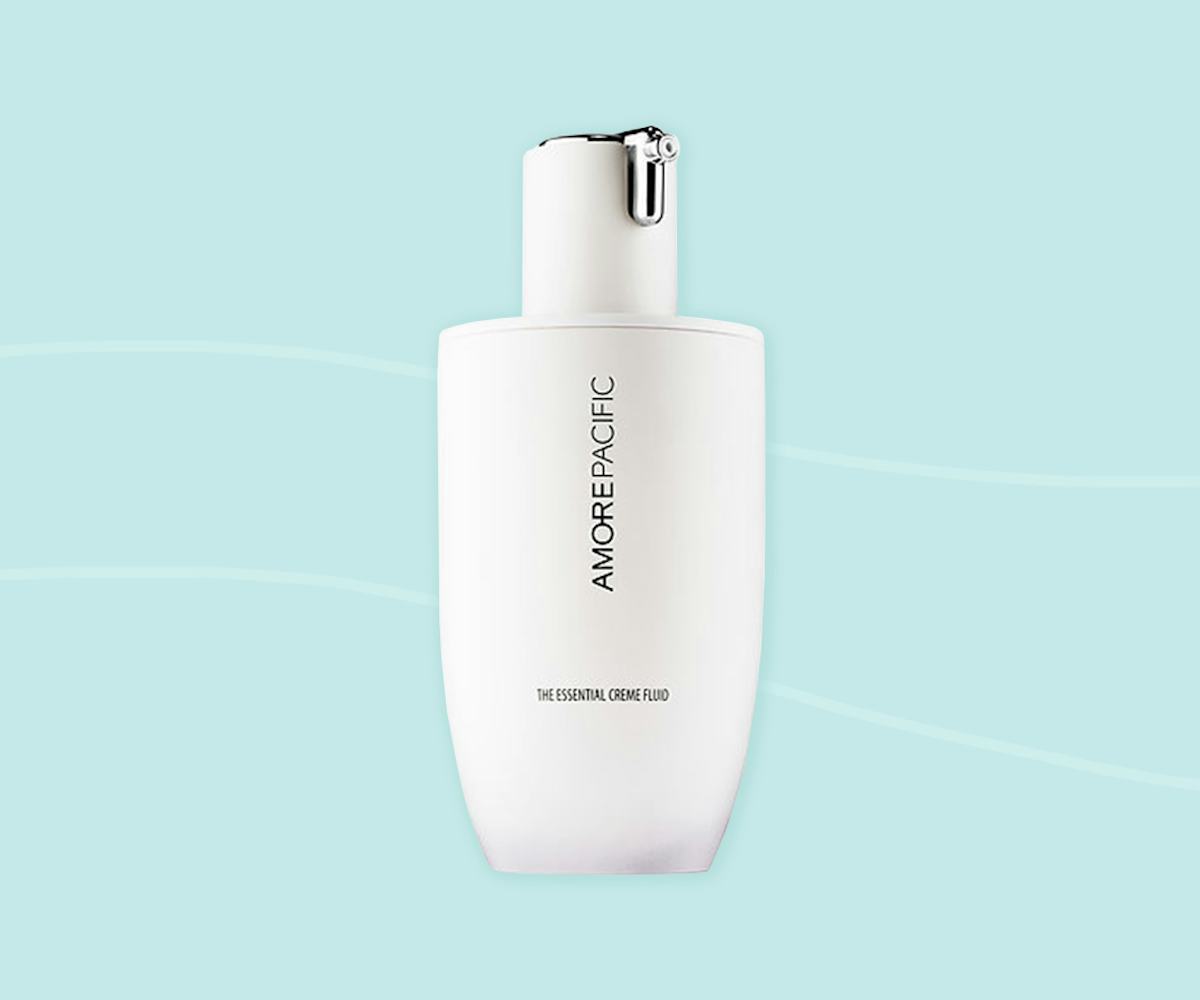 Photo courtesy of Sephora
Life Changer: Amorepacific Essential Creme Fluid
It has the perfect texture and really, really works
Whether it's a television show, movie, book, underground cultural phenomenon, or beauty product, there are certain seemingly small things that have actually changed the course of our lives. In our Life Changer series, we're sharing the things that helped us become who we are today, and hopefully, inspire you to try them out for yourselves.
Okay, so here's the thing: I am really picky about basically everything in life (like, I'm open to new things, I just don't usually enjoy most of those things, because I'm highly judgmental), and there's no single product about which I'm more particular than my moisturizer. There are reasons for this: (1) I have crazy sensitive skin. Like, splash some water on my face, and I'll turn red. (Am I allergic to water? This is a question I've asked myself many times, and the answer is definitely no, but also, maybe it's yes, because why else does it turn my skin red??) and (2) I have super dry skin, and very few moisturizers that are thick enough to get rid of my flakiness are good for daytime wear because they tend to just sit on my skin. And if that's truly the case, instead of shelling out a ton of money for fancy moisturizers, I might as well just rub Aquaphor all over the place, as if my face were a baby's butt, and be done with it.
And, yes, I too have had days where I just drowned my skin in Aquaphor, but that's not really a long-term solution, unless you're into the idea of having tacky skin, which constantly attracts flyaway strands of hair and feels like you've doused your face in lip gloss, long term, which, well, I'm not. And plus, while I might be relatively low-key in my life, I still like to have a little luxury, you know? (Sometimes, also, I would use Weleda's Skin Food, which is great! But also a bit much for everyday use.)
All of which is to say, I have long felt like my search for just the right moisturizer, the one which managed not to inflame my skin and also to substantively soften it, felt Sisyphean. I would alternate between the ones which actually got rid of any flakiness but would turn my skin bright red, and those which were soothing but still left me scaly. And then I was introduced to AMOREPACIFIC's Essential Creme Fluid, and, reader, my life, it was changed. (Or, at least, my face was.)
Here's what makes the Essential Creme Fluid so revolutionary: its texture and its effectiveness. So basically, the only important things. But let's talk about the texture first. It's really light! It's, as you can tell by its name, a fluid (it's dispensed via a pump bottle, which I love), and it absorbs into the skin instantly. But it also has the moisturizing power of a thick cream. Usually, fluids don't do anything to penetrate the desert that is my face, but this one really does. The effects are instant: My skin is plumper, smoother, and it glows. And, most importantly: it is not red. I don't have to immediately cover up my face with foundation after applying this cream, which is just not the case with most other moisturizers.
I've been using the Essential Creme Fluid for about a month now, and I can't really imagine going back to anything else. Unlike with any other moisturizer I've tried, there's nothing about this product that feels like I'm compromising. I love it completely, not least because, even after only applying it early in the morning, its effects last all day. And? It smells really good, like a delicate green tea. (This is no accident, as green tea antioxidants are an integral part of the product's ingredients; the tea leaves are harvested from AMOREPACIFC's own green tea farms on Jeju Island off the coast of Korea.)
And one final, life-changing thing about it? It lasts forever. Since a full-on moisture dose is just a couple of tiny squirts, a month into using my big bottle, and I'm nowhere close to having used the whole thing up. So while it's not the cheapest moisturizer, it definitely offers a lot of moisture-bang for the buck, which is very appreciated. 
You can buy the AMOREPACIFIC Essential Creme Fluid at Sephora for $98.