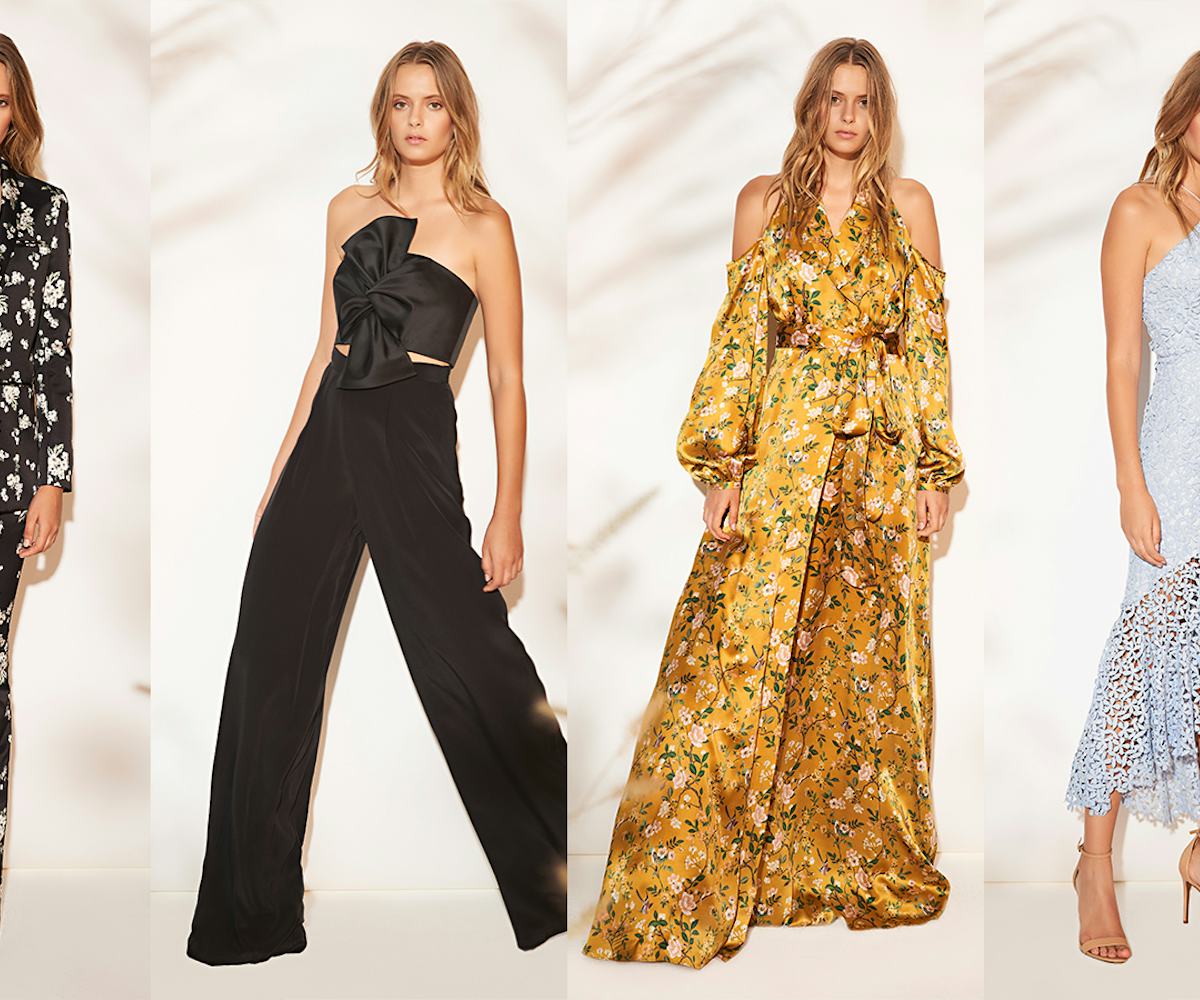 Photo courtesy of AMUR
This New Brand Will Make You Rethink Sustainable Fashion
Not all heroes wear capes—some make them
Aside from a few innovative and forward-looking brands, the idea of ethical fashion is still considered relatively unsexy not only in the fashion industry but also among consumers. Despite the detrimental and land-filling effects of disposable fashion, we have been accustomed to equating sustainable apparel with unflattering hemp sack-like dresses, label-less secondhand clothing, and hippie-evoking patterns. Prepare for that way of thinking to be changed for good with a new brand that has just launched.
The idea for sustainable fashion label AMUR, which stands for A Mindful Use of Resources, first came into existence after its creative director, Sofia Shannon, experienced a shift in the way she started shopping for herself. "Whether it was beauty, fashion, or the food I chose to eat, I started having a higher level of consciousness of what I want for me, for my life, and for my body. I started choosing the products that were made in a healthier, more conscious, or more sustainable way, thinking of the impact that products and their processes have on my body and on the environment," she says. 
After finding very few designers who were putting out clothing with similar values and the same regard for the environmental impact, the University of Buenos Aires fashion graduate, who has been working for various NYC-based fashion labels like Cynthia Rowley and Ronny Kobo for the past 10 years, decided to quit her job and create a collection that aligned with her lifestyle.
"I came to a point where I learned that fashion is the second most contaminating industry in the world, and I had to make a change. I felt it was necessary to do things in a different, better way," she says. "It's important because I also love nature. To me, nature is the ultimate luxury. There is nothing I enjoy more than relaxing at the beach, swimming in a lake, or hiking in the mountains. Why wouldn't I want to preserve the environment?" 
Having launched this month (and being already picked up by Anthropologie), AMUR combines Shannon's love for modern yet feminine design, while also working to lessen the negative impact the fashion industry has on the environment and providing jobs for the artisans and craftsmen of the world—all without sacrificing the fashion-forward aesthetic for sustainability. "A mindful use of resources, for us, means being conscious of our choices regarding the resources we use to make the garments. Whether it's a choice of materials, processes, or suppliers, we try to make the best decisions based on the impact we have on the environment."
The ethical brand's practices and commitment to sustainability are wide-spanning. First, the brand is committed to working with only three categories of fiber: natural (organic cotton, silk, linen, and hemp), forest-friendly cellulosic (like cupto, "which is made with leftover linter from the cotton production"), and regenerated (waste material spun into fiber). "It's all about picking the best materials we can, making sure we get the best quality, while also reducing the impact on the environment," says Shannon. "I felt like it was not okay to use materials that were contaminating when the alternatives are so much better. Once I took this new direction, I came across a lot of interesting mills and factories that we're doing things in a different way." 
Shannon carefully studied the environment impact of each production step when designing the collection. Where did the raw material come from? Did a mill implement energy-saving practices? "There are many ways to measure a garment's environmental impact, but if it's not in some way an improvement on the status quo, it's not in the collection," she says.
And the looks themselves are a far cry from what we've come to associate with ecological fashion. With the motto "a product that has a negative impact on the environment is not a quality or luxury product," it might come off as surprising how undeniably rich-looking the collection is. The second skin-like fabrics feel luxe to the touch, the prints are vibrant, and the tailoring is contemporary—something that doesn't happen often in the world of sustainable fashion, where things still tend to veer in the bohemian range.
For the debut collection, Shannon found inspiration in her NYC-residing friends ("her true muses") and family—particularly her mother whose closet Shannon raided growing up—with strong urban-leaning sensibilities (that culminate in one sick floral pantsuit) paired with a relaxed and feminine vibe and subtle nods to the '80s (think: floral ethnic patterns and vintage-leaning dress silhouettes). "One of my favorite pieces is the Amber wrap gown. It is made in organic silk charmeuse printed with a gold-tone floral print. The print was actually inspired by a vintage Chinoise-style wallpaper my grandmother had in her beach house on the coast of Uruguay," Shannon says.
Of course having a brand with an eye toward environmental good doesn't come without its share of challenges. In designing the collection, Shannon found that tracking an eco-friendly option of lace, which is traditionally done with virgin polyester, was impossible, so much so that they had to develop their own. She contacted different mills all over the world and connected them with different yarn suppliers that are currently developing an innovative yarn made from recycled plastic bottles to see if they could create a sustainable version of the material. "Everybody thought we were crazy. But after begging and insisting, we convinced them to give it a try. It was a very exciting development because no one else is doing it." says Shannon. "A polyester dress could take 200 years to biodegrade! So when we got our own custom lace fabrics made with the recycled yarn, it was a very happy day."
Shannon views sustainability as a human issue, too, and, with that in mind, AMUR is also committed to supporting the work of traditional artisans and empowering their communities. All the hardware pieces in the collection (like the metal ring detailing on the dresses) are done by hand by a collective of artisans based in India through a partnership program with Nest, a nonprofit that helps artisans all over the world receive high-level training, resources, and market access and increase economic opportunities. For the debut line, AMUR also partnered with the organization to develop a capsule collection with a jeweler based in Vietnam. "We made an ear cuff and pair of Koi fish earrings that were handmade using up-cycled material from electronic waste, a mix of brass and silver, which was later plated in gold," Shannon says. "The work and the craftsmanship of the jewelry pieces are really unbelievable."
Shannon's intent is to keep growing the collection while introducing new fabrications. "For Fall 2017, we have developed the most amazing knits with asymmetric cable knit patterns. They are made with sustainably sourced wool from Australia," she says. "I can't wait to wear them because they are simply the softest sweaters I've ever touched."
You can shop the collection today here and see some of the looks from the brand below.