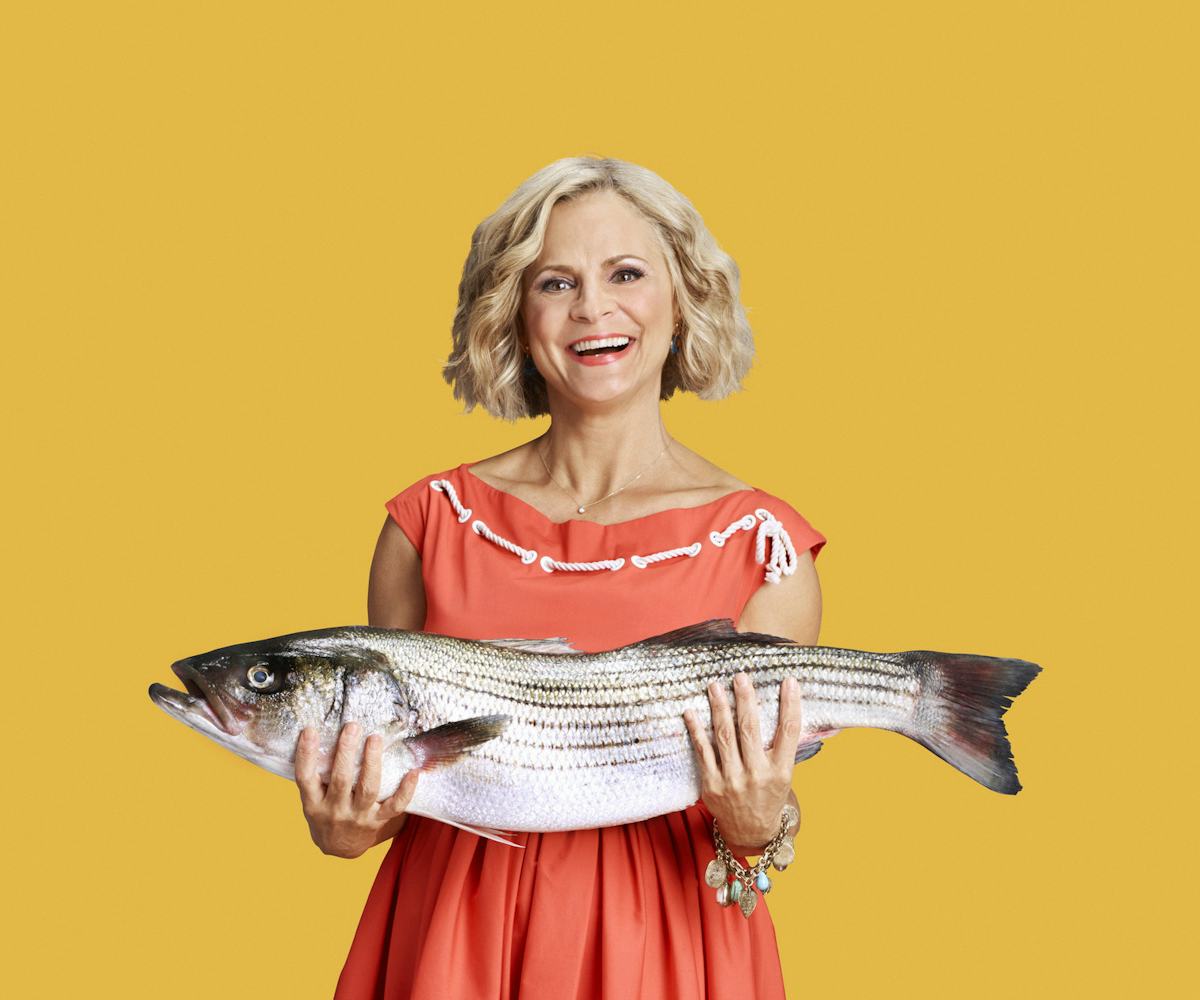 photo by Robert Trachtenberg for truTV
Amy Sedaris Tries To Convince Us She's "Down-To-Earth And Boring"
And opens up about the pressure to stay on top of her game
It's been over a decade since Amy Sedaris single-handedly made homemaking hilarious. The actress' 2006 book, I Like You: Hospitality Under the Influence, was a highly successful New York Times best-seller with a 2010 follow-up, Simple Times: Crafts for Poor People!, and accompanied by a short-lived baking business Dusty Food Cupcakes, which also produced cheese balls. And while to some Sedaris is better known as Jerri Blank from Strangers With Candy, or is perhaps most recognizable for her memorable roles in several television series including BoJack Horseman, Sex and the City, or Unbreakable Kimmy Schmidt, Sedaris has found a specific niche in the world of Martha Stewart and Pinterest boards, one that marries comedy with cooking, crafting, and overall entertaining.
At Home With Amy Sedaris is the long-awaited television component to Sedaris's books. The new series, that premiered yesterday on TruTV, has its star parodying Food Network and HGTV programming with her tips for how to gut a fish, entertain businessmen, or cook without pots and pans. These things might sound banal, but with Sedaris and her special guests like Cole Escola, Christopher Meloni, and Rachel Dratch, boring activities take on a new life thanks to dark humor and wacky wit. Part of Sedaris' overall appeal, and what makes her different from most other television food personalities, is that she's not looking to sell anyone on anything—even herself.
"I'm such a process person that sometimes I forget there's a product at the end," Sedaris tells us. "Like when I worked on the book, it never entered my mind that someone was going to buy a book, or that I'd have to look at it in a bookstore."
Rather, At Home With Amy Sedaris was her most recent passion project, a playground where Sedaris was able to enjoy colorful sets more akin to Pee-wee's Playhouse than the kinds of kitchens and bedrooms found in a Nancy Meyer movie. And for Sedaris, homemaking and entertaining is all about personality.
"I never understand people who get an apartment and say, 'I'm not going to paint because it's a rental,'" Sedaris says. "It's just important to be surrounded by things that you like and cook for yourself and take care of yourself and have a community. I don't know if that's feminist or unfeminist, but I've always been that way. I think it makes you more powerful when you get on your knees and clean your own floors. When you've got long cripple nails, you don't do shit."
Sedaris has strong opinions on how to not just be a good host but how to be a good guest, including when to leave a party ("If you don't know it's time to go, then someone's told you that before, so I don't feel bad about [telling you to leave] at all.") As a constant source of funny, Sedaris is often expected to entertain—even at her local post office, where she says she's become a hit after her stint on The Good Wife. But in real life, she alleges she's less exciting than her onscreen persona suggests.
"I'm pretty down-to-earth and boring," she says. "I'm a really good listener. People who know me [know] I'm pretty good-natured and they don't expect me to be silly-silly. But if you're invited to a party sometimes you're cast, and so they're inviting you because they think you're funny and up. Then you gotta be funny or up or just cancel."
Being "on" can be exhausting, and, at 56, Sedaris says she was concerned about being able to lead an entire show of her own. So she physically prepared by working out and visiting her acupuncturist and chiropractor before shooting began.
"I was like, 'How am I gonna do this? I'm in every scene!'" she says. "Some days, it's just me acting against me. It's not gonna work!' I worked my ass off, and I surprised myself with the energy I didn't think I'd have to do it." She adds: "I mean, I'm not saying I could do it if we got picked up again, but I did it the first season." Sedaris' energy has always been optimistic, which is part of her appeal even in character—her delivery of dark or disturbing commentary is cause for laughter. At Home steers clear of political topics, but in itself is a tongue-in-cheek take on what has long been considered a woman's domain. So anything she's doing takes on a subversion of sorts, giving an edge and sense of humor missing from the well-trodden genre. But at the same time, she actually educates viewers on the different kinds of glues and surfaces they're best used upon (in a duet with Jane Krakowski, no less). 
"I'm doing the best I can," Sedaris humbly offers, but her faithful fans are already excited about the prospect of learning from her every Tuesday night. She's concerned, though, people will find her voice annoying: "I saw a cut of an episode, and I sound like I'm trying to do Alvin from the Chipmunks, and I thought, I wonder if my voice is gonna get on anyone's nerves. I don't know—it's too much."
She doesn't have much time to worry, though. When she's not working on her own show or balancing other projects, she's taking care of her real home. And on a rare occasion that she's taking a much-needed break? "I can kick back and be lazy," she reveals. "I can get so much accomplished in a day, I can also do nothing like the bones left my body."
But she's already thinking about her next project, which is something she's been dreaming about since she bought her first wig in third grade (and, yes, of course, she still has the wig). "I want to do a book on wigs," she says. "I'm a big wig person. And icky teeth. I want to do a book of hairstyles and teeth, just to get it off my plate. I can give the money somebody else, but that's been a dream of mine." Luckily for Sedaris and her legions of fans, most of her dreams seem to come true. 
At Home With Amy Sedaris premieres October 24 on truTV.