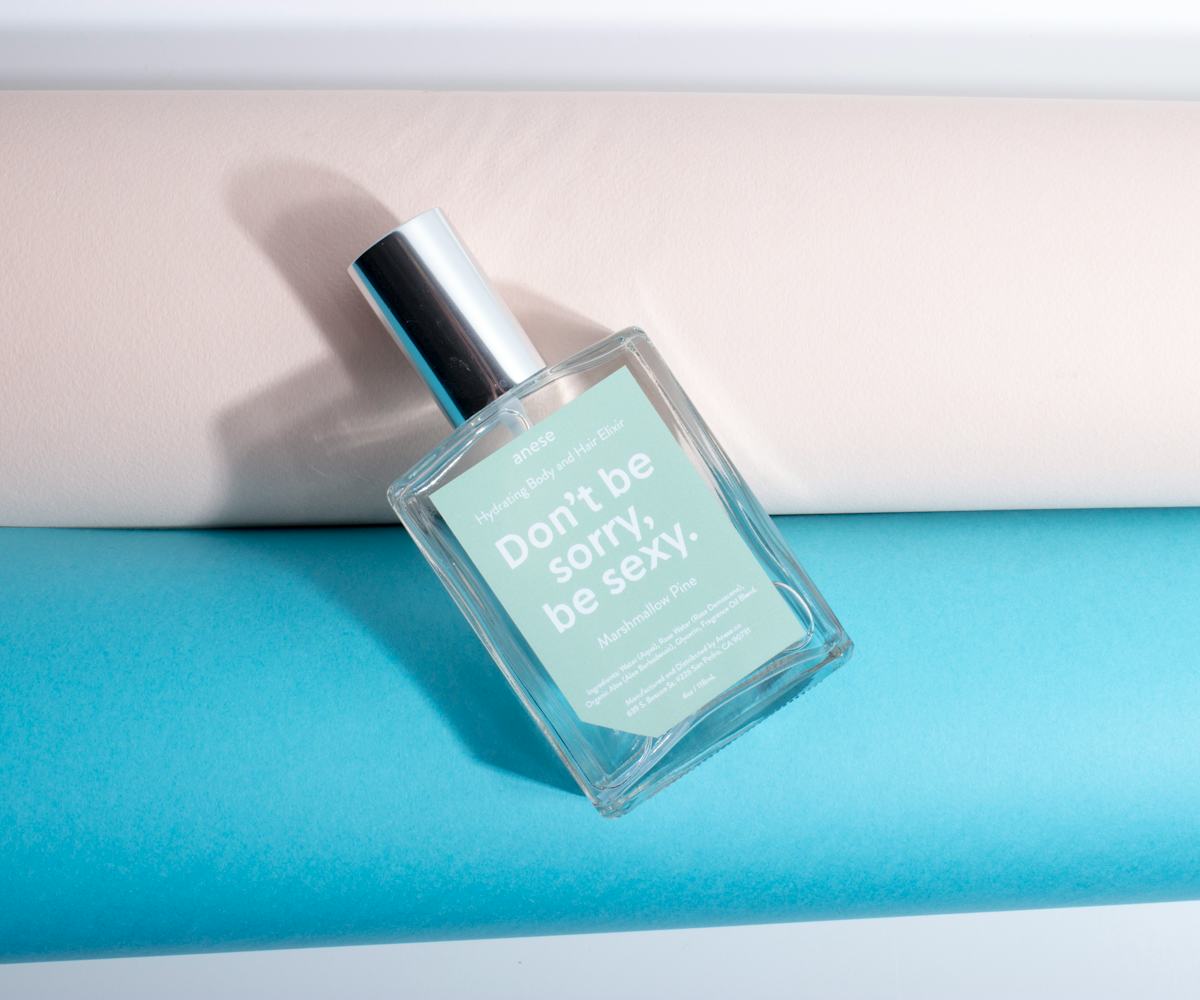 Photo courtesy of anese
Meet The Most Unfiltered Brand In The Skin-Care Business
Have you ever felt like a product was speaking directly to you? This basically sums up my initial encounter with anese. In the midst of mindless scrolling on Instagram, I was immediately drawn to the brand's sassy, pastel-tinted bottles. With quirky names like "Bless this mess," "Fuck bad vibes," and "Don't be sorry, be sexy," these intoxicating elixirs will give you the liquid confidence you need to get through the day.
"The idea came from a series of text messages between me and my girlfriends," says founder Lynnsee van Gordon. "We're constantly sending one-line comedic responses in support of something embarrassing or an achievement the other had, so our messaging came very natural because it's an honest window into us as a brand."
Design packaging aside, every scent smells heavenly. You can spritz the perfumes on your body, in your hair... pretty much anywhere you want to smell good. Lucky for us, there's more to anese than just perfume: There's a skin gloss, serum, and body scrub. In other (more literal) words, anese has got you covered from head to toe. The brand's laboratory even gives customers early access to what the brand is working on next.
van Gordon describes the anese girl as someone who is funny, savvy, and always has something to say. "She doesn't take herself too seriously, but she does take her skin seriously," she adds.
Learn more about anese in this exclusive interview and shop all of the brand's cheeky products in the gallery, below.
What motivated you to start your own skin-care business?
I studied design and marketing in college, and I've always been a wear-multiple-hats type of person, so creating 
anese
was a natural step forward. I've always been a beauty product hoarder and obsessive about my skin-care routine. My morning and night routine really set me straight for the day and help me clear my mind at night. Right before I decided to start 
anese,
I was packing for my bachelorette weekend in Las Vegas and picturing myself in this dry, smoke-filled casino. I started hunting for a light spray I could use on my hair and skin to combat the casino smell, but couldn't find anything that was both effective and fit my fragrance preferences, so I saw an opportunity. When I got back from my trip, I started putting a
nese
into motion. 
What is the story behind the brand name?
Anese
was named after star of anise, one of my favorite cooking spices. It's very aromatic and slightly sweet, a similar profile to our line. Honestly, the name came secondary to the concept for 
anese,
but it was a nice name to pair with the brand. 
I love all of the branding from the product names to the descriptions. Why did you decide to go with this outspoken approach?
I sat down and focus-grouped the idea with girls that fit the [ideal] 
anese
customer, but didn't really feel that aha moment when pitching ideas to them. I came back and pitched the idea of it being a skin-care brand that reminds you of how awesome you are [with] quick one-liners that empowered you or made you laugh and [their] eyes lit up. Once I threw out ideas for names, it became this back and forth that got everyone really excited, and I knew that had to be 
anese
.
In addition to having your own online shop, your products are carried at bigger outlets like Urban Outfitters and ban.do. How has that crossover expansion been?
It's been an incredible whirlwind of drive and hustle. Jen Gotch and the Ban.do team are amazing. Working with an established brand has been a rewarding and learning experience for us. We launched on
Urban Outfitters
at the beginning of August and sold out 
in four days
. We will be available in store at the
Urban Outfitters
in Herald Square [in New York City] in September which is really exciting. I didn't predict we would be partnered with established retailers by now but am very happy that we are. 
What do you see in the future for anese?
We're working on some new products to be released in the next year that are routine-focused, as well as getting 
anese
on additional channels. 
Ban.do x anese, Hydrating Body & Hair Elixir in 'Will you accept this rose?' $26, available at anese.
anese, Hydrating Body & Hair Elixir in 'Fuck bad vibes.' $26, available at anese.
anese, Hydrating Body & Hair Elixir in 'Gotta peace out.' $26, available at anese.
anese, Soothing Body & Hair Elixir in 'Smells like Queen spirit.' $26, available at anese.
anese, Hydrating Body & Hair Elixir in 'Don't be sorry, be sexy.' $26, available at anese.
anese, Soothing Body & Hair Elixir in 'Bless this mess.' $26, available at anese.
anese, 'That booty tho.' Body Exfoliant, $28, available at anese.
anese, 'Slay.' Skin Perfecting Serum, $48, available at anese.
anese, 'Swipe right.' Pearl Illuminating Skin Gloss, $38, available at anese.
anese, 'Can I Speak to your Manager?' Cleansing Facial Toner, $23, avaialble at anese.