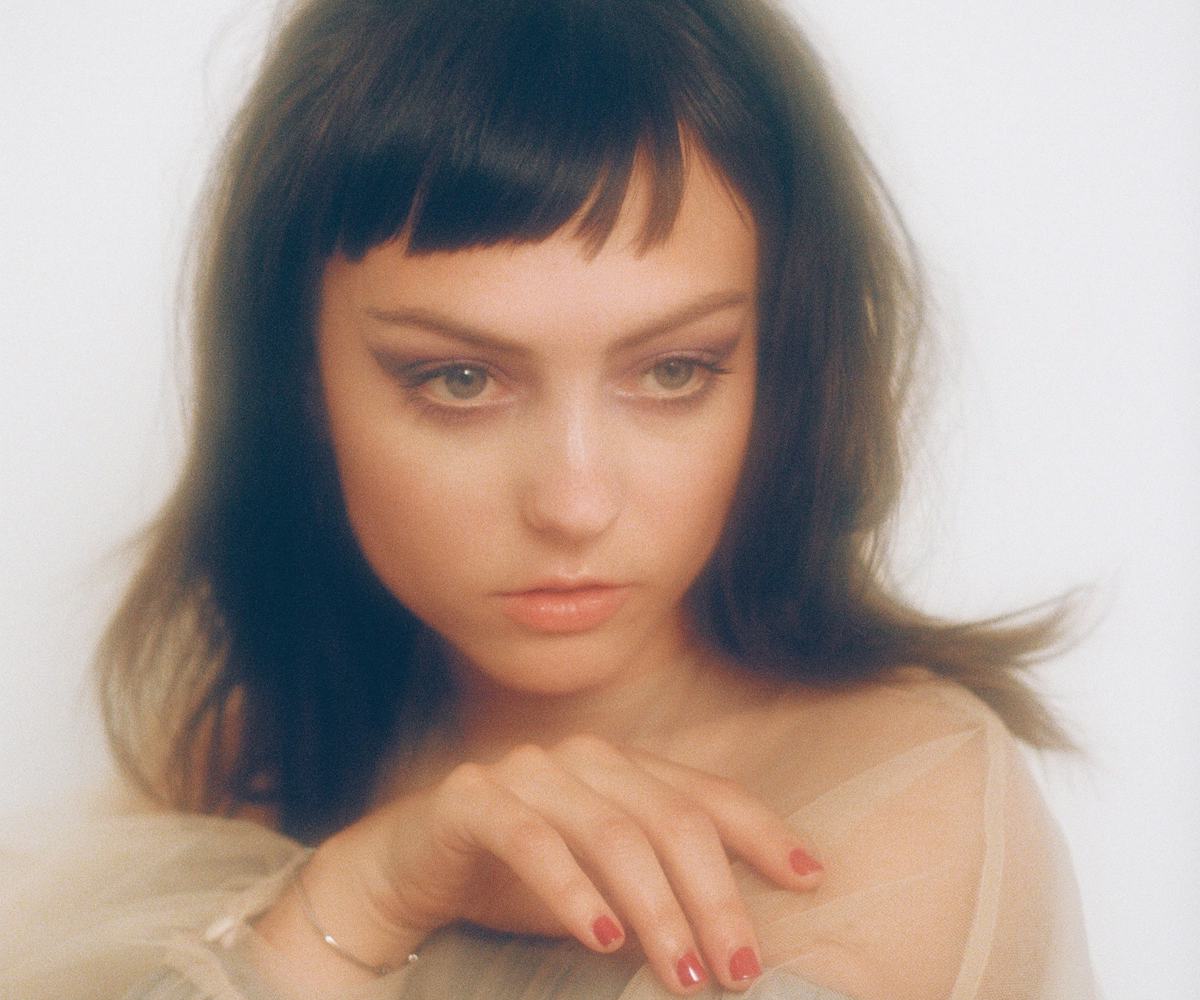 Photographed by MichaelBeckert. Styled by Liz Rundbaken.
Angel Olsen On Being Her Own 'Woman' On Her New Album
The artist has come into her own
The following feature appears in the September 2016 issue of NYLON.
Angel Olsen has the power. Of course, she's always had it, but with the release of My Woman, she doesn't really care about how you perceive that power. "People think they know you entirely based on the work that you project, famous or not famous," says Olsen over lemonades in a Brooklyn tea shop. "But you still have to be a person, and wake up and go through human struggles while everybody is thinking of you as not a human who goes through those things. You're living the life of the self that you project, in the life of your actual self."
Olsen is disarming in person—a celebrity with the air of a perceptive, considerate, and passionate friend, discussing the difficulties of being a working woman in her late twenties, and defying the limiting expectations of the public. My Woman, her third studio album and the follow-up to 2014's Burn Your Fire for No Witness, is demonstrative of her ability to disregard these constraints and portrays the broad spectrum of Olsen's musical talent, which ranges from her signature folk, steeped in her superior songwriting chops, to synthy glam rock.
After the success of her last record brought Olsen to the stages of late-night television and into the hearts of an ever-growing fan base, the repetitiveness of fame and the unavoidable typecasting as a female folk singer led her to question where her hard work had landed her. "It went from the positive inertia of creating something alone in a room that no one cared about to a commercial image that you're just living over and over again," she says. "Despite the fact that I was doing well, and the album was doing well, I wasn't doing well." Naturally, her admirers viewed her through the self-absorbed lens of fandom, oblivious to the fact that even celebrities need repose. "People come up to me and they're like, 'You saved my life.' Even though it's amazing to hear that, when people compliment you in that heavy way, there is some sort of expectation. They want something back," says Olsen. "I feel very fortunate to have fans that would say that to me, but when was somebody gonna pull me aside and be like, 'Are you okay?' No one was doing that." She sips her lemonade and continues: "So I went to therapy, took a break. I just didn't want to tour as much. I was like, 'I don't know if I want to do this. Maybe I should reconsider my plan.'" 
Click through the gallery to read the rest of the feature.
Dress by Simone Rocha, dress worn underneath by Valentino, Olsen's own jewelry worn throughout. 
Ironically, it was on the road where Olsen felt reinvigorated, thanks to the camaraderie of fellow musicians on the festival circuit, such as St. Vincent, Courtney Barnett, and Mac DeMarco. "You think all these bands are getting together and getting shit-faced and there's probably drama, and there is," she says, "but behind the scenes and on the sidelines, there's also a lot of community that's being built. It was really refreshing to talk to people—even in a drunken way—about our careers, and to know that I wasn't totally isolated in the experience. Hearing that other people were bummed, and making fun of ourselves, like, 'I'm so famous, my life is so hard,' really saved my career. I was like, 'I'm not going to quit. I'm going to keep doing this.' And after that I wrote a bunch of material." Thus, My Woman was born.
The world was introduced to the new music via the morbidly beautiful lead single "Intern," the video for which was directed by Olsen herself and filmed with a micro-crew of friends in Asheville, North Carolina, where the singer has resided for three years. The visuals for "Intern" and its commanding follow-up, "Shut Up Kiss Me," star a silver-tinsel-wig-adorned Olsen, invoking comparisons to "Life on Mars?"-era David Bowie. "I wanted to create my own character and be more in control of the image I project through my own music," she explains.
Olsen's also determined to expose the hypocritical manner in which men and women in the industry are received by critics. Although male rock stars can howl misogynistic lyrics without being quizzed on feminism, when a female artist writes her own music and names an album something even moderately gutsy, she'll likely be interrogated about it. With that in mind, the singer is already swatting away the line of stereotypical questioning that the title of her record will inevitably conjure up. "The album is called My Woman, and people are like, 'Are you afraid that your male fans might be turned off by this title?' I can't wait for the questions like, 'So, as a feminist, your album is a feminism album?'" says Olsen with a scoff. "I can't deny that I'm a feminist. I don't like that it's hip right now, because I don't want it to be a trend. Just because it's being talked about doesn't mean that people are getting the picture."
She finishes her lemonade—a fitting drink for a discussion about the limitations put on artists who happen to be women (see Beyoncé's latest album). In spite of it all—the cages of fame, the insistence of critics on typecasting her, the archaic categorization of female artists by their gender, and her occasional bout of exhaustion—Olsen has no plans to slow down. "I did name my album My Woman, so it's very easy for people to think all these things," she says. "It is a really bold move, but that's what you gotta do. I'm going to be audacious enough to say that I'm important."
Coat by Kenzo. Hair: Peter Matteliano at Kate Ryan Inc. using Oribe. Makeup: Lindsey Williams at Kate Ryan Inc. using Dior Addict. Manicurist: Angel Williams at Opus Beauty using Dior Vernis.