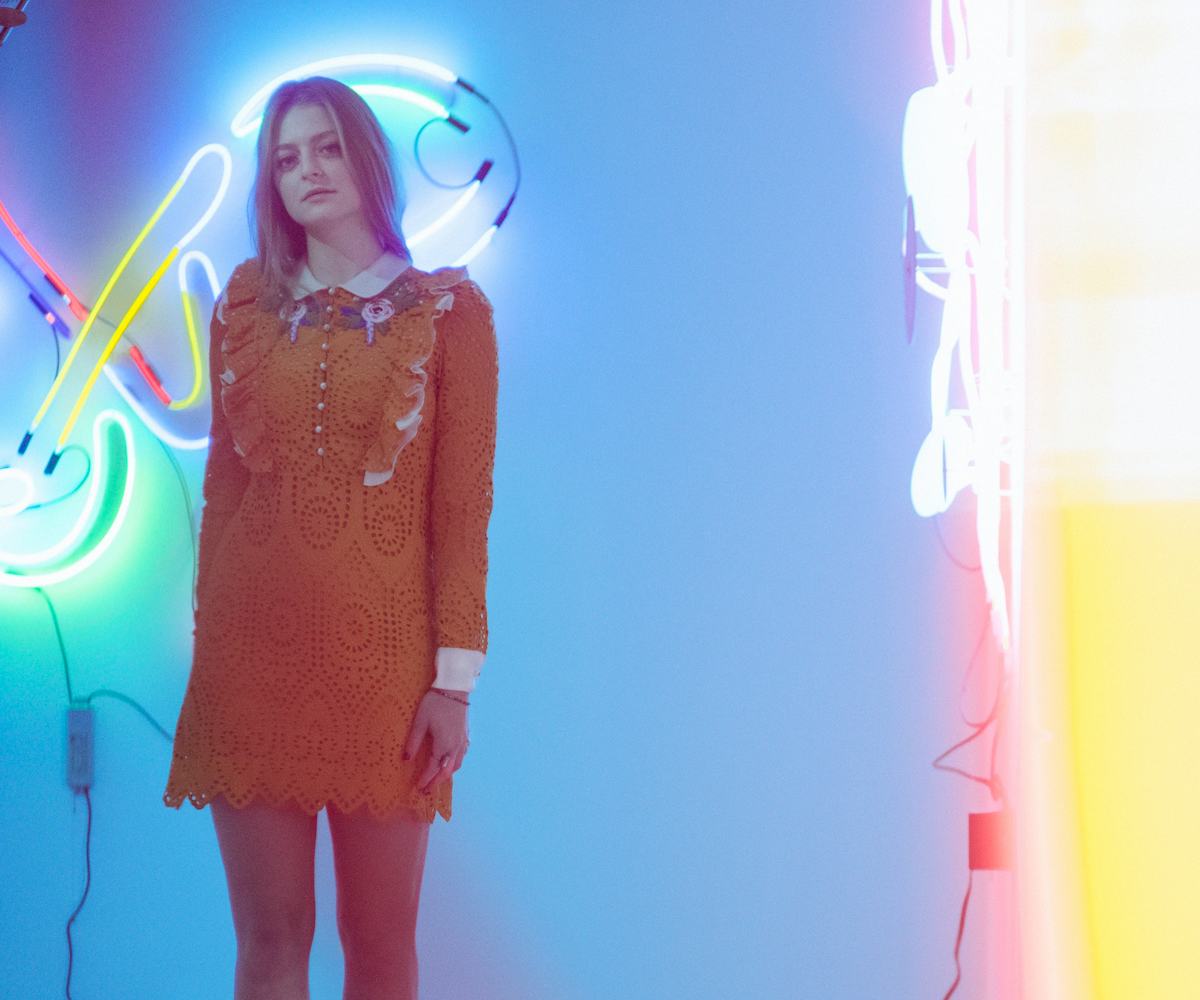 Photographed by Sloan Laurits. Styled by Carrie Weidner.
Anna Baryshnikov Is Finding Her Footing In The World Of Film
After growing up immersed in performance and art, the actress is following in her parents' footsteps (kind of)
The following feature appears in the March 2017 issue of NYLON.
"I am Petrovsky!" Anna Baryshnikov says, laughing, after wrapping a photo shoot amid Keith Sonnier's neon installations at Pace Gallery in Midtown Manhattan. She is referring to Aleksandr Petrovsky, Carrie Bradshaw's Russian artist boyfriend on Sex and the City, whom her father, world-renowned ballet dancer Mikhail Baryshnikov, portrayed. If her last name wasn't a dead giveaway, the two also share an identical set of big, blue eyes—and hers grow even larger when she's animated.
Baryshnikov has a lot to be excited about. She barely gets started on the egg and cheddar roll we picked up from Milk Bar before she decides to take a bite of her cookie instead. As we talk in the hotel lobby next door to the restaurant, she raves about Kenneth Lonergan's critically acclaimed drama Manchester by the Sea, her first big project. In the film, the 24-year-old actress provides slivers of comic relief as Sandy, a precocious high schooler and one of two girlfriends to Patrick (Lucas Hedges), who finds himself under the custody of his uncle (Casey Affleck) after his father's death. The character she played in Manchester by the Sea, an award-season heavyweight, was Baryshnikov's most visible role in 2016, but she also had parts in Todd Solondz's acidic comedy Wiener-Dog and Amazon's short-lived but much-loved series Good Girls Revolt.
For all her blossoming success, Baryshnikov takes pride in how she achieved it. "My parents were deliberate about not making calls or putting me in front of agents," she says. (Her mother is writer and former dancer Lisa Rinehart.) "They knew it would mean more if I had worked for it myself. I obviously can't deny I had so much access to amazing art growing up." She hasn't taken the dance route like her parents (though jokes that she "kills it" at the club), but her father has recommended dance classes as a way to get comfortable with performing. "It's truly my nightmare, and I will do it under a pseudonym," she jokes.
Baryshnikov, a middle child, grew up in Palisades, New York, while attending school in the city. She recalls the weirdness of fame penetrating her life in the sixth grade—as her father started appearing on Sex and the City—and her sister asking, "So, is dad famous?" After studying theater at Northwestern University, Baryshnikov moved to Manhattan, but until recently deprived herself of the rite of passage that is watching all six seasons of SATC. "I finally watched my dad's season and I'm so not on Petrovsky's team!" she says. "Who is?"
Baryshnikov has been living in Los Angeles while shooting CBS's Superior Donuts, which follows the lives of the people who work at and frequent a doughnut shop. The show is surprisingly in touch with current events, interlacing issues of race and gender with typical sitcom shenanigans. "It appealed to me on a political level, because it's about how people from different backgrounds can come together," she says.
The actress had shown her interest in politically driven art earlier that afternoon, when we walked by Trump Tower. "In the wake of what's going on in the world, being a performer can feel like a selfish pursuit," she observed. "Especially post-election, that was something I was worrying about." These days, Baryshnikov is less resigned about her pursuits in entertainment. Right now, she's writing a play about the culture of consent and ending rape culture, and takes inspiration from Audre Lorde's essay "Poetry Is Not a Luxury." "It points out," she says, "that when a story is told really well, and an important, new voice is heard, it has the power to motivate social change."
Dress and shoes by Gucci, jewelry by Sheebee. Hair: Matthew Monzon at Jed Root using Matrix Biolage R.A.W. Makeup: Joshua Ristaino at The Only Agency using NARS Cosmetics. Special thanks to Pace Gallery. Artwork shown: Keith Sonnier, Chila, 2016, neon, corrugated aluminum, wire, and transformer, 76" x 39" x 3" (193 cm x 99.1 cm x 7.6 cm). © 2016 Keith Sonnier/Artists Rights Society (ARS), New York.