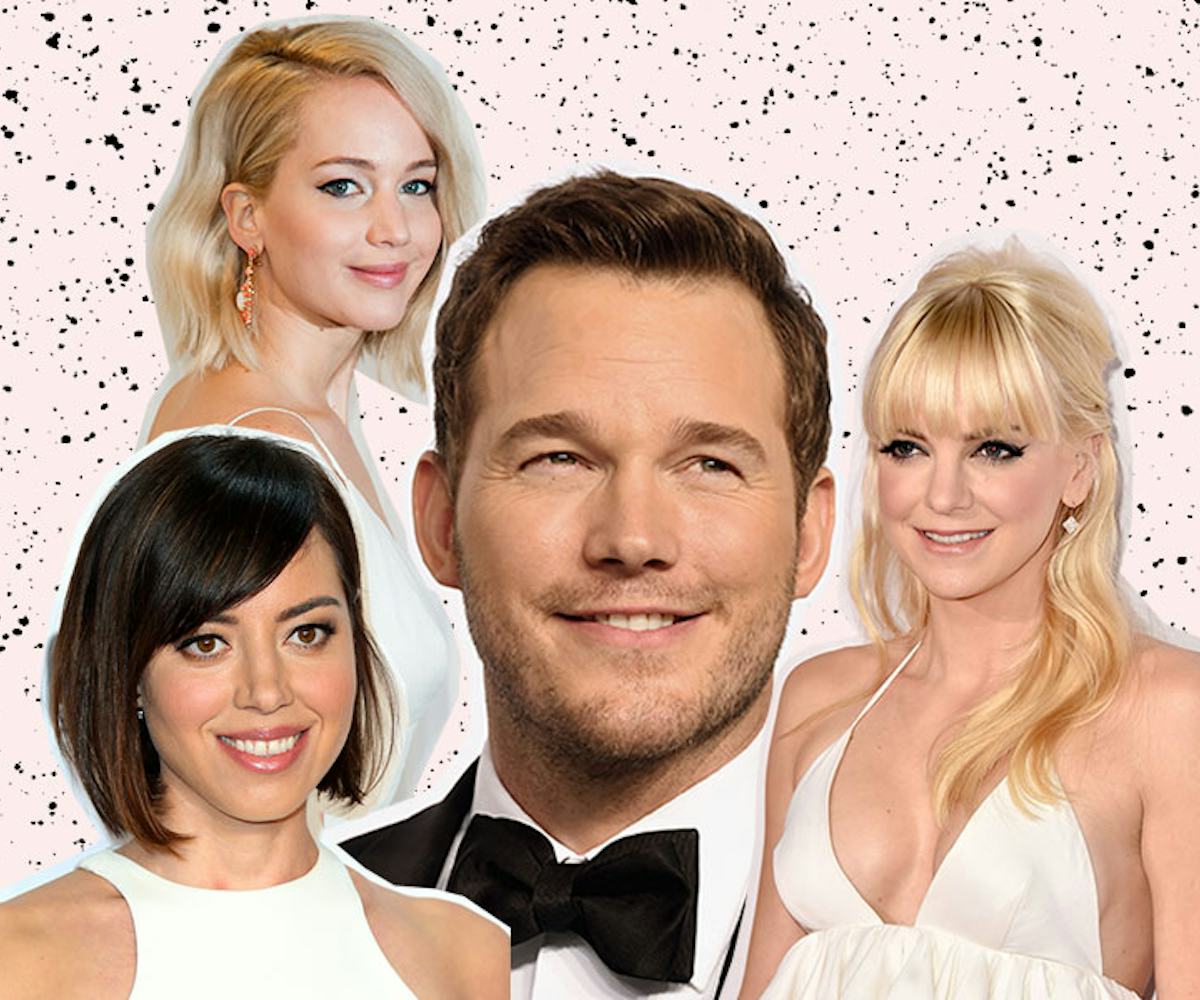 Photos by Jason Merritt, Frazer Harrison, Mark Sagliocco, and Monica Schipper/Getty Images.
Anna Faris, JLawr, and Aubrey Plaza Discuss Shared Husband, Chris Pratt
Here's the deal: Anna Faris is married to Chris Pratt IRL, Aubrey Plaza portrayed April, the wife of Chris Pratt's Andy on Parks and Recreation, and Jennifer Lawrence is currently filming a movie, Passengers, in which Chris Pratt plays her love interest. Wouldn't it be kind of amazing if all three of those women ganged up and chatted about Chris Pratt? Wouldn't that be something you'd want to hear?
Well, friends, it is indeed something you can hear thanks to this week's episode of Faris' wonderful, funny advice podcast, Anna Faris is Unqualified. In Tuesday's edition of the show, National treasure Aubrey Plaza showed up (with cane in hand) to discuss a variety of subjects including and not limited to her choice of high school mascot (sea hag), her preferred method of murder (poison), and, yes, playing Pratt's wife. Faris, with her considerable experience being Pratt's wife augmented the conversation with helpful asides concerning watching Pratt and Plaza making out and her husband's testicles. It truly was must-listen podcasting.
Then—oh then—Faris' producer pulled a little surprise on Plaza and dialed up Pratt and Lawrence, who are currently filming the sci-fi epic Passengers on the other side of the country. Naturally, with Lawrence as part of the discussion, things got even more interesting and silly. Interestingly enough, despite their very different demeanors, both Lawrence and Plaza prefer murdering people with poison to stabbing or bludgeoning. Great minds think alike, we guess.
Really, though, it's a beautiful moment in celeb gabbing that could only happen thanks to podcasting. Take a listen to the whole thing below.