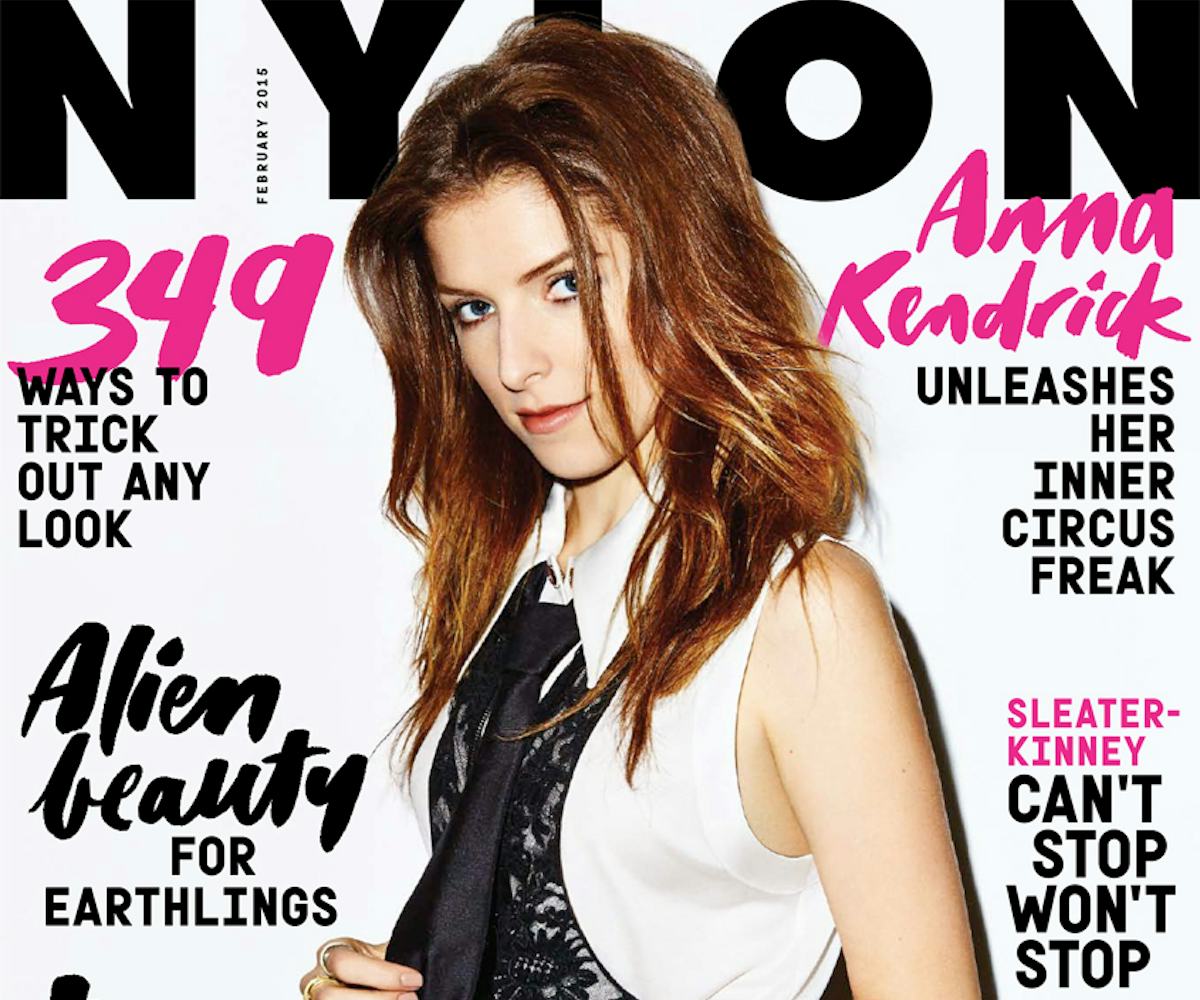 photos by aaron richter
anna kendrick is our february 2015 cover babe
she talks confidence, dating, and ryan gosling
Anna Kendrick is our newest cover star—which means NYLON's February 2015 issue is filled with that off-the-cuff, no-censor-button commentary that we've all come to love from her. "I don't give a f*k," she tells us, regarding her endearingly genuine social media presence. "Twitter is only 140 characters. There's really not that much that I could reveal, then regret later." Lucky for us (and our readers!), she brought that same authenticity to our interview, revealing personal things about dating, confidence, and that time she tweeted: "Ugh - NEVER going to a Ryan Gosling movie in a theater again. Apparently masturbating in the back row is still considered 'inappropriate.'"
Speaking of that infamous tweet, she tells us, "Thank God I've never been in a room with him! I don't feel embarrassed, though. I'm sure he has a sense of humor. But I'd probably feel like I'd have to address [the tweet], and I'd end up saying something to make it much, much worse."
Here's what else to look forward to in our cover story:
On dating: "The great torture from my teen years into my mid-20s was trying to get attention from guys who were not interested in me—like, at all. So I'm happy that now my type is a nice guy who likes me back."
On how to get her to like you: "Sometimes I meet people who are too confident. I'm like, 'I don't even like being around you. You're boring. Get a neurosis, and then we'll talk."
On body image: "I was a very late bloomer. I was the smallest in my class, always telling msyelf, 'I'm never getting boobs!' I remember being comforted by hearing that guys like small boobs and big boobs. They like any boobs! At the time I was like, 'That is excellent news!'"
On that time she got a Twitter shout-out from Jemima Kirke: "I've never met Jemima, and I hope to never meet her because she's so cool, and for one moment she thought that I was cool, and I don't want to blow it. But I hope I don't ever get the feeling that I'm the cool girl. I think self-doubt is healthy. It pushes you, and humbles you, and I would really hate to be one of the three people in the fucking universe who are actually well-rounded, because then you can't relate to anybody else's inner shit."
Aubrey Plaza, Kendrick's BFF, tells NYLON that Anna is "the weirdest combo of impulsive tequila-drinking party girl and 80-year-old senator's wife from Vermont," adding, "She loves Lord of the Rings and Game of Thrones, can rap '99 Problems' from start to finish, scarfs down burgers in six-inch Louboutins, while beating you at Assassin's Creed. But guys are probably afraid to hit on her because she's intimidating." 
NYLON'S February issue hits newsstands on January 20.