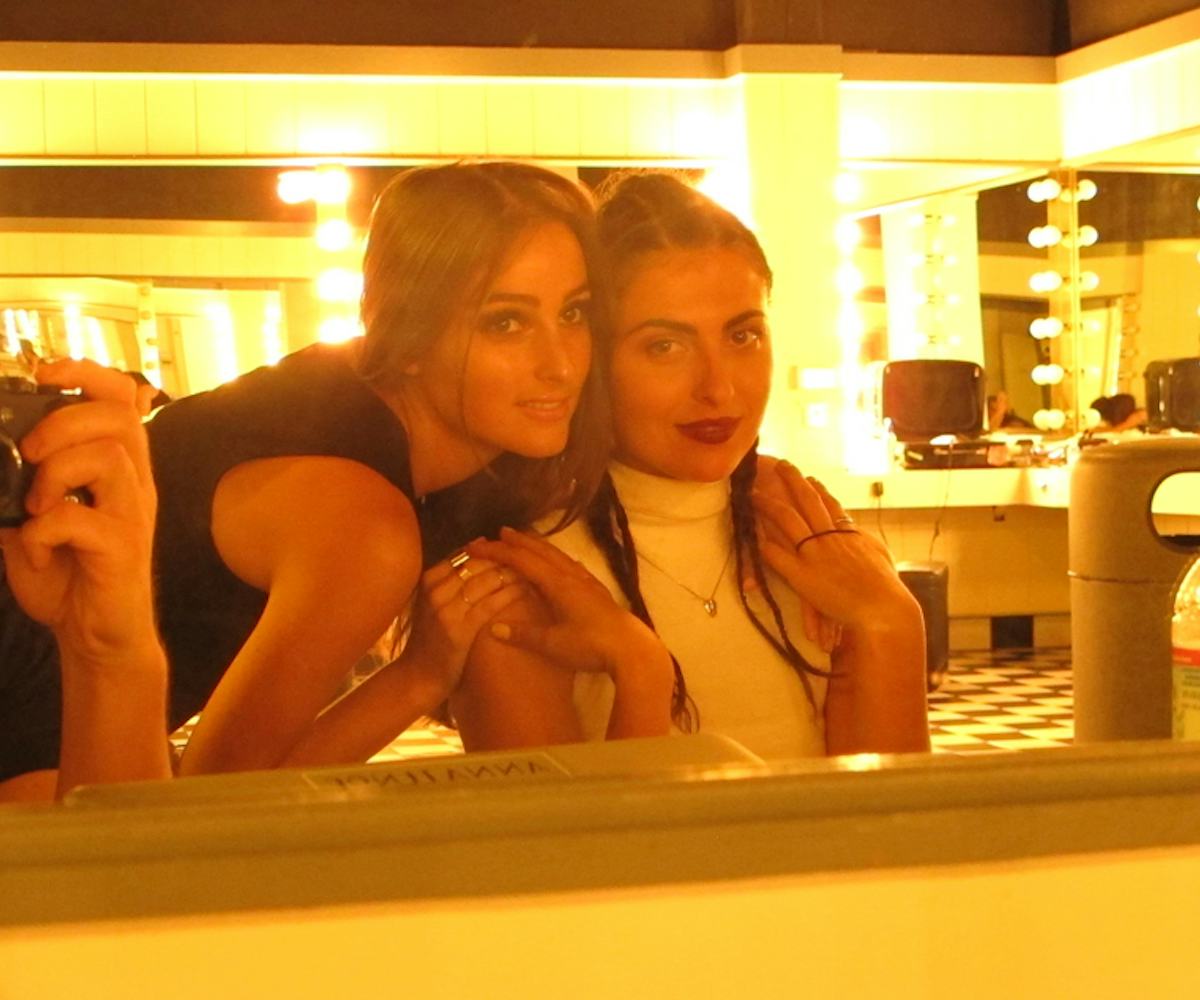 tour diary: anna lunoe pt. 2
sharing the best party playlist from the road.
Australian DJ/producer and singer Anna Lunoe is in the midst of her first major tour of the US--with The Weeknd and Banks--and is chronicling the whole thing for us. Check back weekly for her latest updates from the road!
It's definitely a different experience to prepare a set to play for a crowd of people who are sitting down and not on a dance floor--not what I'm used to at all! (We're playing some of the most prestigious, historical theaters and amphitheaters around the country.)
But I'm always up for a new challenge and The Weeknd's audience are fashion-forward tastemakers with sophisticated taste--and they have an appreciation for the fresh, underground sounds blended in a new way with some classics. The other thing to consider in preparing for these Weeknd sets is it's not like I have a two-hour window to build and take you on a journey! It's 30-to-40 minute sets when fans come into the venue, and then I play another set in between the band sets, so it really is about creating a mood for the night. 
I plan the sets but also am flexible to change it up each time, depending on the night, the mood, the response (for example, a set on a Friday or Saturday night might have some more energy to a more moody set at the start of the week).Here's a selection of my top eight tracks from my set that have been getting a strong response so far on tour: 
The Weeknd Tour TOP 8 !
1.  Janet Jackson - "If" (Kaytranada Remix)
Pretty much every show someone tweets me something about this Janet edit by Canada's young upstart Kaytranada. Such a perfect update of Janet at her absolute peak. Jam!
2.  Mutya ft Keisha Siobhan - "Lay Down in Swimming Pools"
So I'm not sure how big the Sugababes were in the US but in early 2000s Australia they were absolutely huge! These days the former bubblegum pop girl group are all grown up, out of their record deal, and singing songs on their own accord. This is their own killer spin on Kendrick Lamar.
3.  Anna Lunoe - "Breathe"
So excited to see the crowds reacting to my new single on this tour. It just went up on iTunes this week! 
4.  Indian Summer - "Foreign Formula"
Have been hit up a bunch from people trying to identify this song by these up-and-comers from Melbourne, Australia! I usually open the show with it, and it never fails to set the tone for the night. 
5.  Cashmere Cat - "Mirror Maru" (Lunoe's Bitch Don't Kill My Vibe edit)
I couldn't resist making this blend. Cashmere Cat and Kendrick Lamar. Too perfect! I'm sorry to say that it is not currently available online, but how about I put it in the Fall Tour mix that I am uploading on my Soundcloud next week? OK, deal! 
6. Anna Lunoe & AC Slater - "All Night"
If you like JCole's hit "Power Trip," check out the dance floor re-rub that me and my friend AC Slater made. I just love flipping a record with a strong hook from another genre for the dance floor. It's a free download on my Facebook page now so go get it. 
7. Ta Ku - "Electr(on)ic Relaxation"
This is a re-rub of a classic A Tribe Called Quest song by a young Australian Producer called Ta-Ku. He is making waves back home and just released a new EP--definitely worth checking it out. Important: If you dig this, and you have never heard of A Tribe Called Quest, go and get hold of a copy of their albums Midnight Marauders or The Low End Theory. STRAIGHT. AWAY. 
8.  AlunaGeorge - "You Know You Like It" (DJ Snake Remix)
DJ Snake is kinda on fire at the moment. His game-changer track "Bird Machine," his Kanye remix, and now this re-rub of AlunaGeorge?! He keeps hitting the perfect balance for me. 
Over the coming weeks I'll be sharing some of my mashups and bootlegs with you all! In the meantime, click through the gallery for snaps from the past week. (And click here to get last week's tour diary from Anna.)