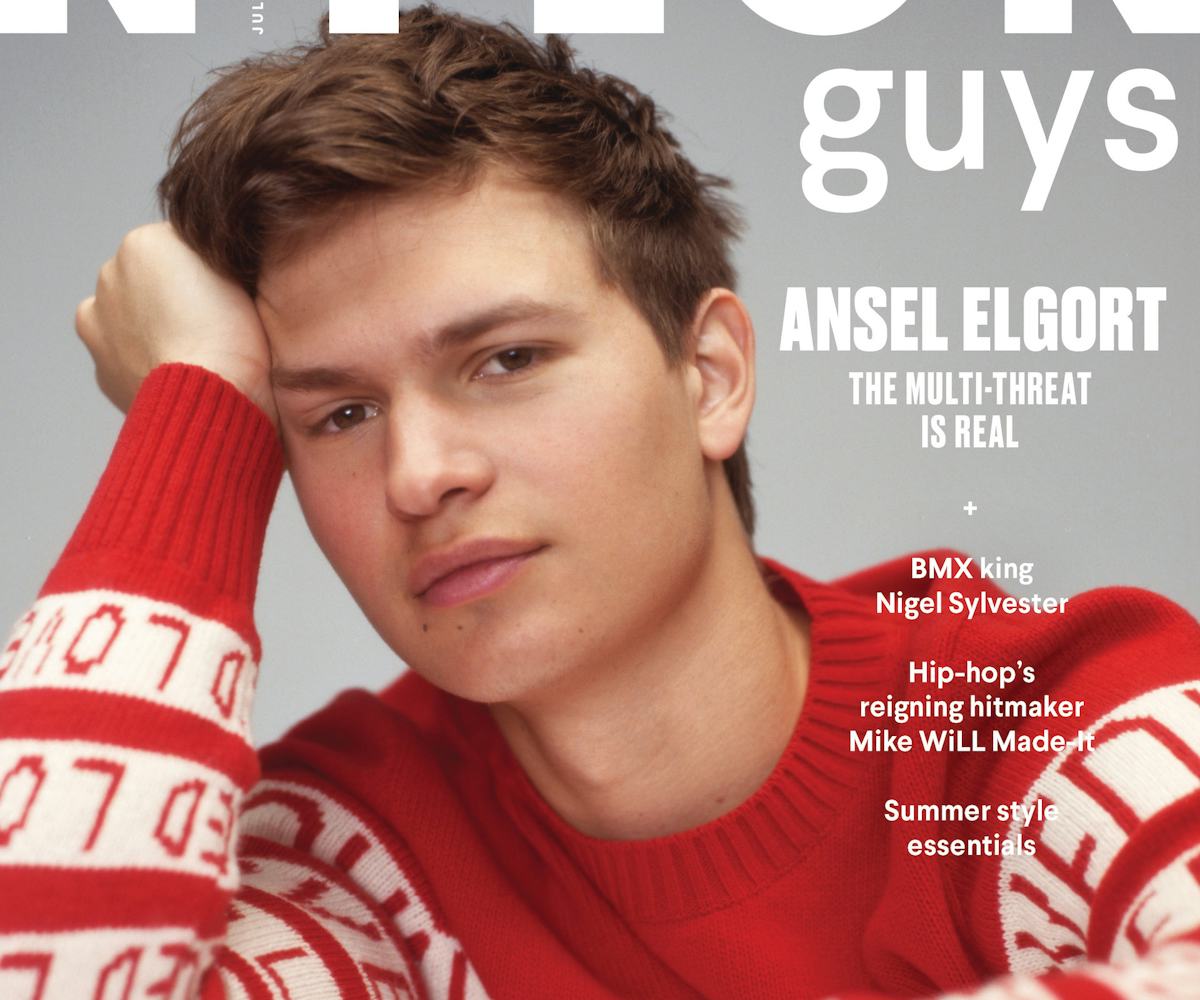 Photographed by Emman Montalvan. Styled by Micah Johnson. Sweater by Gucci.
Ansel Elgort Is Our 'NYLON Guys' June/July Cover Star
The actor leaves the YA universe in the dust with the high-octane summer action flick 'Baby Driver' and a burgeoning music career, but what he really wants to do is… more.
The following feature appears in the June/July 2017 issue of NYLON Guys. 
"Please don't make me sound like a douchebag."
That's Ansel Elgort's half-serious plea, early on in the conversation we're having on a spring afternoon in Brooklyn. We're at a tangy-smelling climbing gym located in a neighborhood flush with industrial warehouses, a spot he's been coming to for eight years, since he was about 15, and where the employees know him not as Ansel Elgort, Movie Star™, but as a goofy, energetic regular who likes to scale the walls a few times per week when he's in town, the kind of guy who, when an employee offers him a sip of her mango smoothie, happily takes her up on it. (The smoothie is pretty tasty, he confirms.)
But here's the thing: Elgort thinks he may have just compared himself to Pablo Picasso (and in fact he kind of did), but it's an honest—or make that earnest—mistake. See, the night before we meet, he encountered one of those surreal, pinch-me-I'm-dreaming situations that up-and-coming actors sometimes find themselves in. He was hanging out at the Manhattan townhouse of Diana Widmaier-Picasso, granddaughter of Pablo, hobnobbing with A-listers Robert De Niro and Whoopi Goldberg, television mastermind Ryan Murphy, and cinematic auteurs Baz Luhrmann and David O. Russell. The whole experience was like an electric rod right through him, inspiring and energizing, and it got him thinking about Picasso, and then art, and about how, for Picasso, art wasn't about the finished product—it was about the process. Then a light bulb went off.
"That's why he was so prolific," he says excitedly, between sets of clambering up the gym walls like an overgrown simian, albeit one with a boyish jaw and pout worthy of 7.6 million Instagram followers. His hands and black sweats are dusted white with climber's chalk, his hair an untamed tangle on his head, and his gait a turned-out waddle, thanks to years of dance lessons. "He wasn't overthinking it, he was just constantly making art." That's what Elgort, who exploded onto the scene just three years ago, starring in the hit teen tearjerker The Fault in Our Stars, adapted from the YA bestseller by John Green, wants—to create art, to constantly evolve, to, you know, be like Picasso. "He did a lot of different-looking stuff over time. Sometimes he did things that were very three-dimensional, sometimes he did things that were very flat, sometimes he did sculpture. He went all over the place. I think it's okay to do that." And without missing a beat: "My music is changing constantly. Every time I make a new song, it's a different sound. And that's okay, too. For whatever reason, society wants you to do one thing." It's here that he grimaces. "I'm not trying to compare myself to Picasso," he continues. "So, please don't make me sound like a douchebag."
Ansel Elgort is many things, but a douchebag is not one of them. He wouldn't even have time to be one, even if he were so inclined. A New York native and son of famed photographer Arthur Elgort, the 23-year-old has parlayed an adolescent interest in musical theater—he went to Manhattan's Fiorello H. LaGuardia High School, on which the movie Fame was based, and attended Stagedoor Manor, a musical theater summer camp that counts Robert Downey Jr. and Natalie Portman as alumni—into a career as a Renaissance man for the social-media age. He's an actor, singer, music producer, DJ (as alter ego Ansolo), and dancer. Right now he has four film projects in production, in addition to this summer's car-chase flick Baby Driver. He released the electronic power ballad "Thief" in the spring along with an accompanying music video, a family affair directed by his brother and starring his girlfriend, Violetta Komyshan. And that's not to mention his normal-guy hobbies like shooting basketball, putting in a few hours a week at the local climbing gym, playing video games, and keeping up with his love of making miniature models (yes, really).
Baby Driver, out June 28, is a stylish and adrenaline-pumping riff on the classic heist film, and a major departure from Elgort's last big-screen work in 2016's Allegiant, the third installment in the teen-friendly, dystopian Divergent franchise. In Driver, he plays the titular Baby, an iPod-listening, sunglasses-wearing getaway driver, who is paying off a debt to the mastermind (played by Kevin Spacey) behind a string of bank robberies. Baby is known for both his taciturn demeanor and masterly way behind the wheel, but when he becomes entangled in the double-crossing of his criminal cohorts (including Jamie Foxx, Jon Hamm, and at one point, The Red Hot Chili Peppers' Flea), he's left to extricate himself and protect the woman he loves. In an innovative move, the film's entire pulse-quickening, mood-setting soundtrack, which plays almost continuously from start to finish, is synced to Baby's iPod, providing an aural link between the protagonist and the audience.
I ask Elgort if signing on to the project was a concerted effort to move away from his tween heartthrob reputation. "You should ask my representatives that question," he says, somewhat defiantly. "They might look at it that way, but for me I'm just doing what inspires me. If I get a script and I love it, I'm going to do it. That's it. If I get a piece of music and I love it, we're going to keep going with it and finish it. That's the way that, hopefully, I'm going to live my life."
Spacey, who worked with Elgort on both Baby Driver and the forthcoming Billionaire Boys Club—the true story of wealthy friends who started a Ponzi scheme and eventually turned to murder in Southern California in the 1980s—took notice of his co-star's commitment. "I wasn't familiar with his work but was soon introduced to his ethic and seriousness of purpose," Spacey says. "He worked very hard and remained completely focused through the course of the two films we shared together. He has an impressive amount of determination and is dedicated to being an artist." In Baby Driver, Spacey acknowledges that Elgort deftly handled the dual challenge of conveying emotion and staying stone-faced throughout the film. "A large part of his performance is silent, and yet I think he gives so much of himself that audiences are going to really understand his character and be moved by his work."
Baby Driver director Edgar Wright was looking for someone charismatic enough to give a human core to the explosive action that makes up most of the film's dizzying car-chase sequences. "The part needed a young movie star and Ansel delivered," he says. So much so that when Wright asked him to lip-sync to a song he knew by heart during his audition, he was so impressed with Elgort's version of the Commodores' "Easy," he built a whole sequence around it in the film. To Wright, the role represents a giant leap for Elgort and his career. "Ansel's fan base is growing up, and this might be the first R-rated film they've seen him in. And for other audiences who haven't seen the YA movies, this is a great introduction to him as a 'new' actor."
For Elgort, stardom isn't the end goal, though it may be an inevitable side effect. "Getting attention is nice, but it's like a drug, it's empty," he says. The real question is whether or not he can maintain his current level of engaged curiosity and passion to create. It's hard to complain that leading-man looks and natural charisma are limiting in Hollywood, but it's also tough to deny that the film industry tends to plug actors like Elgort into formulas calculated by bottom-line success.          
Perhaps he already learned his lesson from Divergent, the franchise that locked him into two sequels. (A fourth film, Ascendant, will now be released as a TV movie, but Elgort, along with most of his co-stars, will not be reprising his role.) It was an experience he found challenging—his first introduction to the premium the industry places on profits, sometimes at the expense of creativity. "As an artist, I don't think you should feel like you have an obligation," he says. "You should be very true to yourself and do exactly what you want to do, because that's how you can make your best work. And the thing with big franchise movies is that once you're signed up, you have to do a bunch." His words, suddenly, become more measured. "And maybe that summer I would rather have done something else, or I saw a script that inspired me that I couldn't have done because I was signed up for months to do something else." He thinks for a moment and adds, "If I were obligated to make a fourth Divergent film, maybe I wouldn't have been able to make Baby Driver, and that would have been a real shame."
Elgort's most millennial quality is how he's able to be so well versed in such a wide variety of disciplines, and to make them seem effortless, all while being completely in the moment. When he has downtime on set, he produces music; when he's between films, Ansolo will line up some DJ gigs. Genuine enthusiasm radiates from him like waves, and seems to be his sole motivation. Even when it comes to music, his interests are almost comically varied: "I love electronic music, I love urban music, I love musical theater, I love jazz," he says. "I love Frank Sinatra coming out in a tuxedo and I also love Freddie Mercury in a sequined crazy outfit, holding the mic, marching around. I love Skrillex jumping up and down, shaking his head and crowd surfing. So there's a combination of all these people who inspire me, who I'd like to become. It's hard. I think it's going to be a process, but I'm looking forward to the process. As an artist you have to be willing to be fluid."
His next move might be behind the camera. Working with Wright sparked Elgort's interest in directing, and Wright has reason to believe his star could be a successful filmmaker. "I come to work with a very specific plan of attack, and I like to share that with the actors, so they know exactly what's needed for every single shot," he explains. "For any actor, I can give them as much or as little information as they'd like. Ansel wanted to immerse himself—so he was a great student and colleague in the process. I hope he does direct one day."
There's also Broadway, and while Elgort's dream role—playing Javert in a revival of Les Misérables—is, logistically, a few years out of reach, he talks as if it were already slated for the 2037 season. "Oh, I can't wait. We'll get a great Jean Valjean and do that together," he says. (It's worth noting: You can't spell Elgort without EGOT.)
Before all that, though, there's regular old Ansel Elgort, who, after his workout, changes back into his street clothes and stuffs his climbing gear into a ratty backpack before hoisting it onto his shoulders and heading for the door. Later he'll go to a Rangers game with Komyshan, whom he's dated since high school and who serves, in part, as a tie to a life before movie posters and requests for selfies with random sidewalk strollers. When we leave, it's warm, and he decides to take the subway and kill some time before the game. He has a free afternoon—an increasingly rare thing—and he's young and wants to disappear into New York City for a bit, to become another anonymous passing face in the crowd while he still can.
Grooming: Joanna Pensinger Ford at Exclusive Artists Management for Chanel Les Beiges. Photo Assistants: Erika Long and Ariel Sadok. Stylist's Assistant: Christian Salazar.
NYLON Guys' June/July issue hits newsstands 5/30. Buy it now.