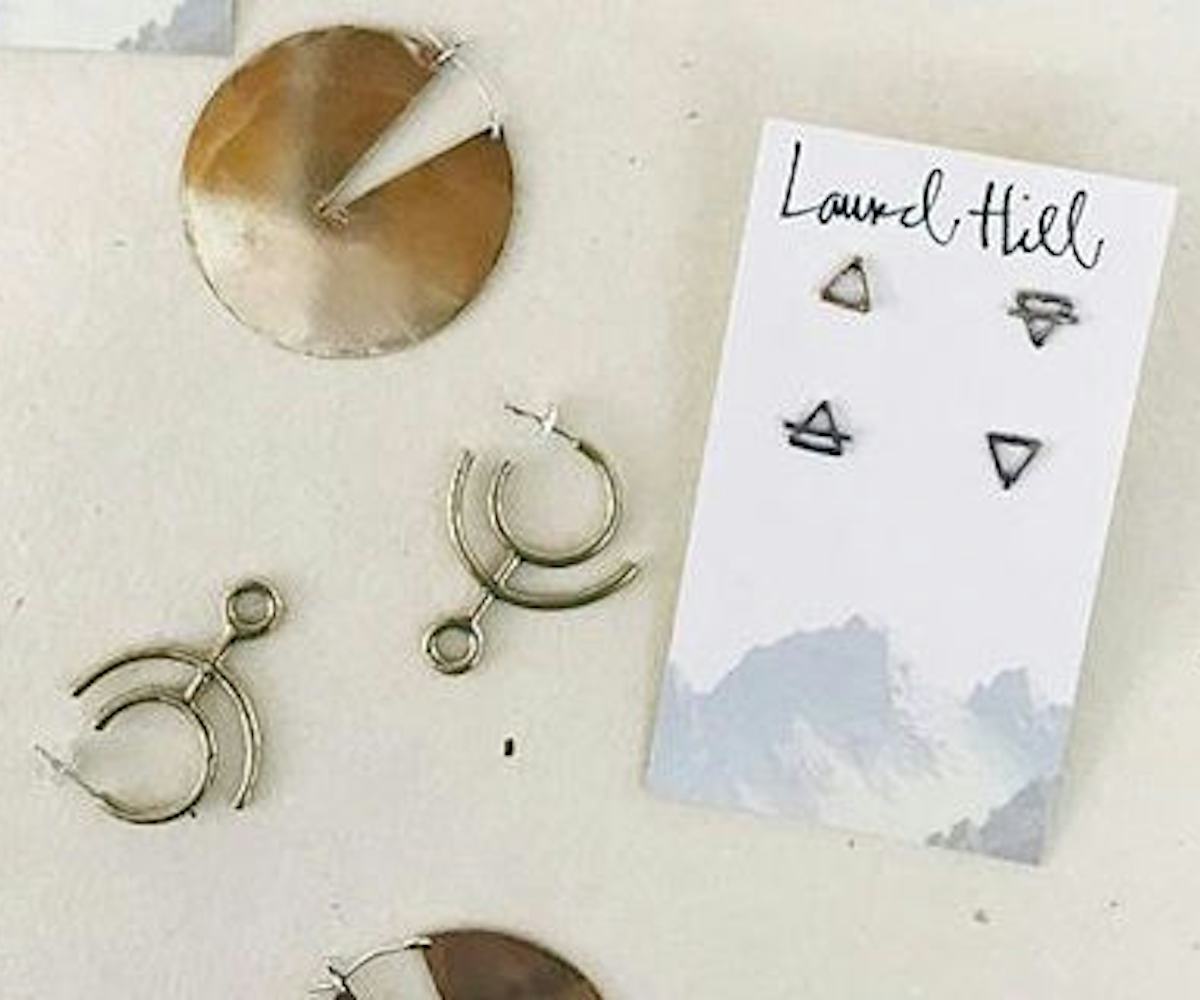 Photo via @laurelhill Instagram
Anthropologie Has Been Accused Of Copying Indie Jewelry Brand Laurel Hill
Another day, another knockoff
It's sad to say, but it's becoming all too common for indie designers to be knocked off by retail giants. The latest victim? Jewelry designer Laurel Hill and her namesake brand.
It appears that one of her earrings, a disc-like geometric hoop called The Gate Hoop, has been replicated by Anthropologie. After trying to reach out to the buyer multiple times and getting radio silence in return, Hill decided to take the issue to social media and call them out for this truly WTF moment. "This is so rude. I'm a person! You're a collective of people!" her post says.
The designer goes on to explain why she doesn't feel that this just a coincidence. A few years back, a few of her pieces were carried at Free People—which is under the same parent company, Urban Outfitters Inc., as Anthropologie. When the retailer offered to reorder some of the hoop earrings they were carrying, but at a fraction of the wholesale price, Hill ultimately decided to decline after she couldn't swing covering expenses with the little money they were offering. These exact earrings were included in that very e-mail exchange, as well as every line sheet Free People received and used to place orders from her. 
The Gate Hoop retails on Hill's site for $96 to $388 a pair, depending on size and material, while Anthropologie's Lunar Cutout Hoop Earrings were selling at a mere $38. According to a statement Anthropologie released to Refinery29, it has since removed the earrings from its site. However, the damage is done. At such a low price, it's very possible that tons of these earrings have already been sold.
So, when this happens, what can a designer do next? I asked Hill whether she would be taking extra steps to protect her future designs. "I wish it weren't necessary to 'protect' designs, so I don't plan on putting my energy there," she says. However, she does feel that there's a desperate need for change within the industry itself:
I think the whole fashion industry is due for a major overhaul, and it's already begun. So many designers are throwing out the rules, choosing sustainable manufacturing methods and materials even though they're more difficult and expensive, and leaving the traditional fashion calendar behind. I think the idea of "conscious consumerism" is here to stay. It's not wrong to want nice things, or to feel good when you get your hands on something beautiful that you can enjoy for years to come, but these companies actively work to create feeding frenzy, with new products all the time, while screwing people over at every level, from the designers whose ideas are 'stolen' to the workers in the overseas factories who end up manufacturing those stolen ideas for pennies.
She also makes a point to mention that it's not always plagiarism (though in this particular case, it blatantly is): 
I believe that it's possible for people to create similar ideas at the same time, when the universe is ready for it to be brought forward, like the television or microchips. As an artist, it's easy to assume someone is copying when you see that they've made a similar design, but sometimes, we're just working with the same themes, and these shapes are what's showing up. So there are happy accidents, but with Anthropologie? This was not.
While the main offenders are usually the giant retail corporations, particularly fast fashion, it's happening all across the boards. From Instagram famous supermodels knocking off reputable runway designers to even independent beauty brands being subject to plagiarism (how could anyone think they could get away with knocking off the legendary Pat McGrath?), big money seems to be coming for the smaller guys. Please take note, we all see you—and it's just not gonna fly. As Hill concludes, "These huge corporations are counting on people to maintain the status quo, so it's really up to us to make the change, and if we all banded together, it would come in a flash."