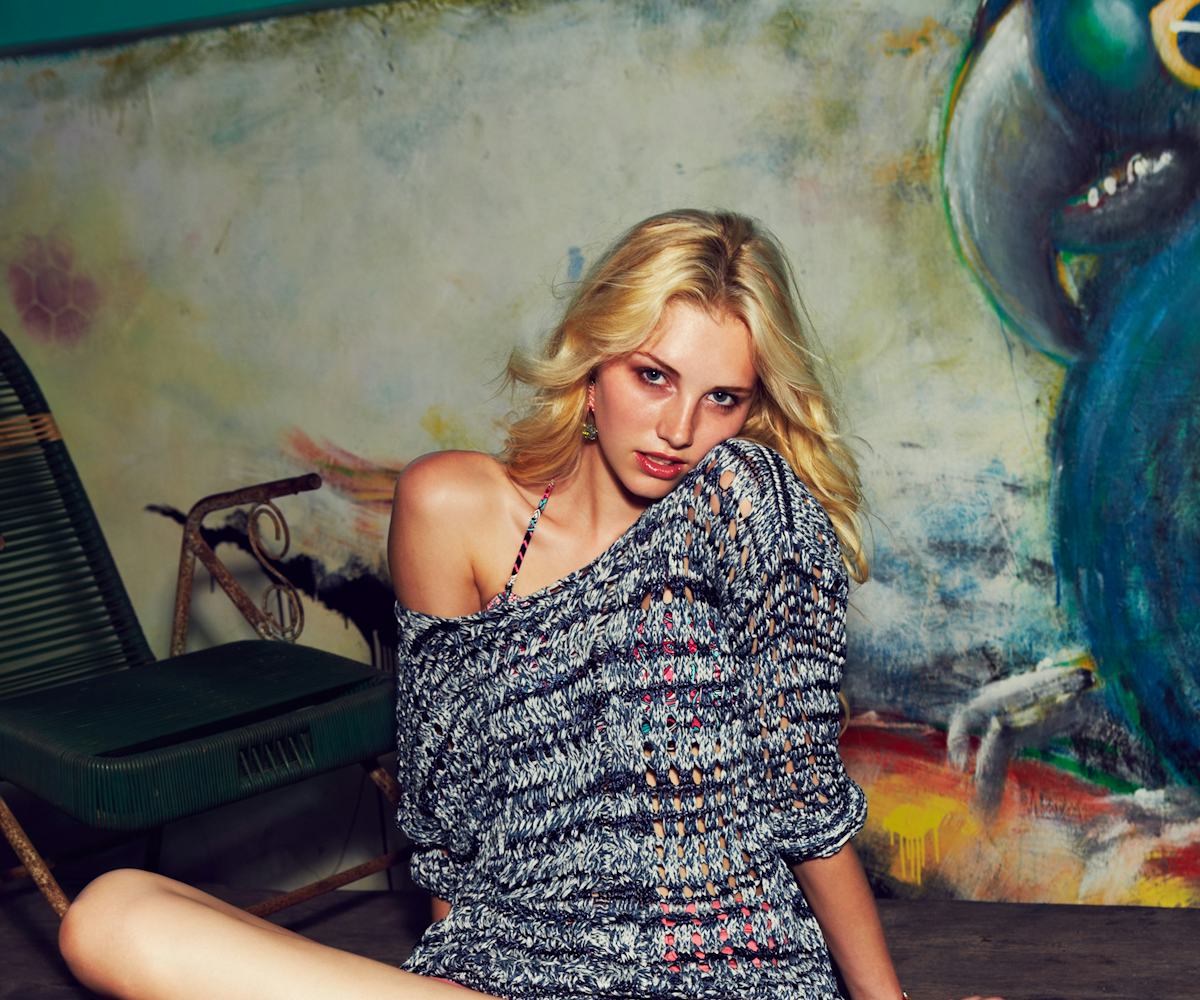 photographed by marvin scott jarrett
bali pop
go behind-the-scenes of our shoot with antn winner jourdan.
Ever since Jourdan was crowned the winner of America's Next Top Model, we've been jonesing to reveal her totally awesome NYLON editorial to the world. And here it is! You can see a couple of shots and even more outtakes in the gallery, and you can catch all of Jourdan's smizing and tooching in our December/January issue!
We got the scoop from Jourdan herself about what it was like to shoot with our Editor in Chief, Marvin Scott Jarrett, and our Fashion Director, J Errico, as well as what she's been up to since winning ANTM. Read on for all the deets.
What was your favorite part about shooting with Marvin Scott Jarrett and J Errico?
J is absolutely amazing. All the clothes just seemed to fit me perfectly. Shooting with Marvin was a dream come true. He's the editor in chief, so it was like, "This is  a big deal." At first I was really nervous. I think he could tell I was holding back a little bit, but then as soon as we got into a couple more outfits, I got straight into my element and started doing my thing. He said that at the end of the day, he didn't really have any criticism for me. It's s just awesome to hear from an editor in chief of a magazine telling you that you nailed the entire photo shoot. My favorite part of the entire photo shoot would be when we went out into the alley way and I was propped up against a wall. It was once we got outside that I was really really happy to be shooting with him and be there because Bali was just amazing.
What was your favorite part about going to Bali?
The best part about Bali was going to the monkey forest. That was so much fun, I cannot tell you. To have all those little monkeys crawling all over me--and I'm already tall so it's like I was the perfect visitor. That was just a hoot and a holler. I could just remember laughing at all of those lithe monkeys stealing everybody's wallets and sunglasses. They told us don't wear anything shiny because they'll steal it from you. 
What are some of your long-term modeling goals?
My ultimate modeling goal is to follow in the steps of Tyra Banks and become a Victoria's Secret model. That would literally be the icing on top of my already amazing cake. That is what I'm working extremely hard towards. I have a good workout regime and that I'm taking care of myself and being healthy. I know that being in your underwear all the time isn't that glamorous if you're not keeping up with your lunges and pushups. My ultimate goal is to be the first winner of America's Next Top Model to truly be what the title says it is. There have been so many winners that I feel like have kind of disappeared over time, and I don't want that to happen to me. I want to make sure that people know me for a long time. 
Do you every get recognized since being on the show?
I do. Any time I got to the grocery store. Anytime I get gas. There's usually someone who stares at me and they kind of recognize me, but they're too scared to come up and say something. But I have had people like full on run up to me and be like, "Oh my gosh, Jourdan. We're so proud of you. You're doing such an amazing job!" That's just awesome to have some random person come up to you and them tell you that they love you. 
What are your favorite hobbies outside of modeling?
I love the beach. I wish I could just go to the beach every time I had free time. I'm unfortunately a couple hours away, but if I could I would be at the beach all the time. There's just something about the ocean that's just captivates me. That would be my ultimate fun day. Just going, sticking my feet in the water, building sandcastles, and being a kid for a day. I really love hiking. I go on a lot of hikes in my free time. I have three really big dogs, so they definitely need me to be able to keep up with them. I'm really in to drawing as well. I just started studying some fashion drawing and I really like sketching for fun. It's not even to design clothes, it's just because I like to draw and it's a stress reliever for me. So those'd probably be a couple things I absolutely love to do in my free time. 
Shirt by Billabong, Bathing Suit and Sunglasses by Kenzo, Pants by Diane von Furstenberg, shoes by Soludos, Bag by Hermes, Watch by Chanel
Necklace and Bracelets by Holst+Lee, Bathing Suit by Volcom, Shorts by DKNY Jeans, Shoes by Hermes, Watch by Chanel
Shirt by Billabong, Bathing Suit and Sunglasses by Kenzo, Pants by Diane von Furstenberg, shoes by Soludos, Bag by Hermes, Watch by Chanel
Shirt by Roxy, Bathing Suit by See by Chloe, Shoes by Louis Vuitton, Head Wrap by Vanessa Mooney, Sunglasses by Vilebrequin, Necklace by Holst + Lee, Watch by Chanel
Sweater by Sandro, Bathing Suit by Volcom, Shorts by Joe's, Shoes by Minnetonka, Earrings by Frieda and Nellie, Bracelets by Shashi, Watch by Chanel