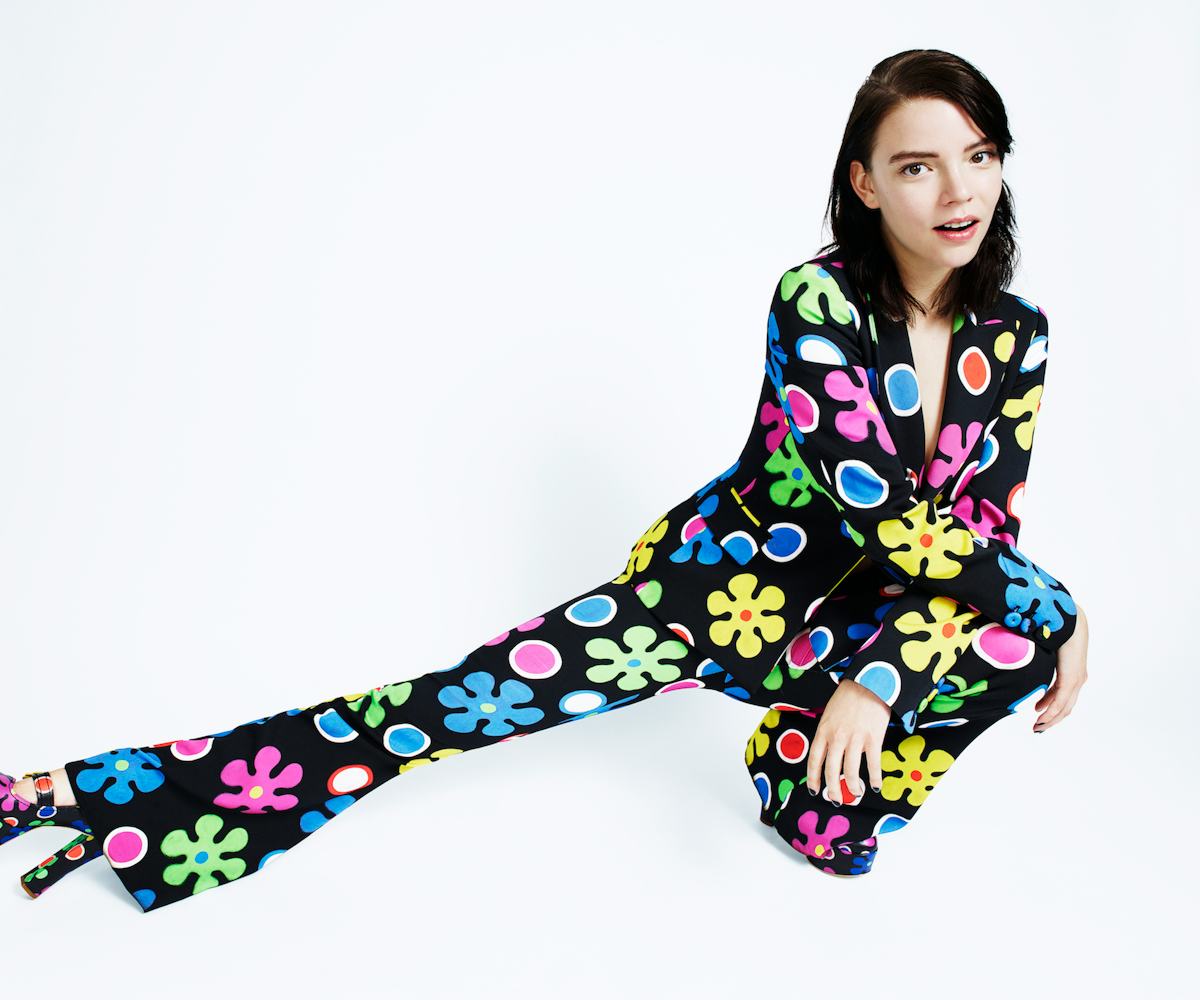 Photographed by Simon Emmett. Styled by Jeanie Annan Lewin.
Success At Sundance And A Role In 'Barry' Are Just The Beginning For Anya Taylor-Joy
The 20-year-old actress discusses her latest projects
The following feature appears in the December/January 2017 issue of NYLON.
The first thing Anya Taylor-Joy wants to talk about is her dog. She brings up Kala, a big ball of black fluff, with puppyish enthusiasm herself, describing her as "the most ridiculous thing in the entire world" and "a teddy bear brought to life." It's a drizzly morning in West London, but inside this particular neighborhood café—with its bleached walls, mellow background music, and juice bar—the atmosphere is considerably sunnier. She barely sits down before pulling out her iPhone to show me a video. "You are going to have to deal with my cooing noises," she says.
Fresh-faced and makeup-free, the incredibly busy 20-year-old actress looks reinvigorated after six days at home here in London. Born in Miami to a Spanish-English mother and an Argentinian-Scottish father, she is the youngest of six children, "the baby by a long way," says Taylor-Joy, whose youngest sister is seven years older than her. Though her accent is as British as mine, her first language is Spanish, and she's in the process of learning French. Growing up between England and Argentina, she's been living "pretty much alone" in her childhood home in West London since dropping out of school at age 16 to pursue acting.
"When I say the past two years have been mad, it's, like, legitimately mad," she says of a schedule that includes six movies shot back-to-back following her breakout in Robert Eggers's indie horror The Witch, which terrified and delighted audiences at Sundance earlier this year. Since then, she appeared as the titular character in the sci-fi thriller Morgan, and can be seen as Barack Obama's sharp-witted college girlfriend in the Netflix biopic Barry, which premieres on December 16. But Taylor-Joy's most visible role to date will come in January, as part of M. Night Shyamalan's latest horror experiment, Split. In it, she stars alongside James McAvoy as Casey, a smart, steely heroine who, when abducted by McAvoy's character Kevin—a sociopath with 23 competing personalities—must work with her two friends to outwit him. When asked what it is about the horror genre that draws her in, Taylor-Joy insists that neither Split nor The Witch nor Morgan are actually horror movies. They're thrillers, she says, films that allow her to "really scream" and "exorcise a lot of feelings without becoming a psycho."
Click through the gallery to read the rest of the feature.
All clothing and accessories by Moschino. 
After ordering a black coffee—she ate a breakfast of "seaweed" already—Taylor-Joy shrugs off the leather jacket she was gifted at Sundance. I tease her, telling her that seaweed for breakfast makes her sound like an actress cliché. "Of course it does!" she says with a laugh. She's been vegan since shooting Split in Philadelphia last November, spurred on by the city's bounty of animal-free options, and has kept it up for almost a year, although she concedes it "kind of went out the window" when she was filming recently in Spain. "I would never eat meat, but I definitely slipped on the cheese," she admits. "Pasta with butter and cheese is the only thing that makes my heart feel better at times."
My eyes land on the pair of Gucci rings she's wearing, heavy silver snakes with tigers for heads, the only two items she's splurged on since her acting career took off. "They're also supposed to double as knuckledusters," she jokes. "I'm not much of a shopper. I like books and records." In her downtime she plays guitar, although she's more of "a lyricist," writing poetry and songs. "I just picked up my first acoustic guitar, which I'm learning at the moment," she says. "I'm starting to finally get over these calluses on my fingers, which makes it a bit better, because I have tiny hands."
With her long, graceful limbs, Taylor-Joy, a former ballerina, is not exactly frumpy. In dance class though, her messy bun and contagious, almost wild enthusiasm didn't quite match the disciplined rigor of the girls around her. "I'm so challenged when it comes to makeup or doing my hair," she says. "[Brands are] kind and they give you stuff, so I can kind of look like I'm well-dressed, but in reality it's all, you know." She gestures to her vintage sweater, purple with blue stripes. My eyes drift down to her embroidered Alexander McQueen loafers. When I ask if it feels weird to receive gifts from the rotating door of stylists and designers who flock to young actresses with the glow of industry heat, she tells me about the one time a production company put her up in an apartment filled with presents. "It made me so uncomfortable," she says. "I didn't understand why I was being given stuff, so I just left it. Eventually, my friends came around and they were like, 'Dude, it's like Christmas! You have to open this shit up!' So I started carrying a bag, because now I have bags." Prior to that, she was a canvas kind of girl. "Everyone fucking hated the canvas bag. They were like, 'We can't take you bloody seriously. You're carrying around this ridiculous, dirty canvas bag from Shakespeare & Co.'"
Taylor-Joy, whose energy is clearly boundless, acknowledges that her grueling schedule is about the only thing that can slow her down. "I'm really grateful that my job keeps me this busy, because at least it makes me tired," she says. "I can sort of go until I collapse." We both agree that she's due for a proper vacation. "Hopefully, by the end of the year, I can go to Argentina for a month and ride horses and not wear shoes and just sort of—" Be free, I offer. She nods, though she's quick to reassure me how grateful she is to be doing this full-time. "We get to play for a living!" she says and grins. "We get to really stretch all of our soul out."
Dress by Just Cavalli, top by McQ.
Photo assistant: James Sharpe. Hair: Tracie Cant at Premier Hair and Makeup. Makeup: James Molloy at Premier Hair and Makeup. Manicurist: Jessica Hoffman at Caren using Chanel Le Vernis.