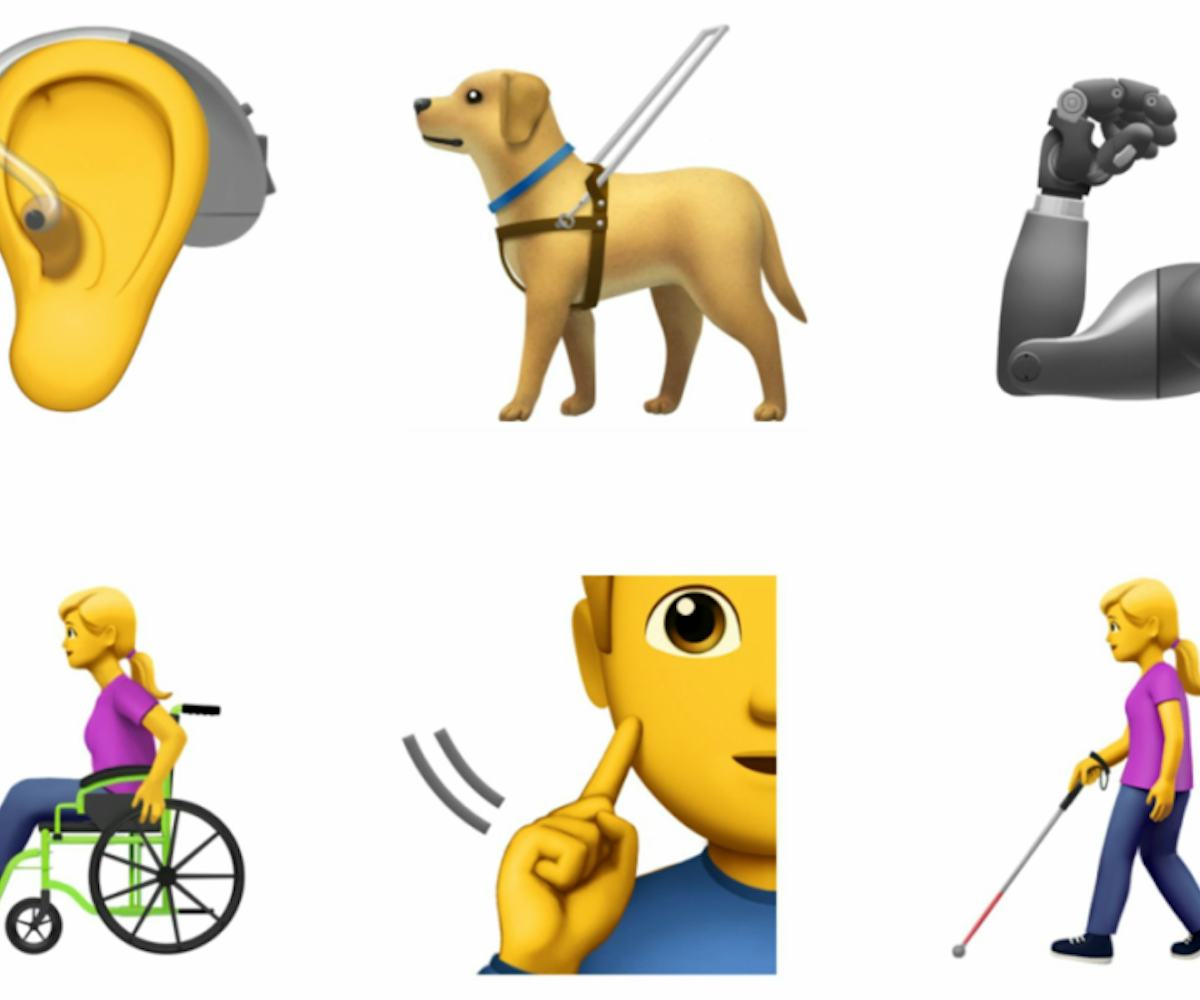 Image via Apple / Emojipedia composite
Apple Proposes New Accessibility Emoji To Represent People With Disabilities
Including emoji hearing aids, guide dogs, prosthetic limbs, and more
Now that the masses have been sated by the addition of the highly-demanded taco emoji, Apple is finally moving on to more thoughtful additions to the keyboard. Earlier this week, the software company made a request to the Unicode Consortium—which selects and develops new emoji—to expand their selection to include images of people with disabilities.
Working with the American Council of the Blind, the Cerebral Palsy Foundation and the National Association of the Deaf, Apple stated that they were "requesting the addition of emoji to better represent individuals with disabilities. Currently, emoji provide a wide range of options, but may not represent the experiences of those with disabilities." 
The (long overdue!) proposal goes on to detail why disability-inclusive emoji are an important addition to the keyboard:
Adding emoji emblematic to users' life experiences helps foster a diverse culture that is inclusive of disability. Emoji are a universal language and a powerful tool for communication, as well as a form of self-expression, and can be used not only to represent one's own personal experience, but also to show support for a loved one.
The new emoji include 13 options for men and women (45 counting skin tone variants), including a hearing aid, people using canes, people in wheelchairs (both manual and electric), a guide dog, and prosthetic limbs. Apple also mentioned that this update is "not meant to be a comprehensive list of all possible depictions of disabilities" and called it "an initial starting point," hinting that there might be more disability-friendly emoji on the horizon.
The Unicode Technical Committee will meet next month and decide whether or not to accommodate Apple's request. (Though we think it's a surefire bet that they will—or at least, we hope so.) If the new emoji are approved, you'll be able to use them starting at the beginning of 2019.