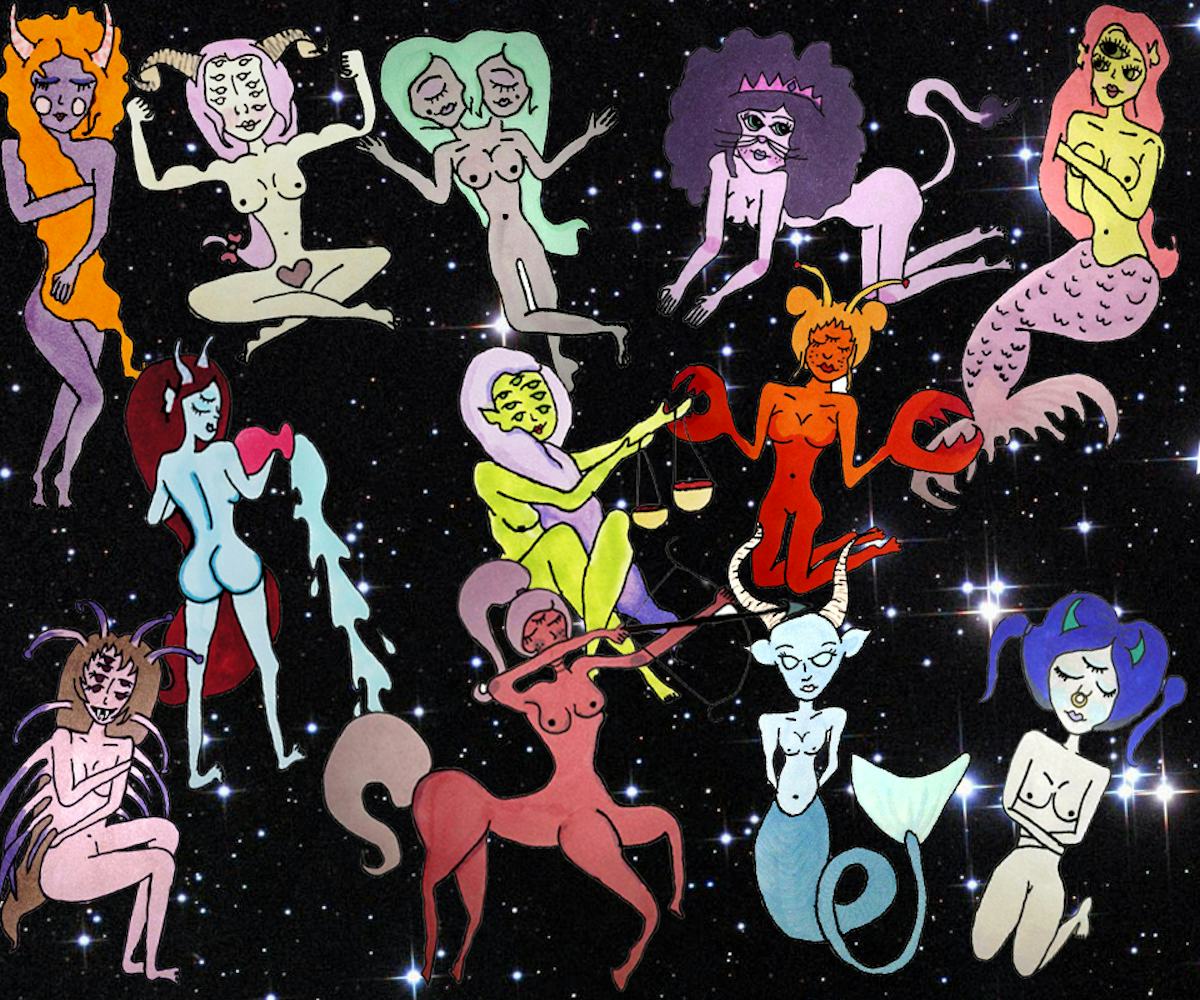 Illustrated by Georgia Loughlin
Your April Horoscopes Are Here
What the stars have in store for this month
The delays are over: Spring is here, and so is that much-needed shot of energy from the Sun's high point in jovial Aries. Feeling antsy? Join the club. The return of the Sun King promises progress, inspiring all 12 signs to bite off as much as they can chew this month—but be careful not to choke.
An enterprising Aries New Moon on April 7 provides an essential burst of energy to launch big things in motion—domestic affairs for earth signs, sexual adventures for fire signs, emotional shifts in perspective and intuition for water signs, and communications projects and professional advancement for air signs. Be bold in your blueprint, but be patient: Mars, the planet ruling energy and ambition, will clock out of commission from April 17 to June 29, causing major delays in all signs' progress. Seize this sleepy, underground energy as an opportunity to fine-tune your strategy until the coast is clear. Charge your spiritual batteries this season to avoid anxiety—you'll need all your energy for your ideas to take flight.
Super-deep emotions are birthed after a long, shadowy gestation through a Full Moon in intense, sultry Scorpio on April 22. Feel all the feelings and then let them go—ain't nobody got time for grudges and emotional outbursts once Mercury turns retrograde on April 28.
Aries: It's Personal
Magnetism is your gift from the celestial Gods as Aries Season crests during the first week of April with Venus, goddess of beauty, luxury, and romance, gliding into your sign on April 5 in blissful alignment with the New Moon in Aries on the 7th. Your electric charm will be instrumental in getting your way this month—whether or not you have the energy to work is another question entirely. Clocking your own progress is key, especially near the happy Aries New Moon when you could strike a golden opportunity to further your personal development. Work fast, though: On April 17, your ruling planet Mars will almost completely tap out, moving retrograde until late June. Approach literally everything with patience and allow extra time to cushion important deadlines while Mars naps—plans are likely to stall and projects will need multiple revisions. Nix frustration (and major burnout) by taking a hint from Mars and slow down. You're only competing against yourself, anyway.
Taurus: Loose Lips Sink Ships
Privacy becomes very important to balancing your personal life and love life this month as nagging skeletons from dark, forgotten parts of your psyche may become unavoidable. Secrets—particularly those kept between partners in a romantic relationship—will be put on blast as April progresses. Addictions may bloom in strange places this month, either for yourself or someone very close to you. You may be asked to keep your lips zipped and provide the strong, silent support you've mastered, especially near April 17 when Mars slips into retrograde motion in your 8th House of Intimacy. April is a brilliant month to begin rehab, solo therapy, or couples counseling to address any issues that seem too ferocious to handle alone. An intoxicating Full Moon in perfect match Scorpio on April 22 will have you seeing your love life in black and white—for better or worse. Be very careful of what you say near April 28 when Mercury heads into retrograde.
Gemini: Tipped Balance
Abundance is plentiful—even overflowing—with the opportunity to flex your professional muscle in the first week of April with lovely Venus occupying affable Aries on April 5, aligning with a cheery New Moon, also in Aries on the 7th. Geminis who've been pounding the job search might find their perfect fit now, or those with steady work may receive a promotion into a role with greater leadership and responsibility. Focusing could get tricky around April 17, though, when Mars turns retrograde in your relationship sector throwing your love life into reverse. Geminis in troubled relationships have made tons of progress in the last six months or so, however, old arguments' roots run deep and will need to be dug up this month. This work could be emotionally backbreaking and may not be worth the trouble—use April to seriously reevaluate your partnership. A cutting Scorpio Full Moon on April 22 could bring a bittersweet split.
Cancer: Burning at Both Ends
Upward growth brings you closer than ever to reaching some of your highest-held professional goals in early April with a glittering New Moon in Aries on the 7th. Luxe Venus, ruler of your money-making talents, will match the New Moon in strength and support that week, as well. Things may change for the better quite suddenly around April 9—especially if you've been interviewing for a new and better position. Wrap up your negotiations by April 17, though, because once Mars hits retrograde making concrete progress at work will be sludgy at best. Your coworkers and colleagues might be unreliable, slow, or just plain sloppy by month's end, forcing you to pick up the slack. Be careful not to overextend yourself this month—you're nobody's superhero. Shut out the world and give yourself time alone near the Scorpio Full Moon on April 22.
Leo: Slow Motion
Single Leo's love roster starts to get crowded this month, thanks to magnetic Venus sashaying into compatible Aries on April 5, matched by a glittering Aries New Moon on the 7th, ensuring you collect admirers everywhere you go. Sexuality electrifies the spring air, but you'd do well to slow your roll when it comes to jumping in the sack with a new partner (or two). Mars, which rules your libido, will turn retrograde on April 17 until June 29, essentially giving you cosmic beer goggles. Striking up a sexual relationship now might feel urgently necessary, but your sexual chemistry may change drastically later on if you continue seeing each other. Save yourself the disappointment and move in slow motion until you get to know your partner(s). Parents might find themselves butting heads with their kids during this retrograde period when unresolved arguments are resurrected, especially near the agitating Scorpio Full Moon on April 22.   
Virgo: Agree to Disagree
Home continues to be your heart's focus in April, and this month is ideal for beginnings—apply for a mortgage, a line of credit, or a loan to spruce up your nest, especially in the days around the New Moon on April 7. If you're closing on a home or making arrangements for major construction or remodeling, be sure to nail down the details before April 17. Mars, the planet responsible for gassing up the engines of progress, will go on hiatus from April 17 to June 29, making it seem impossible to make headway on financial applications and increasing cash flow. What's more, static could arise between you and a family member or roommate toward the end of the month. Luckily, the supportive Scorpio Full Moon on April 22 provides an oasis through conflict resolution and patient mediation.
Libra: Timing is Everything
Sweeping conflict under the rug won't work anymore this month, Libra. Fortunately, support comes in spades when Venus moves into your partnership sector on April 5, followed by a powerful Aries New Moon on the 7th. Attached Libras may find themselves ready to get engaged, move in together, or become a parent in the first half of April. Alternatively, you may begin a new business partnership at this time. Ironically, it is not recommended that you actually embark on any of these romantic adventures between April 17 and June 29 when Mars—ruler of your relationship sector—goes into a deep sleep. Negotiating contracts, prenups, leases, and the like will come with many roadblocks and revisions, particularly near April 28 when Mercury's retrograde begins. Laugh, be light and determined to have fun despite the timing mismatching with the enchantment you feel.
Scorpio: Intense Changes
Giant strides in your career could take you by surprise early in the month as Venus partners up with Aries on April 5. Entrepreneurs and freelance Scorpios are in the best position to uncover lucrative new work assignments with the energy generated from the industrious and enterprising Aries New Moon on April 7. Be sure to send out resumes, pitch letters, and applications in the time between April 7 and 17—from April 17 until late June, making professional progress will be more frustrating than usual, thanks to Mars turning retrograde. Mars is one of your two ruling planets dictating your work life and income, so you may experience an intense slowdown in work, forcing you to reevaluate your expenses and spending habits. An incisive Full Moon in your sign on April 22 may bring heavy emotions to a boil. Don't fight your feelings—experience them and let them go before your words come back to haunt you with the Mercury retrograde on April 28.
Sagittarius: Love on the Brain
Love is finally burning on the horizon for you this month as Venus tangos across your romance sector with Aries on April 5, followed by an illuminating Aries New Moon on the 7th in perfect alignment to welcome new possibilities. In a stroke of cosmic irony, Mars, the planet responsible for action and engagement will turn retrograde on April 17, slowing any progress in your love life to a turtle's pace. Sagittariuses dating casually may feel like they've been put on pause by their paramours until Mars kicks back into gear on June 29. Don't be discouraged by the slowdown. Take this as an opportunity to better assess your potential partner(s). Patience will be essential toward April 28 when Mercury goes retrograde in your career sector, forcing you to revise an important work project (or seven). Breathe.
Capricorn: Domestic Politics
Like your fellow earth signs, Capricorn's warm, fuzzy feelings will be centered almost entirely around domestic life this month. Venus enters your Fourth House of Home Life on April 5 for most of the month, inspiring you to feather your nest to perfection. Costly expenses could materialize rather suddenly, so be prepared to shell out some cash for comfort. Spending might sting a little at first, but fine-tuning the decor and vibe in your home will pay you tenfold. Simply wait until after the New Moon on April 7 to initiate any improvements. Time spent with close family and loved ones in the first half of April will feel nourishing to your soul, so take advantage of the New Moon's harmony. Be prepared to make revisions to your plans and projects once Mars turns retrograde on April 17. A family member in poor health may need your support, shifting your priorities considerably. Don't buy into any guilt trips, though—you can only do so much.
Aquarius: Tread Lightly
Planting seeds of success through communicating, writing, and publishing during the first half of April will prove to be fruitful with Venus glittering through your communications sector on April 5, magnified by an Aries New Moon in the same part of your chart on April 7. Work quickly, though, because Mars, ruler of energy and ambition, will go retrograde from April 17 to June 29, slowing progress surrounding all-important projects involving your communications finesse to molasses' speed. Because Mars is retrograde in your friendship sector, you may experience powerful misunderstandings or arguments with those in your social circle. Allow yourself—and your friends—healthy periods of cooling off if talks become intense. Focus on work near Aprill 22 when a sparkling Full Moon in your career sector could shift the spotlight to you. Select your words carefully—especially when dealing with family—near April 28 when Mercury goes retrograde in your family sector.
Pisces:
Your income could see a much-needed (and deserved!) boost this month when sweet Venus moves through the area of your chart dictating cash flow and earnings on April 5. This planetary shift will breathe new life in your confidence, delivering creativity and magnetism to the way you think about your work's worth. As a result, you may decide to nurture your entrepreneurial side and launch a business or side gig completely DIY. A potent New Moon on April 7 only highlights your drive for financial independence. Use this lunation's energy to further your professional prowess, but be prepared to slow down considerably once Mars moves retrograde on April 17 in your career sector until June 29. Something amazing is brewing, the timing just isn't right for execution. Take a tip from Sister Scorpio's Full Moon on April 22 and focus on cultivating your strategy and talents underground before launching anything too hastily.