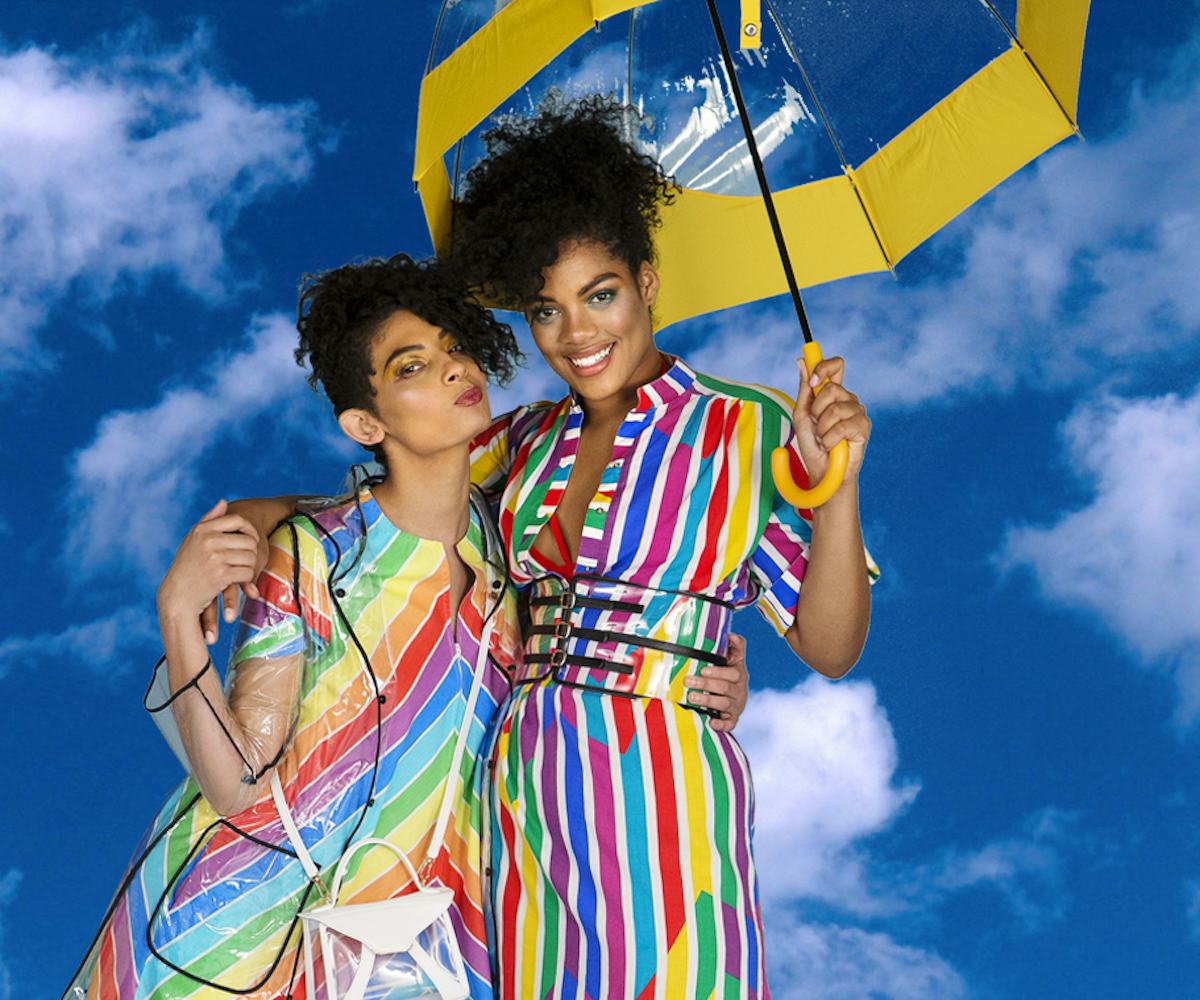 Photo by Kristiina Wilson
11 Bold Looks To Weather Any Storm In
April showers certainly aren't going to rain on our parade
When we wake up in the morning ready to start our day, only to notice the skies are dark and dreary (and the sidewalks wet and gross), our first instinct is to crawl back into bed and sleep until the sun comes back. However, in our opinion, a gloomy day is nothing that can't be fixed by the right outfit. And by the right outfit, we mean every color, texture, and pattern you can imagine (as long as it's waterproof, of course).
Below, a guide to dressing for inclement weather the NYLON way. We're definitely not going to let a few raindrops put a damper on our sartorial choices, now are we? And, as we know, April has and will continue to bring on some showers, but soon following are the inevitable May flowers.
Photographer: Kristiina Wilson
Stylist: Shea Daspin
Makeup: Slater
Hairstylist: Dustin Elliott
Models: Somalia Knight at STATE Models, Chloe Vero at Jag Models
One way to beat the rainy day blues? A sparkling, bedazzled umbrella, of course. Who doesn't love shiny things?
Chloe is wearing an Ab[Screenwear] vest and dress, Gypsy Sport bodysuit, Lairuicci earrings, and a Laurel Dewitt umbrella.
We may have packed away our leopard winter coats until fall, but thanks to this leopard rain trench, we can rock the trend all year round. Oh, and don't forget to grab your rubber sandals if the sky is looking iffy.
Somalia is wearing a Christopher Kane raincoat, Adidas by Stella McCartney windbreaker, Topshop skirt, Melissa shoes, and ban.do sunglasses.
When the sky is dull, gray, and ready to downpour at any given moment, we say bust out all the brights.
Chloe is wearing a Dolce & Gabbana (from TheOutnet.com) raincoat, Adidas Originals windbreaker and leggings, Chromat bikini top, and INC International Concepts slides. Somalia is wearing a Stutterheim raincoat, Gypsy Sport sports bra, Zara skirt, ASOS boots, and Lairuicci hoops.
You can find us dreaming of blue skies and rainbows on just about any rainy day. Rather than daydream, wear them for a little better weather well-wishing.
Chloe is wearing a Hunter poncho, Norma Kamali swimsuit and pants, ban.do bag, Melissa sandals, and a ban.do visor.
Can't text, sip coffee, and hold your umbrella at the same time? While more suited for the fashion risk-taker (okay, and nerdy types), an umbrella hat solves all.
Somalia is wearing a Topshop top, Alexander Wang dress, Hunter rainboots, Ozone socks, and an Amazon umbrella hat.
Is a torrential downpour on the horizon? No problem, as long as your accessories are waterproof.
Somalia is wearing a Zara jacket, Spark Pretty dress, Tyler Ellis bag, Ugg boots, and Happy Socks socks. Chloe is wearing a Spark Pretty dress, Forever 21 belt, Rainbow Shops shoes, Chromat bra, Rainbow Shops shoes, and a Hunter umbrella.
Be the holographic-loving unicorn you've always dreamed of being, despite the day's inevitable dreariness.
Somalia is wearing a Topshop raincoat, Alice & Olivia top, H&M skirt, Shop Rainbow boots, and Zara earrings.
Just because it's crappy outside, doesn't mean you can't spread a little cheer.
Chloe is wearing a Hyungmin Lee raincoat, Forever 21 dress, ban.do bag and shoes, and & Other Stories earrings.
April showers bring May... ah, you know the rest.
Somalia is wearing a Laurel Dewitt cape, ban.do jacket, Gypsy Sport dress, Ugg rainboots, and Ozone socks.