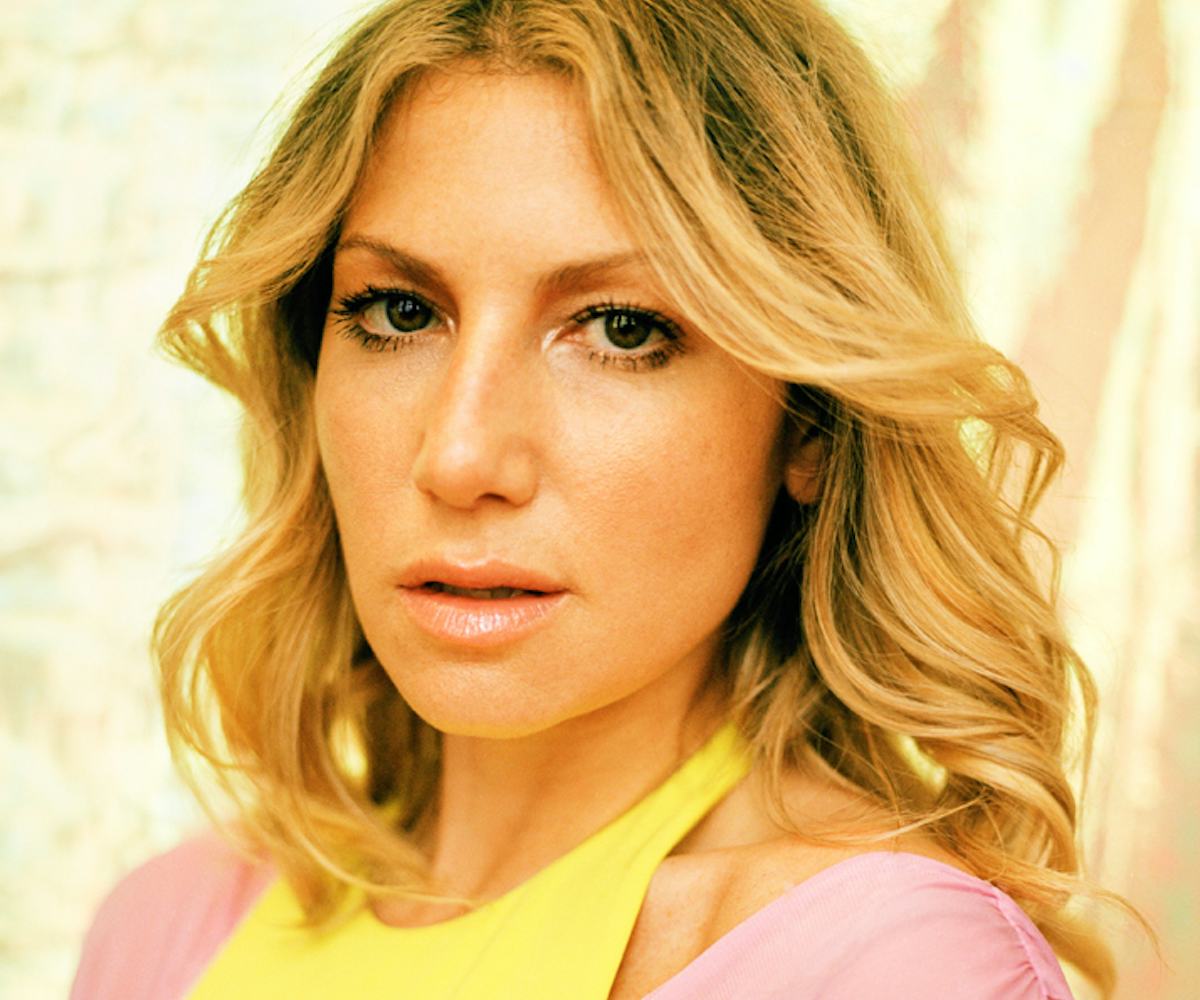 Photographed by Jin and Dana. Styled by Britt McCamey. Dress by Emilio Pucci.
Ari Graynor Was Over Playing The Funny Girl, So She Took A Role As A Comedian
The actress stars in the new drama 'I'm Dying Up Here'
Photographers: Jin + Dana Stylist: Britt McCamey at Honey Artists  Hair: Matthew Tuozzoli at Atelier Management  Makeup: Gianpaolo Ceciliato at Tracey Mattingly Agency 
A couple of years ago, Ari Graynor was forced to reevaluate her career. The 34-year-old actress, who made her name playing outgoing blondes with knacks for one-liners, decided she no longer wanted to exclusively play the funny girl. The Boston native, who broke out as the hard-partying, wise-cracking best friend in 2007's Nick and Nora's Infinite Playlist, was staying at her parents' house and considering focusing more on writing, rather than say yes to another script where her character's main motivation was making other people laugh. "I was trying to say no to anything that didn't really hit me in my gut," she says. "I just felt like I didn't have those big comedic characters in me anymore. In the same way where I was personally trying to strip away the layers, rather than keep putting them on."
It was around that time that Graynor was sent the script for a new Showtime series set in Los Angeles' fertile and vibrant comedy scene in the '70s, a freewheeling time where comics could smoke on stage and be politically incorrect off it. But despite its setting, the show was not a comedy. I'm Dying Up Here is an hour-long drama—the kind networks like Showtime build their brands on—and the part Graynor eventually got, comedy hopeful Cassie Feder, turned out to be her most dramatic one yet. The irony that Cassie's literal motivation is making other people laugh is not lost on Graynor. "It's funny that the most serious thing I've ever done is set in the world of comedy," she says. Graynor leaped at the chance to play Cassie. " I've been around the business part of it long enough to know that it's really hard to get opportunities like this. It's like a miracle any time any of us get any kind of job, never mind something that is so different than anything you've done."
I'm Dying Up Here, which is executive produced by Jim Carrey, chronicles the birth of stand-up comedy as we know it. It was a time when men dominated the scene, and when killing on The Tonight Show meant you had made it. The few women that were brave enough to tell jokes on stage were often relegated to side rooms—or "the cellar," as it's called in the show—and had to endure misogynistic heckling from a mostly male crowd. Toward the end of the show's pilot, Graynor's character confronts Goldie (Melissa Leo), the owner of the comedy club much of the show takes place in. She wants to perform in the main room, but Goldie doesn't think she's ready. "You're all over the map, no point of view," Goldie tells her. "I have no idea what your female perspective is." If she wants to be on The Tonight Show, Goldie tells her, she needs to "find a voice that women can relate to."
That scene, which marks a turning point for Graynor's character, felt familiar to the actress. "Cassie's journey in the pilot in many ways felt very similar to my own, in terms of feeling like she has something inside and something that she wants to share," she says. "She has that fire in her belly." But incorporating her womanhood into her art is something that Cassie resists at first. "Part of her journey is what it is to be the only woman in that space, and how to navigate wanting to be a part of that gang of men," Graynor says. "She wants to be seen as the same as everyone else."
I'm Dying Up Here features a mostly male ensemble, with actors like Clark Duke, Michael Angarano, and RJ Cyler playing some of the young comics that are trying to make it; Graynor and Leo are the only two women series regulars, which meant that Graynor's experience on set mirrored her character's. "Sometimes on set, I could feel similarly to Cassie, of trying and wanting to keep up with the boys, and it was important to me to just be a part of the gang in that way," she says. "I could feel that otherness because we don't completely speak the same language. But at the same time, I became so close to all of them, and we all really became like a family, so it wasn't like I felt lonely because they were being weird to me. It's just a different experience being the only lady there."
Without revealing too much about the pilot, which airs this Sunday, Cassie does take a huge step in shaping her point of view. By the end of the episode, she is on her way to becoming a fully realized artist. "She's doing her stand-up, and it's going okay, but it's schtick, it's something that's put on, rather than sharing the more honest and vulnerable parts of herself," Graynor says of her character's transformation. "When she realizes that and really tries to be as emotionally naked and authentic as she can, that's when she starts finding more freedom in her work. And that was kind of like what the show was for me. What happens to her in the final part of the pilot, in the meta way of my life, this show was like that."