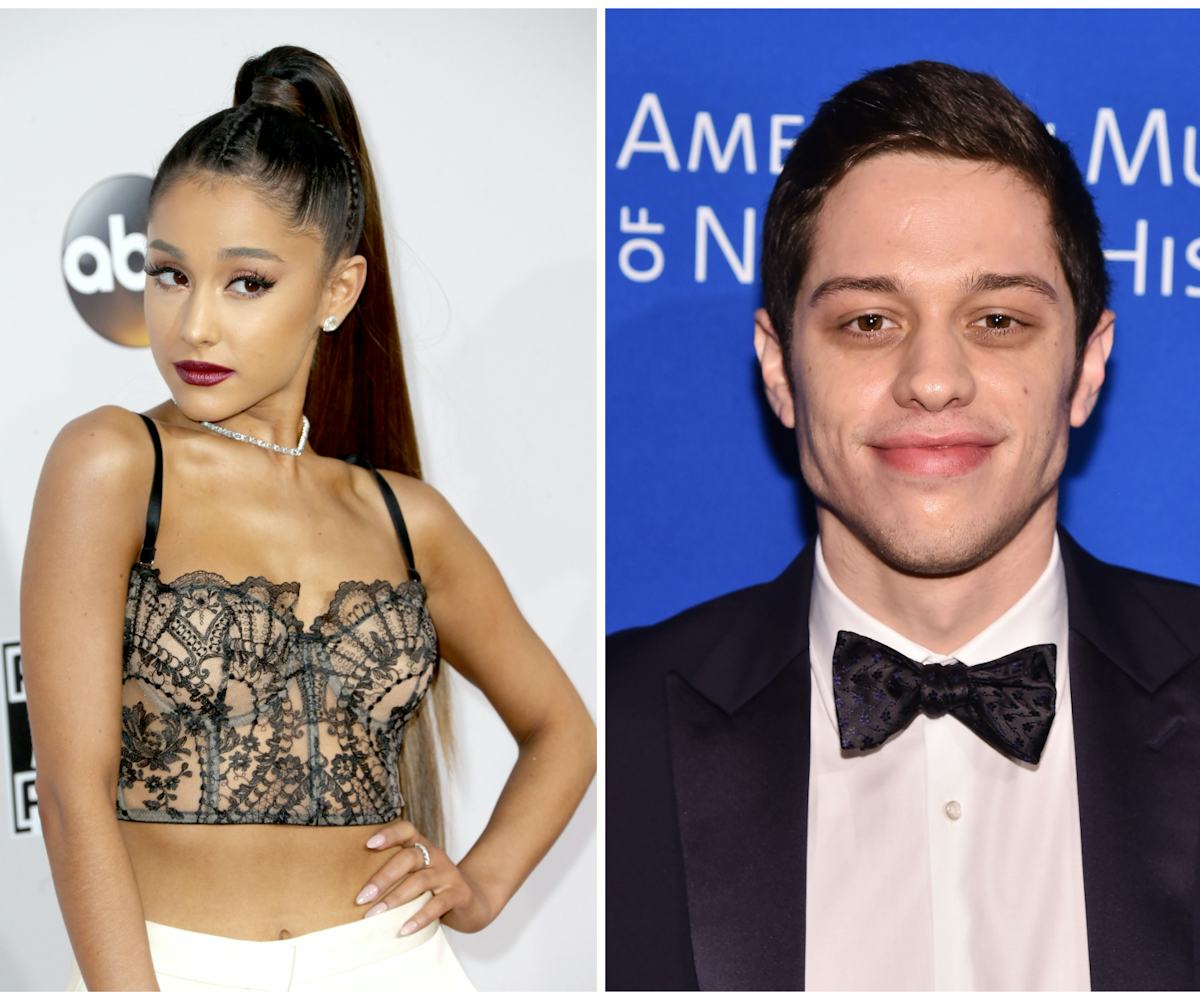 Photo by Frederick M. Brown/Getty Images and Michael Loccisano/Getty Images
Ariana Grande Roasted Kanye While Cheering On Pete Davidson
Ariana Grande professed her love for her fiancé Pete Davidson during his appearance on Saturday Night Live this weekend, making a subtle yet pointed dig at Kanye West in the process.
Photo via @Ariana Grande Instagram
On her Instagram stories, Grande posted a picture of Davidson's SNL opening credits appearance, writing: "I love you like Kanye loves Kanye." The caption was a subtle call-out to West's appearance as SNL's musical guest last week, where he caused controversy by making an unaired pro-Trump speech while wearing a MAGA hat. Grande herself was supposed to be the musical act for SNL's season premiere, but canceled due to "emotional reasons."
Davidson appeared later on in the show, on Weekend Update with Colin Jost and Michael Che, to talk about the debacle, and urged West to take his medication. In an interview with TMZ last week, West announced that he had stopped taking his medicine, saying, "The Ye is fully out and off medication. I am fully being myself." Davidson himself revealed that he has borderline personality disorder in 2017, and told Jost and Che, "There's no shame in the medicine game. I'm on them. It's great."
Davidson also stated the incredibly obvious, which is that mental illness is no excuse to be a bad person. "Being mentally ill is not an excuse to act like a jackass, okay? And I'm quoting my therapist, my mom and my mailman."
He also addressed West's claim that he was bullied backstage. West said, "They bully me backstage and say, 'Don't go out there with that hat on.' They bully me backstage. They bully me!" Davidson set the record straight, saying, "He wore it all week, nobody told him not to wear it. I wish I'd bullied you, I wish I had suggested that it might upset some people like your wife or every black person ever." 
Davidson's Weekend Update appearance went over much better than last week's, when he made a cringe-worthy joke about Grande.