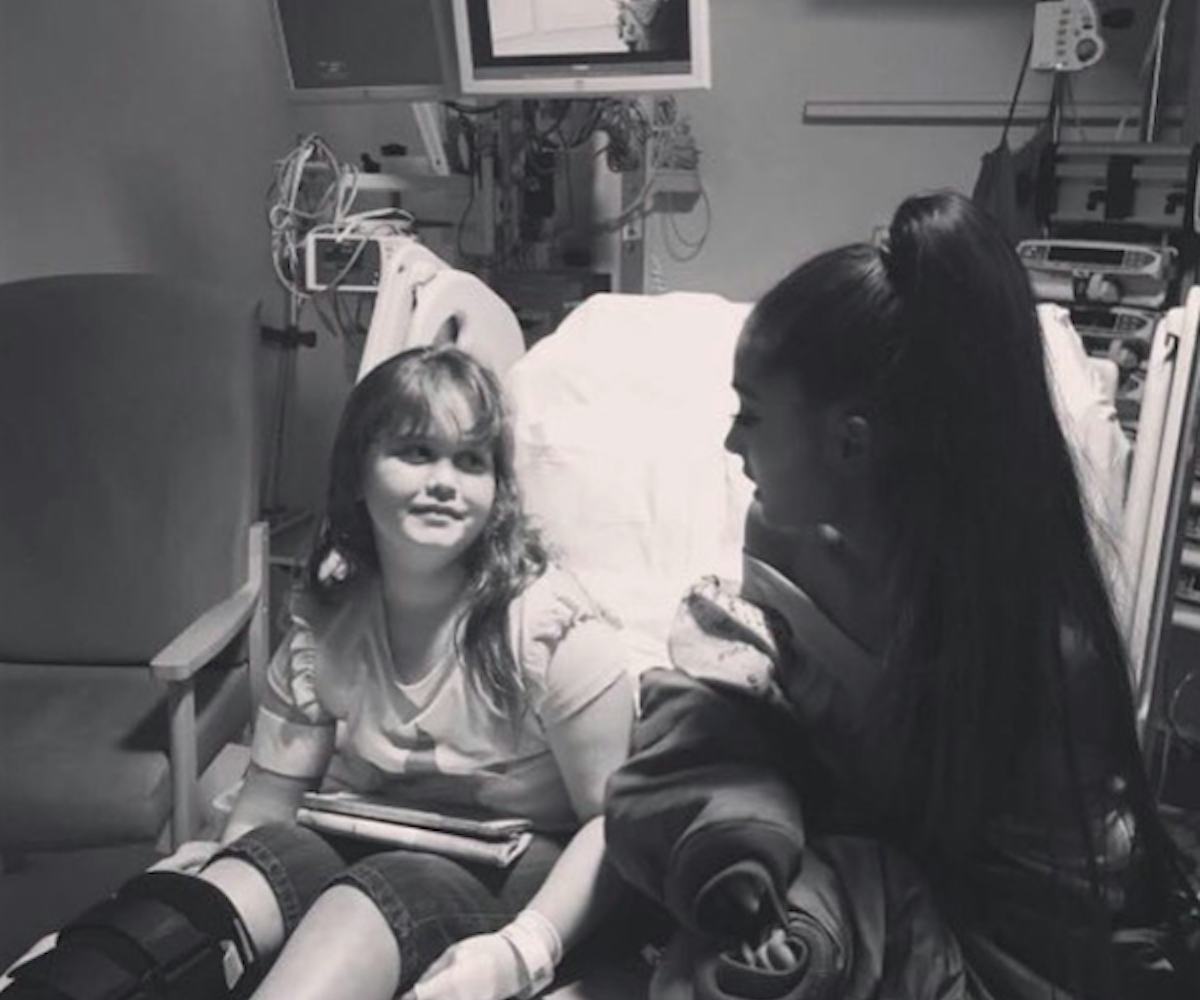 Photo via Instagram/@arianagrande
Ariana Grande's Manchester Benefit Concert Will Move Forward With "Greater Purpose" In Wake Of London Attacks
In the wake of yesterday's terrorist attacks in London, Ariana Grande's manager Scooter Braun announced that Grande's One Love Manchester benefit concert will move ahead with "greater purpose." In an extended statement on Instagram, Braun called on "the strong city of Manchester and the world to join us in making the statement that hatred and fear will never win."
The concert, which will be streamed today on MTV.com and will be on ABC's Freeform channel at 2pm EST, will honor the victims of both Manchester and London and also promote peace and unity. Braun says, "We feel a sense of responsibility to honor those lost, injured, and affected. We plan to honor them with courage, bravery, and defiance in the face of fear... We must not be afraid, and in tribute to all those affected here and around the world, we will bring our voices together and sing loudly." The 50,000-capacity concert will have heightened security by the Greater Manchester Police and other forces to ensure the safety of everyone. The concert, which will be screened in nearly 40 countries, will feature Take That, Niall Horan, Katy Perry, Pharrell, Robbie Williams, Black Eyed Peas, Little Mix, Miley Cyrus, Justin Bieber, and close out with Grande. All of the proceeds from the show will go to the emergency fund for survivors and victims' families. 
Since the May 22 attacks, Grande has been visiting victims in the hospital and has posted some of her visits to Twitter and Instagram. The singer has been vocal about supporting the victims and their families and calling for her fans and others to come together in continued support of diversity, inclusion, and safe spaces for people to be themselves. The One Love Manchester benefit concert stands as a testament to artists' roles in promoting social change and bring people together and ensures that we won't let such devastating attacks divide us further. As Grande said in a moving statement, "Music is something that everyone on Earth can share. Music is meant to heal us, to bring us together, to make us happy. So that is what it will continue to do for us. We will continue in honor of the ones we lost, their loved ones, my fans and all affected by this tragedy. They will be on my mind and in my heart every day and I will think of them with everything I do for the rest of my life."
Tune into the One Love Manchester benefit concert today on MTV.com or on ABC Freeform at 2pm EST.
(Via Billboard)