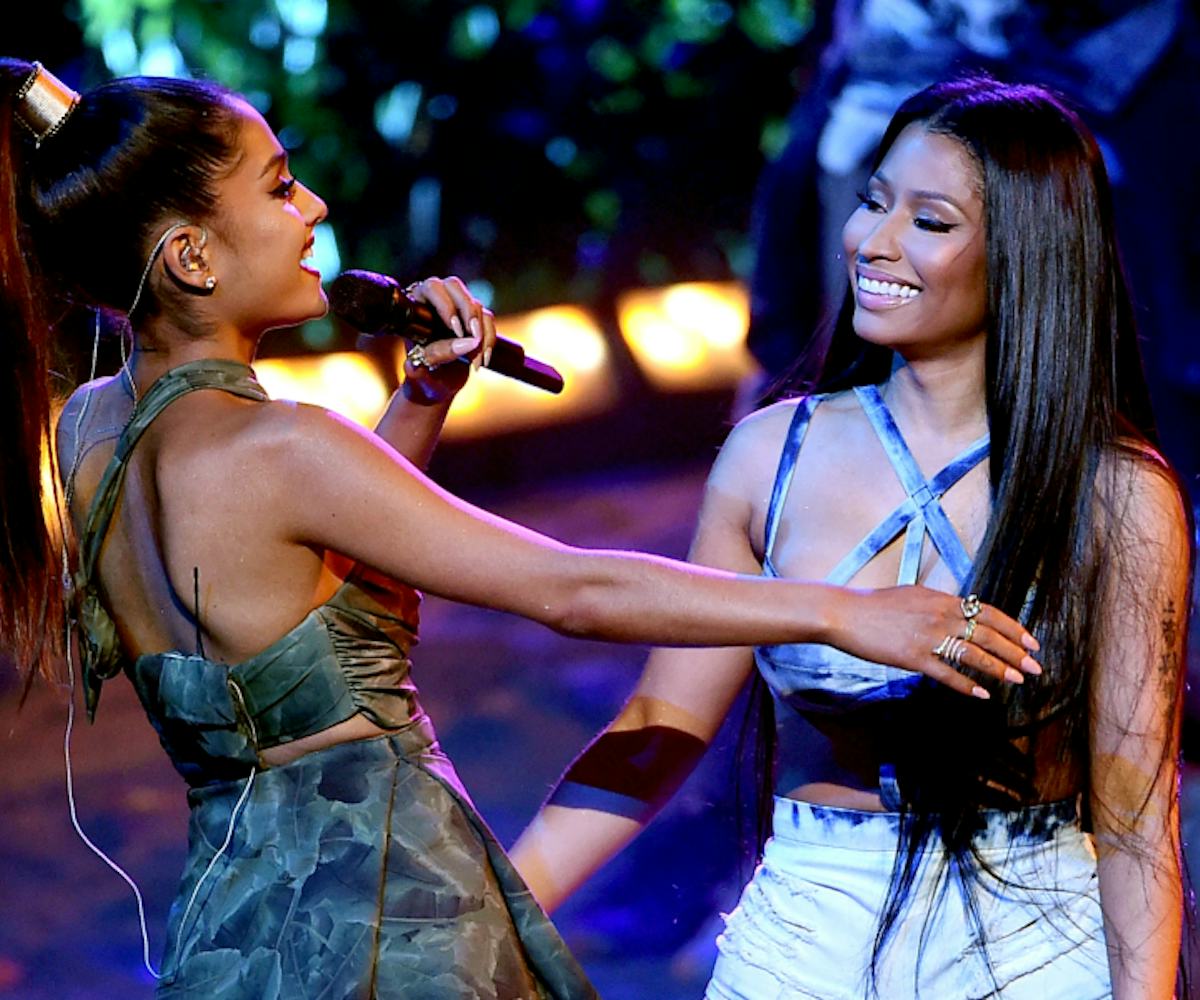 Photo by Kevin Winter/Getty Images
Ariana Grande And Nicki Minaj Tweeting About Their Friendship Is Everything
And no, they're not hinting at a new song
On Saturday, Ariana Grande accidentally got fans buzzing when she tweeted about rapper Nicki Minaj. Grande was just trying to share some love for her friend, but her fans got excited that the singer might be sharing a sneak peek at new music instead.
"i love my big sis @nickiminaj so fuckin much," the singer tweeted, adding in another post, "there's jus nobody better." 
Since Grande has been tweeting cryptic things lately that seem to be song references, fans immediately assumed that these tweets were also possible lyrics.
Grande quickly cleared things up, clarifying that her tweets were not actually hinting at anything. "that ain't lyrics i'm just talkin about my big sis," the singer tweeted. 
Minaj then chimed in to reciprocate Grande's public display of Twitter affection, replying, "I love my lil sis @ArianaGrande so fkn much." And then, Grande shared a story about their antics together, tweeting:
remember when u called me at 5am and said get ur ass up n come to the stu btch and i propelled myself out the door at the speed of light wearing slippers that later got soaked in rain and we had the best morning of my life i do
Minaj confirmed the story, tweeting "I do. I do," complete with a silly series of emojis. And while Grande may not have been sharing any updates about her next single, hearing more details about these iconic ladies and their friendship is still a gift in and of itself.
Grande also posted a reminder to her fans that not everything she tweets is hinting at new music.
"warning : sometimes i am going to tweet things that aren't lyrics or tea is that ok i'm sry ily," she tweeted. 
It's okay, Ariana. We love you too.