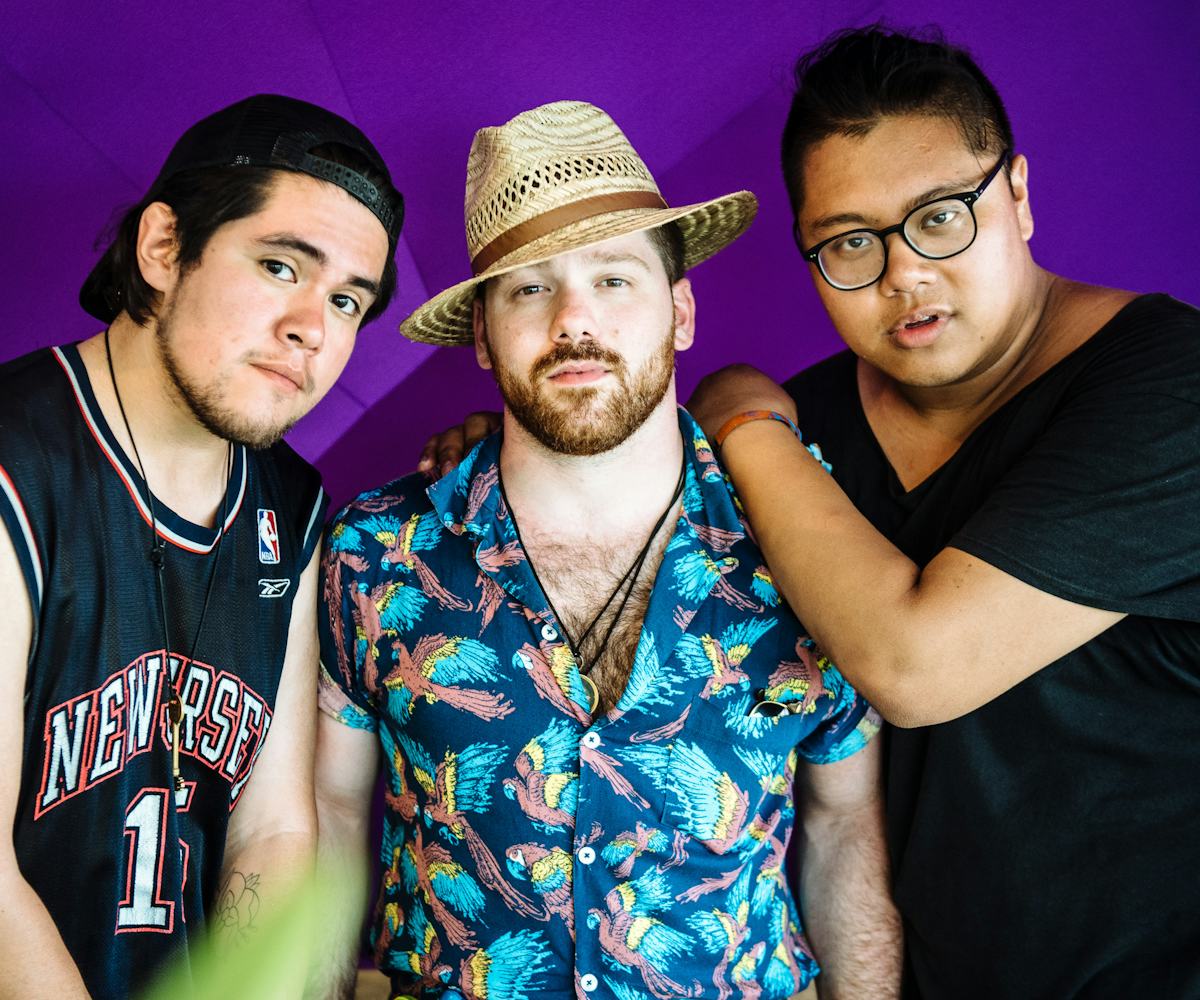 Photo by Nina Westervelt
Meet A R I Z O N A, The Small Band With The Big Sound
A R I Z O N A—made up of Zach Hannah, Nathan Esquite, and David Labuguen—make the kind of music that hits all the right spots at all the right times. Their debut album, GALLERY, is a sublime journey through our triumphs and the pitfalls; self-doubt, self-sabotage, self-assurance, and selflessness all run wild throughout its blissful 12 tracks. A R I Z O N A sounds like home, warm and humble; it doesn't take more than one listen to "Oceans Away," GALLERY's closer, to get it. And after kicking it at Hangout Fest this year, there's no question that their big sound is going to take them to big places. Make room for them in your life, A R I Z O N A is right where you want to be.
What are you most proud of so far in terms of your career?
Zach Hannah: At this moment, each other. We're very proud of each other. We're very proud of the team that we have, which most people don't see. Obviously, the accomplishments are important, but the pride comes from making it work together. It's not easy to do this kind of stuff.
What famous person dead or living do most wish you could have as a roommate?
Nathan Esquite: Snoop Dogg.
ZH: Björk.
David Labuguen: Olivia Munn, because she's dope. Honestly, though, my girlfriend and I both have her on our lists.
What is your favorite driving music?
DL: There's this one track by Jon Hopkins called "Open Eye Signal." It's deep house and goes for eight minutes. It evolves.
Whose career would you most like to emulate?
ZH: Maybe Coldplay. They're a band that has done tremendously well doing what they love. I feel they've never been one sound or genre, but they've always sounded like them.
What's your favorite place to write music?
NE: The basement. We wrote the entire record in the basement of our house. We've been to every studio in the world, but we feel the most comfortable when we're writing in the basement.
DL: It's true.
Describe your aesthetic in three words.
DL: Low-brow high-brow, accessible.
If you had to wear one thing for the rest of your life, what would it be, and why?
DL: Man romper. The RompHim, but only if the flaps are in the right spots. The concept seems great to me.
ZH: A dad hat or a Stormtrooper costume.
NE: A sloth onesie.
Do you have any pre-show superstitions?
DL: We usually huddle up and say a little prayer. We don't drink—
ZH: Before shows.
DL: Nate hasn't been wearing shoes on stage.
NE: We played an outdoor show once, and I was so comfortable, I decided to fuck shoes and not wear them anymore. I find I have better control over my pedal board when I'm not wearing them. It's way more convenient.
If you had to live in a past time, what do you think would be the most fun era and why?
NE: I feel like Zach would want to be in the medieval time.
ZH: Nah, dude! It's romantic, but the quality of life sucked. I would probably live in the post-Depression era, minus all the shitty lack of equal rights.
DL: Definitely the '60s or '70s when mid--century modern was huge—purely for aesthetic reasons.
NE: '70s all the way because, low-key, I wish I had been a deadhead. All my favorite bands are from that time.
What activities do most enjoy doing alone?
NE: I like playing League of Legends.
DL: I do a lot of domestic things, like clean the bathroom or wash the dishes.
ZH: I try not to be alone too much. I get too in my head. When I do find myself alone, I go down a click hole and educate myself.
What song off the album fits the following situation:Getting up in the morning?
DL: "Running." It starts with a beeping noise, which sounds like an alarm clock. The song itself is about making it through the day.
Solitude?
ZH: We have a cool song on the album that's just instrumental called "Not A Single Day (Interlude)."
Getting it on?
All: "Ain't Gonna Leave."
NE: It's got some sexy guitar stuff going on.
DL: I think that's the baby making jam on the album.