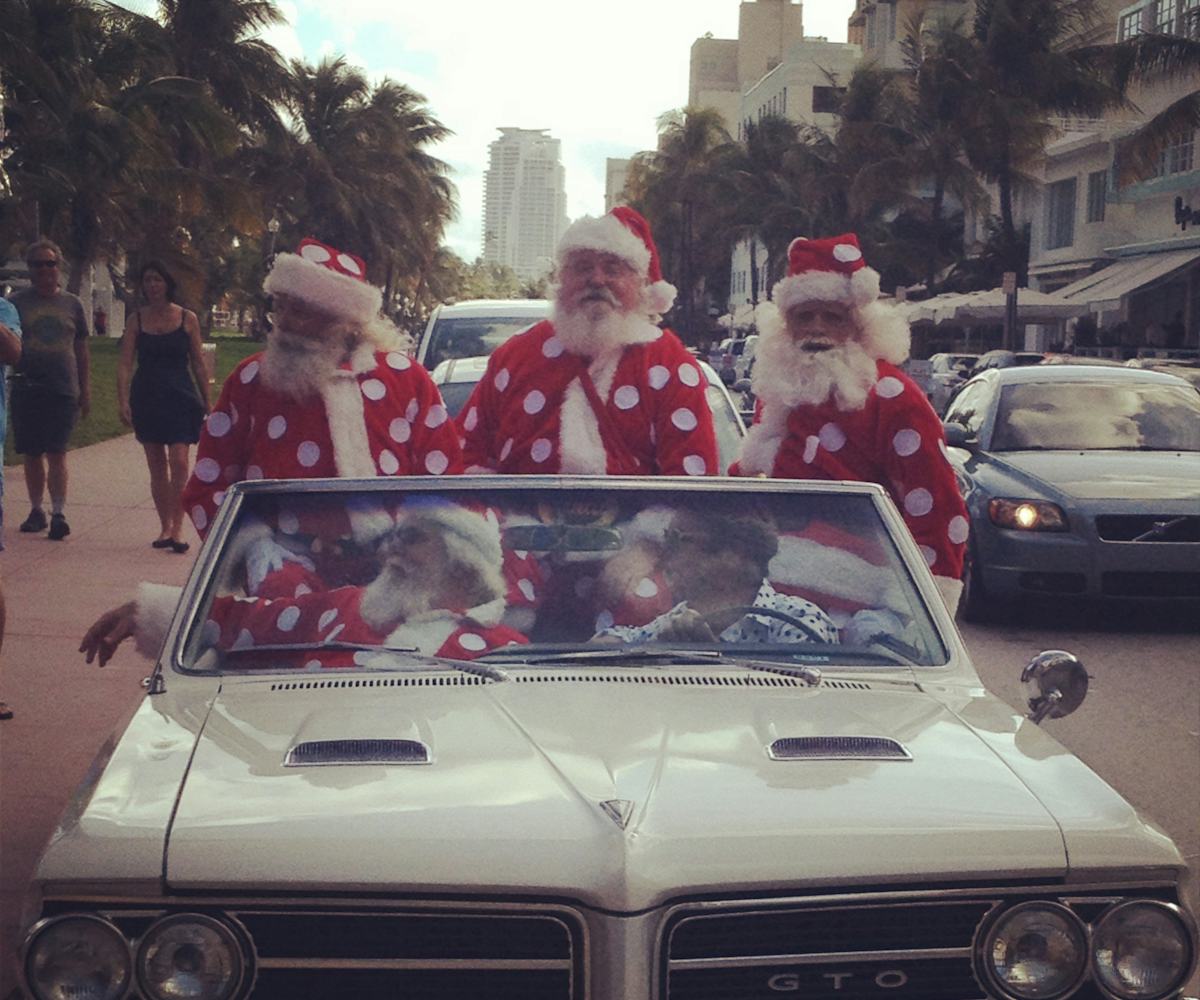 photo by mallory rice
the best of basel
all the coolest eye candy from the miami art fair.
Last week, art appreciators far and wide decamped to Miami Beach for this year's installment of Art Basel and all the many spin-off fairs, events, and parties that it has inspired.
We too abandoned New York City's wintry mix for sunshine and art shows (someone had to do it...). Here, in no particular order--from big names to newbies--are the best things we saw.
ANYA KIELER: We loved Anya's 2012 solo show Women at Rachel Uffner on the Lower East Side, so we were very excited to see this new work from the artist, featuring a sweet assortment of women's clothing and undergarments.
BRADLEY HART: Bradley Hart's piece "Nude, Injections," isn't just a dreamy image of a girl evening out her tan lines on the beach. Hart's technique is magic: He renders his work on bubble wrap, by individually injecting each bubble with a different shade of acrylic paint.
FAILE BÄST DELUXX FLUXX ARCADE: In partnership with Perrier, the artists Faile and Bäst transformed an empty storefront into a completely customized arcade. This was the third edition of the project, and it featured newly designed games and an energetic, Miami-inspired color scheme.
FRIENDSWITHYOU: If there was an award for the most Instagrammed thing during Art Basel, FriendsWithYou's installation, "Somewhere Over the Rainbow," at the Mondrian South Beach would have to be it. The good news? If you weren't able to make it to Basel, you can still catch it—the hotel is keeping it around until January 15th.
WYNWOOD AT NIGHT: We loved walking around Wynwood at night, which turns into something like an art circus once the sun sets. Happening upon perfectly lit outdoor pieces like this one was a possibility around every corner.
CANVAS COOLERS: For their on-going art initiative, Canvas Coolers, Red Bull called for artists to put their brushes to work on the brand's special refrigerators. After a series of competitions, the best of the bunch were invited to show their art at the beachside fair Scope.
JARED CLARK: Jared Clark's brightly colored, geometric works are immediately eye catching, and when you come closer, it's a delight to realize that they're made of such a common material as Styrofoam.
AI WEI WEI: At Art Basel proper, Ai Wei Wei's stainless steel, gilded sculpture "Forever," was apparently named after how long we'll be fans of his work.
JOE SHEFTEL GALLERY: Joe Sheftel, an art dealer-turned-gallerist, had one of the most creatively designed booths that we encountered. White walls? Joe's going with "No, thanks."
HOLTON ROWER: Holton Rower's Pour Paintings, exhibited by New York City's The Hole gallery, kind of look like psychedelic petrified wood—and they are more than kind of awesome.
THE NEWSSTAND: The Newsstand currently exists as a pop-up zine shop inside the Lorimer subway stop on the L train in Brooklyn. But for Art Basel, they popped up at The Standard with a bunch of their awesome zines and a limited-edition calendar.