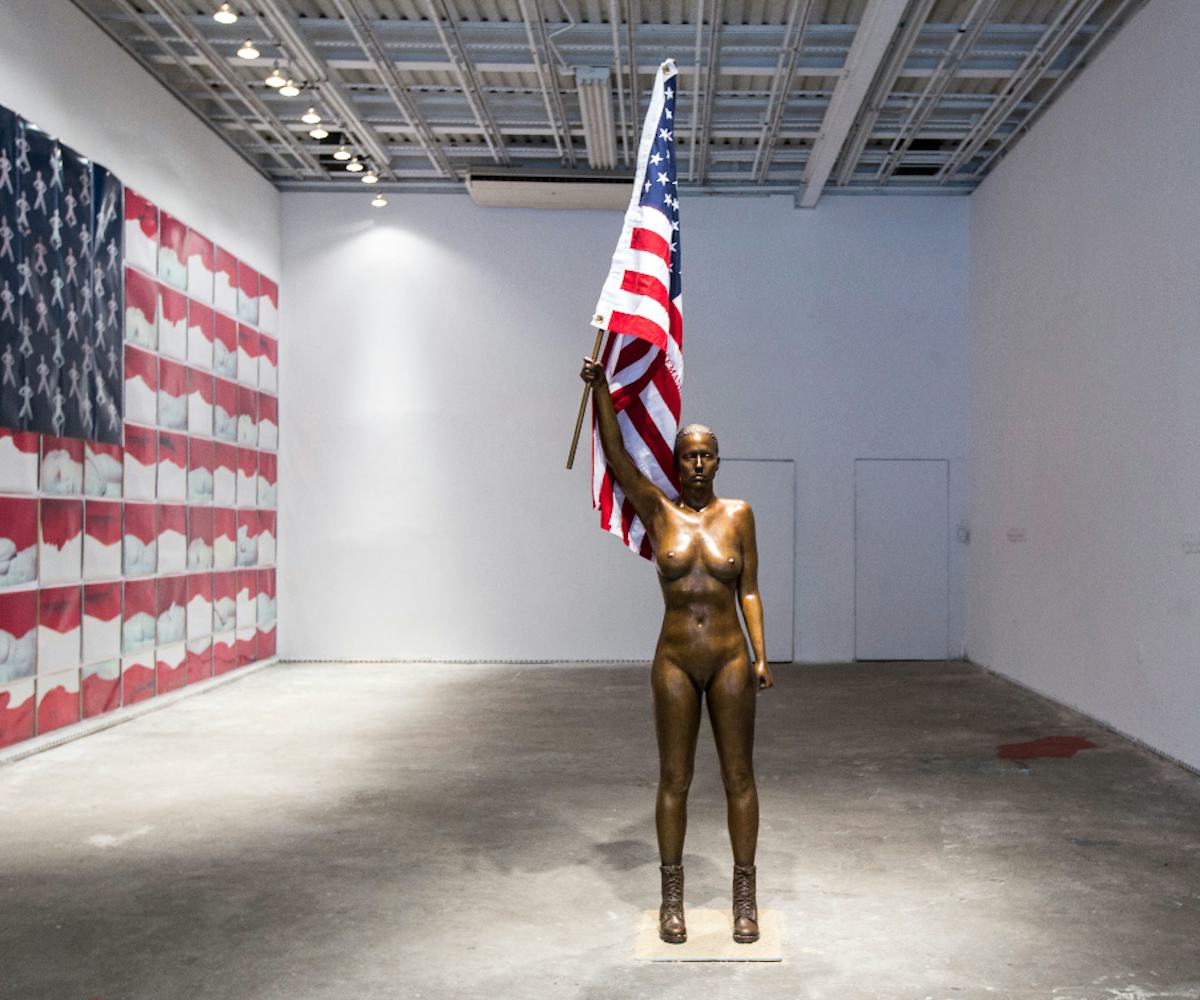 Photo courtesy of Natalie White
How One Artist Is Working To Make The Equal Rights Amendment A Reality
The U.S. Constitution has some unfinished business
It's 2016 and the current frontrunner to be the 45th president of the United States of America is not a man, but women in this country still face massive systemic inequalities. Problems like wage inequality, gender-based discrimination, poor or even no access to adequate health care, and sexual harassment still run rampant in our society. Even though the rights of women have come a long way since granted the right to vote in 1920, there is clearly a lot of work to be done to advance the cause of true equality. It's inspiring to live in a time when President Barack Obama writes a paean to strong women and declares himself to be a feminist, but there's still room for improvement, so that young girls in this country know to look up to, as Obama so beautifully put it, the Tubmans, and not just the Benjamins.
One way in which our country can take a step toward true equality is via the passing of the long-proposed Equal Rights Amendment (ERA). First drafted in 1923 by Alice Paul and Crystal Eastman, the ERA was finally passed by Congress in 1972, before being sent to the 50 states to be ratified in order to meet the understandably arduous requirements in place to enact change upon the U.S. Constitution. Unfortunately, the ERA fell three states short of the required 38 needed to ratify it and has thus hung in limbo ever since. Despite being annually reintroduced to Congress, it has yet to pass.
In recent years, many celebrities, like Meryl Streep and Patricia Arquette, have attempted to get the ERA passed, and now an artist named Natalie White has picked up this political mantle. White, who has served as a model and muse for artists like Peter Beard, had a gallery show in New York earlier this summer in which she dealt with explicitly political themes, all in keeping with her fight to ratify the ERA. White also staged a 250-mile, 15-day walk from New York City to Washington, D.C., this July in order to raise awareness for her cause. We spoke with White the day after she completed her walk about the Equal Rights Amendment, what inspired her to walk 250 miles, and what she wants to happen next in the fight for gender equality.
What got you interested in reviving the fight for the Equal Rights Amendment?
When I found out about the huge gender wage gap, I was so shocked and thought it couldn't possibly be true that white women make 78 cents on the dollar compared to white men, black women make only 64 cents, and Latina women only make 54 cents. I thought it was shocking and it had to be a lie. When I found out it wasn't, I did my research about why we got to the place we did in the United States. And one of the main reasons we got there is because the Equal Rights Amendment never passed. So I started asking around, especially asking older women, why it hadn't passed. And a lot of people thought it had! Or they thought that we were protected by the 14th Amendment, but in fact, the Equal Protection Clause has not been used to help women at all. We are not a protected class of people. So I decided I had to do something about this, and I'm lucky enough that my art has given me a platform, and I'm lucky enough to be successful at selling and showing it; if I didn't use my platform to start to talk about discrimination against women, I'd feel like, why do I even have this?
Have you always been politically involved?
I've done protests at anti-nuclear groups. I've protested drug laws that are ridiculous, but I've never really been active. I've just shown up at protests and supported it. This is the first time I was ever in a leadership role.
What was the idea behind doing the 250-mile march?
It was to show the struggle and show that people are really serious about this. Like, I'm so serious about this cause that I'm doing this march. We're going to walk 250 miles in July from New York to D.C. when it's hot outside, and I'm willing to do that. I think that people really need to see this because they are so incredibly passionate about this. There are so many different organizations out there that are bringing up really valid points, but women's issues have been neglected for so long, and I wanted to show people that, hey, there is a group of people out here who are so furious that they're willing to walk from New York to D.C. And we're going to have parties and events and inform people about this.
How was the actual walk? What were some of the best and most difficult moments that you experienced over its 15-day course? 
The most difficult experience was in New Jersey when I was walking across a bridge. I have really bad vertigo and I'm really scared of heights, and it was one of those bridges with grates on the bottom where you can see through all the way to the water. And there was water but there were also all these cars going back and forth. I was going across the bridge, and I'm thinking to myself that I'm going to make it all the way, I'm not going to get nervous, I'm not going to lose my head. But I get halfway through, to the middle of the bridge, and all of a sudden fear kicks in and I start getting a panic attack. I had already started going slower because I thought if I was going slow I would be less likely to get scared. But then I just fell to the ground and started crawling on my hands and knees in the middle of the bridge, and my friends were ahead because I didn't want to bother them, and so they didn't see me. I was just crawling across this bridge on my hands and knees until I got to this metal panel and I crawled up it so I could stand up, and I'm swaying back and forth, and my knees are shaking, and I stay there for seven minutes before my friends noticed that I wasn't around and came back for me. So that was a pretty bad moment!
The best time… this one day we hit 25 miles, and we weren't even in pain. We felt like superheroes. Like we could keep going to Miami. And this was after we had done 15 miles the day before and the day before that we'd done 20. The day we hit 25 we felt like we could do anything. 
That's such a great metaphor for what you're trying to accomplish politically; like you have to keep going for it and keep pushing and you don't even know what you're capable of until you start doing it.
Thank you. It's like more impossible things have happened on this earth than people reviving a constitutional amendment. That we should have equal rights for women in the United States—for all people in the United States—should be a no-brainer. 
What's next for you post-march? Where do you see your fight going next?
We can't stop until this amendment is passed through. Contact your congresspeople. Nobody is going to give this to us. We're going to have to take it. We're going to have to force people to vote yes on this issue or we're not going to vote for them. I'm not going to stop the fight. This is just the beginning. We're not asking for something more than anyone else, just for something equal.
To find out more about Natalie White's fight for equal rights, visit her site: NatalieWhiteforEqualRights.org.