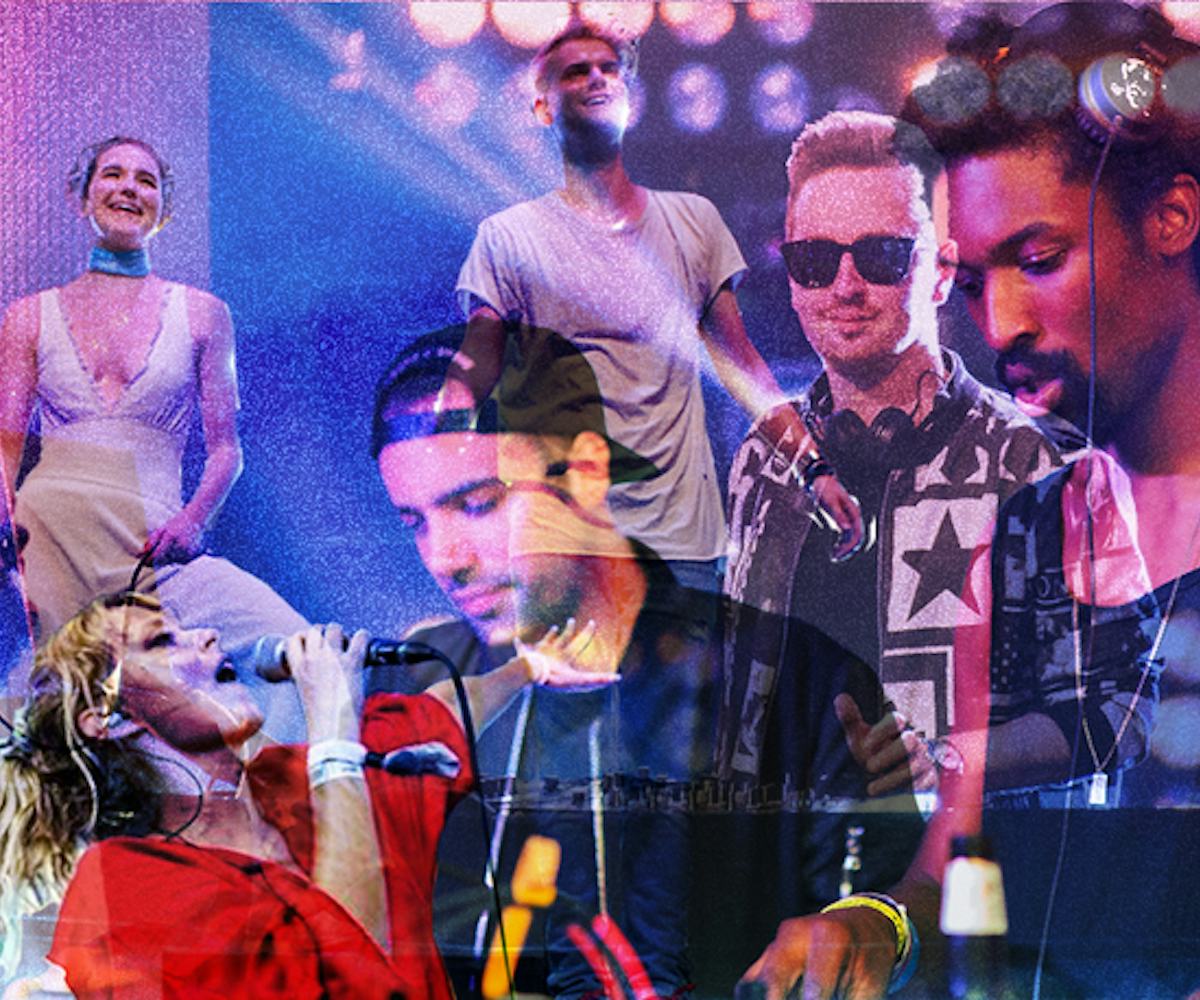 Collage by Danielle Moalem.
15 Artists On Their Favorite Music Venues
Bishop Briggs, The Knocks, Sofi Tukker, and more weigh in
A good music venue is essential to the concert experience. Is the space standing room only? How are the sight lines? Are lots of views blocked by a pole? Is everyone crowded together in one intimate room or are you in a stadium where you can barely make out the people across from you? All of these factors can make the difference between a great and a mediocre show. You're paying to hear a particular musician, but your money is also going toward the experience—and the space you walk into dictates that.
But, being able to make out who's on stage is a lot different than the semantics the person on stage has to deal with. There are a lot of logistics that we, as the onlookers, don't even think about—because we don't have to. Like, making sure you have enough space, correct lighting, the ability to see the crowd, good acoustics. Every artist has their preferences, and every artist has a favorite venue.
And just so we could see if our favorite venues line up with those of our favorite artists, we thought we'd ask some performers what the best venue or concert they've played has been and why. See what they had to say ahead.
Bishop Briggs
"The Troubadour will always hold a magical place in my memory because, before I ever played it, it was the venue I'd go to to be reminded of how much I love music and how important it is to keep going, because when it comes to matters of the soul, you have to persist."
HONNE
"We have been lucky enough to play loads of sick venues around the world, but we love it when a venue has a lot of character or history, which is why our favorite, so far, has been the venue Warsaw, run by an amazing Polish family in Brooklyn [, New York]. The show was insane, and we definitely won't forget about it anytime soon."
The Knocks
"One of our favorite places to play is 9:30 Club in D.C. The staff is always super-friendly and they go above and beyond to have a real personal connection with us every time we play. They also have amazing cupcakes."
Sofi Tukker
"I loved our Music Hall of Williamsburg show. It was really, really fun," Sophie Hawley-Weld says. Tucker Halpern adds: "Music Hall of Williamsburg has been my favorite, as well. That was just one of the best shows. At the bigger venues, we weren't headlining shows, we were opening for other people. So that was like a headline show. It was sort of a homecoming after a long tour, and it was just so much fun. We got to play a lot of new songs that a lot of people hadn't heard. It was a lot of friends, and it was just so fun."
Cash Cash
"Our favorite venue to play is definitely Omnia. Experiencing Omnia in Las Vegas is something everyone needs to do. It's such a special club to play, and, so far, our shows there have been incredible. The club was built in a such a unique way where the booth is almost in the middle of the room, so, as the DJ, you feel like you're completely surrounded by the energy of the people. The ceiling snake light takes the visual experience to the next level, making it one of the most mind-blowing clubs in the world."
Sir Rosevelt
"Our debut show at Scala in London was my favorite venue. It had tons of vibe, and the energy was incredible from beginning to end!" says Sir Rosevelt's Ben Simonetti. Niko Moon of Sir Rosevelt adds: "That was our first show ever, and performing it at Scala was epic. The venue is really intimate, maybe 800 people, so there was this amazing energy since everyone was packed in so tight. Never going to forget that one." 
Soleima
"I think I like the more 'untraditional' venues the best actually. Once, I played in Bergen in this cave deep in a mountain. The acoustics and sound were absolutely terrible, but the surroundings were gorgeous. There were raw stone walls with torches on the walls to light up the room. Felt a bit like playing a gig in Game of Thrones [laughs]; truly not bad."
AJR
"We have played The Studio at Webster Hall three times, and it's one of our favorite venues. It is an incredibly intimate place lined with peeling posters of bands who can now sell out arenas: Mumford and Sons, Ed Sheeran, etc. Now that we can play larger venues, we fully appreciate The Studio where we were able to see every face in the crowd, every mouth singing every song. There is a special energy to the small venues, and this one, in particular, has a raw vibe and an inspiring history."
Michael Blume
"I really love The Bowery Ballroom in New York City.  It's the biggest show I've done so far as a headliner, and I remember that day when it sold out the afternoon of the show… the excitement during sound check with my band was off the charts! I remember looking up at the folks in the balcony, as well as the sea of people on the floor—the room felt so much bigger when it was full of audience. The sound in there is awesome, too, and really great for a project like mine with a full band."
Robin Schulz
"I'm so happy to be able to play so many amazing places and venues around the world, it's really hard to choose only one as my absolute favorite. But if I have to, I suppose, it would be Pacha and Ushuaïa on Ibiza—so many great memories and crazy nights!"
Chrisette Michelle
"New Morning in Paris—it's a teeny tiny jazz venue. The audience and the engineers all speak French and perhaps a little English. It's like you're being enraptured in Parisian culture. The backstage area is teeny with a thin white ledge for your makeup. Me and my background vocalists would munch on delicious baguettes and Parisian wine while the audience situated themselves.
The last time I was there, it was my birthday; that's the main reason I did the show, performing was a gift. Before the show, I had crepes at Creperie Suzette and purchased a new Prada bag in a flagship store that looked like a castle with my close friend and musician Ashleigh Smith. I remember wearing a pink-and-gold dress and crystal flower crown and relishing in the symphony of French words tickling my ears in love as I sang. Language is but a vibration of true love and expression. In Paris, you feel loved every moment, if you just let go and listen."
Sigrid
"I think my favorite venue is Ocean Sound Recordings right outside my hometown Ålesund in Norway. It's originally a studio, where I recorded my first ever song, but I also had a concert there with my older sister and brother a couple of years ago. The studio is situated on an island right outside my hometown, and the only thing you can see from the windows are the sea, green grass, mountains, a sand beach, and cows. It's pretty cool!"
Rudimental
"We would have to say Wildlife Festival in Brighton, U.K. It's a festival we started with our mates Disclosure in 2015, and the crowd is always insane!"
K. Flay
"Bowery Ballroom in New York. It's one of those venues that just feels classic the moment you walk in. I used to live in Brooklyn and go to shows there all the time. Last fall, I got to play there for a sold-out crowd; it was this really beautiful full circle moment for me."
Hercules & Love Affair
"I have fond memories of playing the Troubador years ago," Andy Butler says. "The show was one of the first shows we played after The Feast of the Broken Heart came out, and it was packed with fun kids. Of course, with its history, it's hallowed ground!"