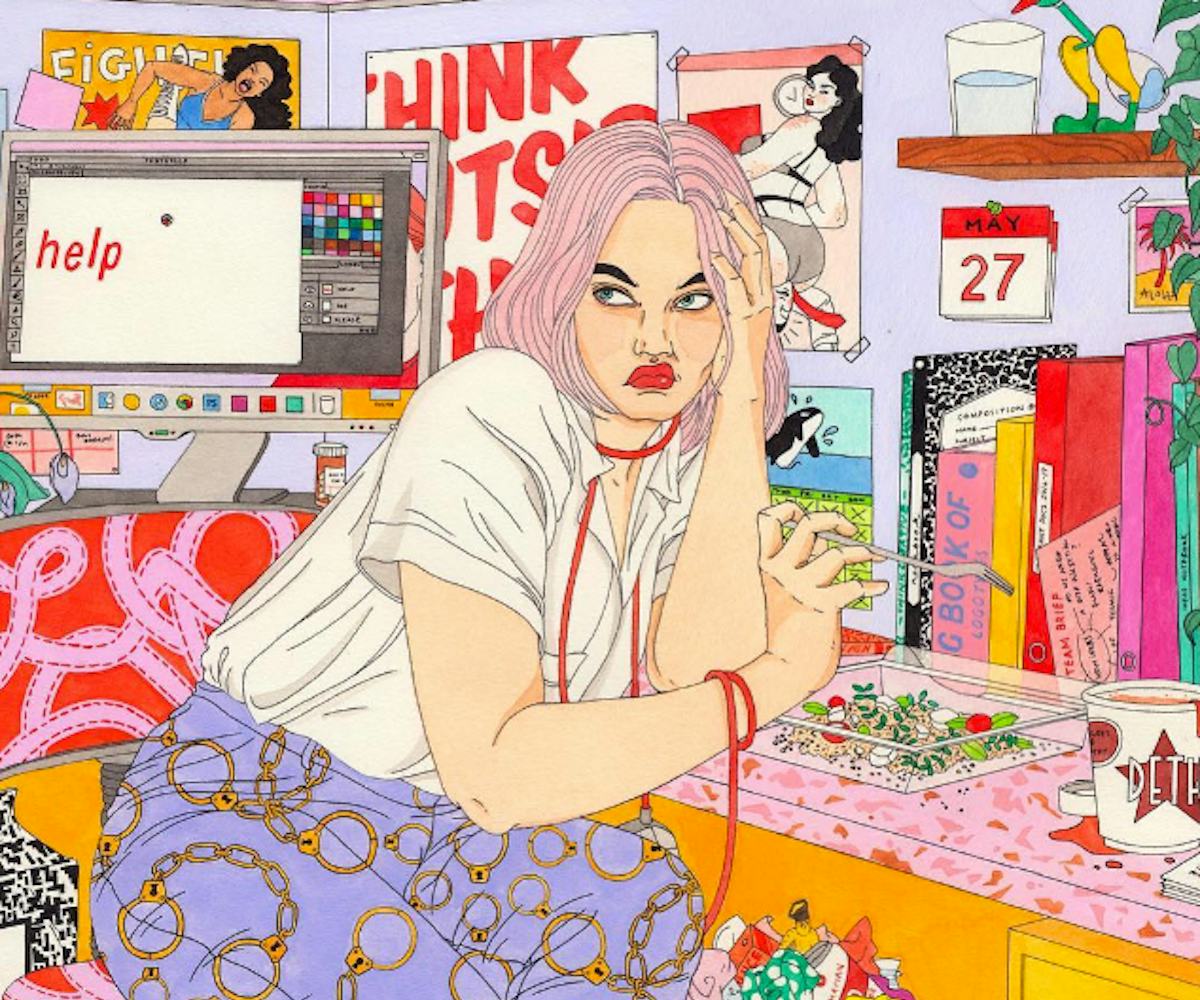 Photo via @lauracallaghanillustration/Instagram
13 Incredible Artists You Need To Keep Your Eye On
Follow them on Instagram now
With over 400 million users, there are more than enough accounts to choose from on Instagram. Most of us probably use the photo-sharing app to keep up with what is going on in our friends' lives, but sometimes it's nice to get out of your bubble. This is where the creative community comes in. 
For me, artistic content brings my feed to life. Through their lens, I gain access to a portal into a different world with a glimpse at a different reality. Furthermore, I have access to my own personally curated art gallery at my fingertips whenever I need an extra dose of inspiration.
These 13 artists will instantly improve your Instagram feed. Click through to get a taste.
Nadine Ijewere is a London-based photographer with Jamaican and Nigerian roots. She studied at the London College of Fashion with a focus in fashion photography. Her work typically explores different cultures through identity, beauty, and fashion with unique subjects who are absolutely stunning. 
Tony Gum is a contemporary artist from Cape Town, South Africa, who has caught the attention of everyone in the fashion industry. Her style is out of this world, and she muses that her Instagram page reads like a "Wes Anderson palette." In addition to studying film at the Cape Peninsula University of Technology, she is also the co-founder of The Local Collective, an affiliate of the Icon Endemol global network of multimedia content producers. 
Phoebe Collings-James is an artist and model from London who's currently living in New York City. As she previously told us, her work "relies on a hypersensitivity to the situations and people surrounding me." She gets her hands on everything from painting and sculpting to film and photography. If you want some cheeky content in your feed, you know which button to press.
Sarah Ceraphina Tekele is a visual artist based in what we assume is somewhere special in the DMV area. Her free-flowing posts on Instagram will fill you with a deep sense of meaning—self-portraits, Pantone squares, film stills, poetry, etc. All of the images are beautifully honest and bound to make your day seem more purposeful.
Victoria Brown a.k.a. Llana Kila is a digital illustrator based in Maryland. Her vibrant body of work celebrates womanhood in all forms including but not limited to digital, still, and animated. Last year, three of her pieces were featured on display at Amber Rose's Slut Walk. If you've been suffering from a lack of color, look no further than her page—you can't miss it! (Her big sister also happens to be one of our favorite photographers, Nakeya Brown!)
Mayan Toledano is a photographer and art director. As the co-founder of It's Me and You, she is super hands-on. In addition to designing all of the products, she also shoots every single image. All of her photos look timeless as they capture the essence of womanhood and the magic of adolescence.
Sara Andreasson is a Swedish illustrator and designer. Her multidisciplinary work is super splashy with a palette of bright and bold colors that grab your attention at first glance. Before she switched to this medium, Andreasson had degrees in product design and engineering and primarily designed furniture.
Kenesha Sneed is an illustrator and ceramic maker based in Los Angeles. Her desert- and coastal- inspired work is quirky, and will make you want to clean out your space and replace everything will all of her stoneware creations. She makes bangles, mugs, bowls, and the like. Fun fact: Solange Knowles is a fan of her work and even carries some Tactile Matter pieces in the Saint Heron shop.
Teff is a photographer that prefers to identify as The Expressionist, which she described as "an amalgam of the varying forms of media that she has explored and intends to explore in the future." She is passionate about growth and self-fulfillment and aims to create "engaging content" that expresses these philosophies.
If you're all about the blogosphere, Elizabeth De La Piedra should already be on your list. This dope Chicago-based photographer is one of the coolest moms on the planet, so prepare to be overloaded with cuteness whenever she posts pictures of her adorable son. (Her husband also happens to be one-half of Flosstradamus, no big deal.) If you seek beauty and skincare tips, take notes from her posts!
Bianca Cash is a designer, illustrator, and photographer based in Melbourne, Australia. Her feed will provide you with pastel-colored inspiration on the daily, especially with those beautifully crafted typography posts. If you're more of a words kind of person, you will fully appreciate her whole aesthetic.
Leah Goren is an illustrator and surface pattern designer based in Brooklyn, New York. If you think that you've seen her patterns before, it's probably because she's illustrated covers for books printed by Chronicle Books and Penguin Random House. She has also designed items sold at Anthropologie, Ban.do, Loeffler Randall, and Revlon. Get lost in her watercolored world.
Laura Callaghan is an Irish illustrator based in London. All of her drawings are done by hand and then topped off with watercolor, Indian ink, and Isograph pen. Whenever I look at her posts, I feel like she's gone and drawn a scene straight from my mind. Let her feed be your daily dose of girl power!