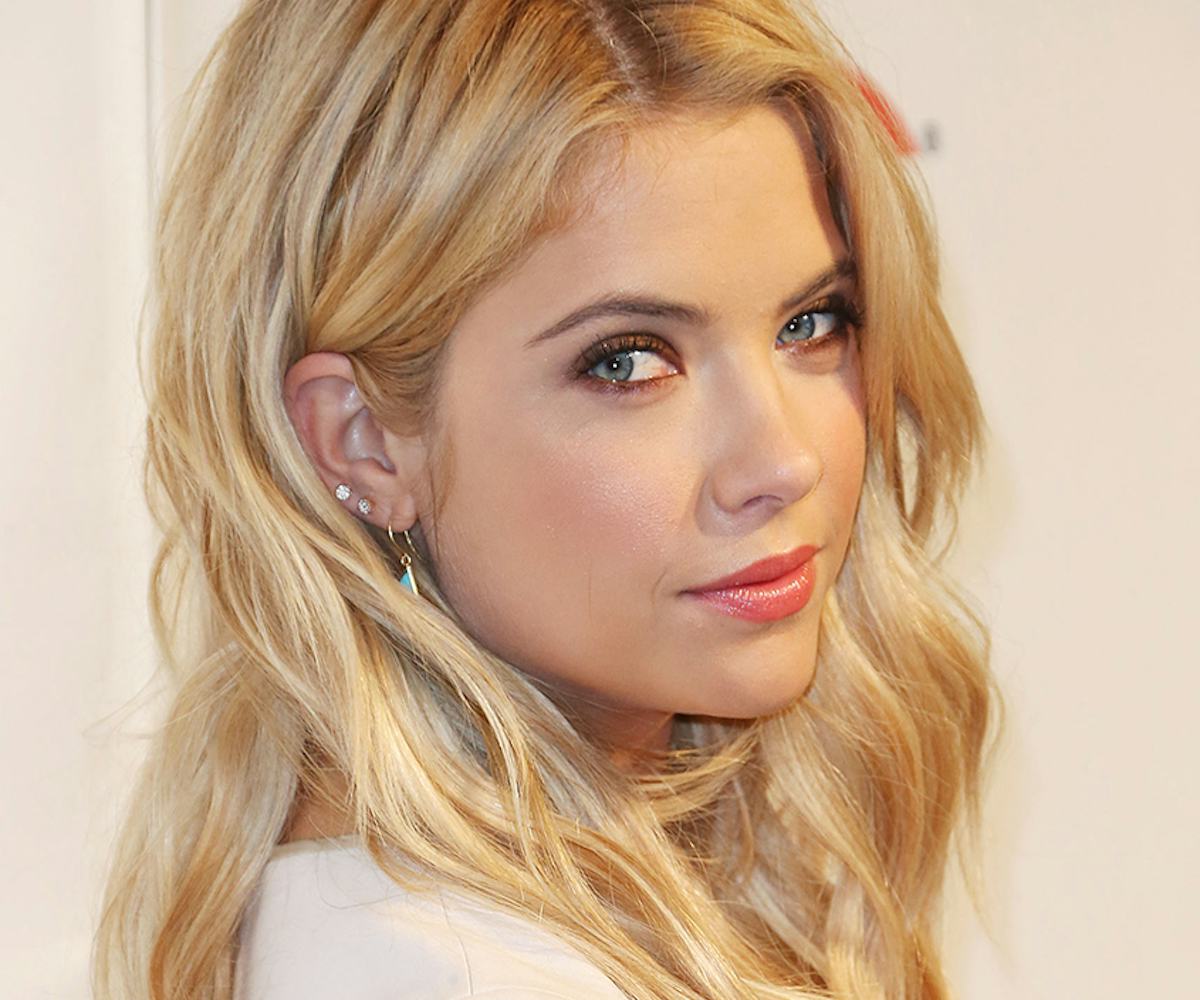 photo by getty images
beauty queen: ashley benson
because coral eyes + beachy waves = perfection.
When you think spring makeup you probably think beachy hair and a pretty, almost pastel eye, right? Us too. That's why we're obsessed with Ashley Benson's totally springy look at Paleyfest this year.
With her blonde locks looking like the definition of "tousled cool" and coral eyeshadow rimming her eyes, Benson truly nailed it in the hair and makeup departments. So, you know we had to ask her makeup artist and hair stylist for the event how they did it! Read on for makeup tips from artist Mai Quynh and hair stylist Richard Collins.
MAKEUP by Mai Quynh
1. Start by moisturizing with Restorsea Rejuvenating Day Cream and applying La Mer Lip Balm to hydrate your lips.
2. Apply Laura Mercier Oil Free Foundation using a foundation brush.
3. Apply Koh Gen Do Moisture Concealer Palette under the eyes and around the nose and mouth.
4. Dab on Make Up For Ever HD Cream Blush to the apples of the cheeks using a Beauty Blender sponge.
5. Warm up her face using Tarte The Sculptor matte cream stick.
6. Brush on Chantecaille Pressed Powder in Veil  to set the foundation.
7. Layer Chantecaille Powder Blush in Wind to her cheeks.  
8. On the eyes apply Lancome Colour Design 5 Shadow & Liner in Coral Crush. Apply the peach shimmer on the inner eyelid using a stiff eyeshadow brush. Next, apply the medium brown into the crease. Smudge the dark brown along the top and bottom lash lines and blend the shadows together with a fluffy eyeshadow brush.
9. Apply two coats of Tarte Lights, Camera, Lashes Mascara in Black to the top lashes.
10. Rim your eyes with Make Up For Ever Aqua Eyes Eyeliner in 2L.
11. For the lips, apply Tory Burch Beauty Lip Colour in Pretty Baby.
HAIR by Richard Collins
1. Dry hair with your hands for a natural texture.
2. Then, starting at the nape of neck, take small sections and wrap them around a two-inch curling iron. Collins recommends starting the curl at the middle of the hair and leaving only some pieces straight at the end, while curling others for a more natural look. Used this technique all over and be sure to curl away from your face.
3. When finished, lightly go over the top section with a ghd Flat Iron to smooth out the top.
4. Put some of Kiehl's Silk Groom Serum in your hands and scrunch just the ends of your hair to add some extra texture.