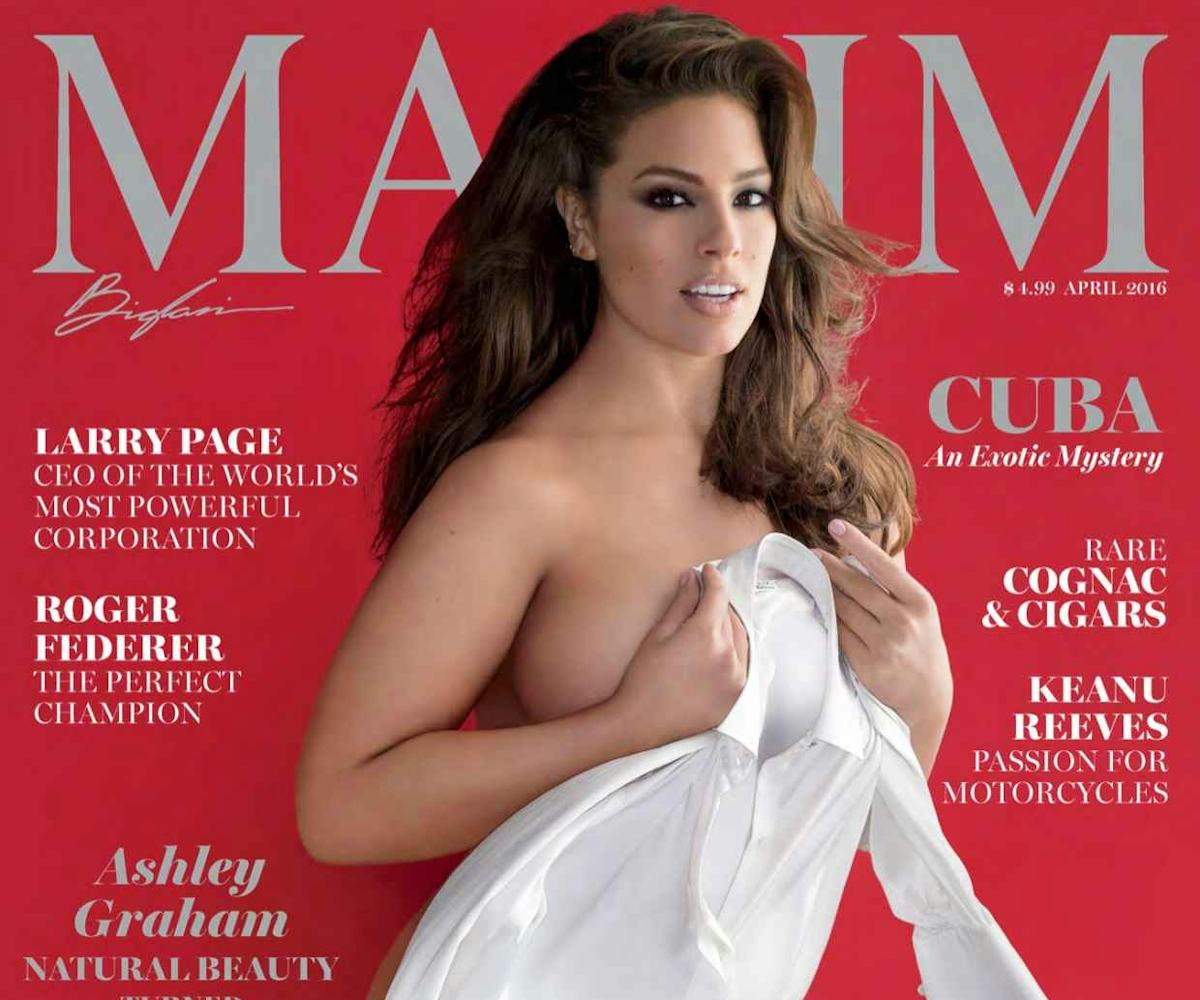 Photo courtesy of Maxim.
Ashley Graham Smokes The Cover Of Maxim's April Issue
and shares how she plans to conquer the world
As if we needed another reason to love Ashley Graham, she's now landed her first cover for Maxim magazine and uses the platform to further evangelize the body positive movement everyone has come to know her for.
Going completely bare with just a white dress shirt held in front of her to keep it PG-13, Graham nails the shot (obviously), and pairs the cover with an equally sulty shoot between the pages of the magazine. In all manner of lingerie and in one photo, nude save for her husband's hands covering her assets (#RelationshipGoals), Graham slays the camera and our hearts, definitively proving why she's one of the most coveted models of the moment.
In the interview, she opens up on how she uses modeling as a platform to build her empire. "I know these celebrity entrepreneurs are just people," she told Maxim. "They've just been given the right opportunities and have soared with them. And that's what I'm trying to do. I'm in total build-the-empire mode right now."
Of all the things she's accomplished, she notes in particular her H&M Studios autumn/winter 2016 show. Graham calls it her "first major show" because it's "not considered a plus-size show only. I'm in it with the big dogs."
Graham also made headlines when she was on the cover of this year's Sports Illustrated's Swimsuit Issue, and subsequently when supermodel Cheryl Tiegs criticized that appearance. Despite any naysayers, Graham's movement keeps converting others, and her star keeps getting brighter. We applaud every step she takes to tackle the normalized depiction of "model body" because as she herself says: "I've got plenty of friends [of all sizes] and different shapes and everything, and I don't want any of them to feel like they aren't 'real women.'"
Check out some of the pics from her Maxim shoot below and see the rest on Maxim's site.