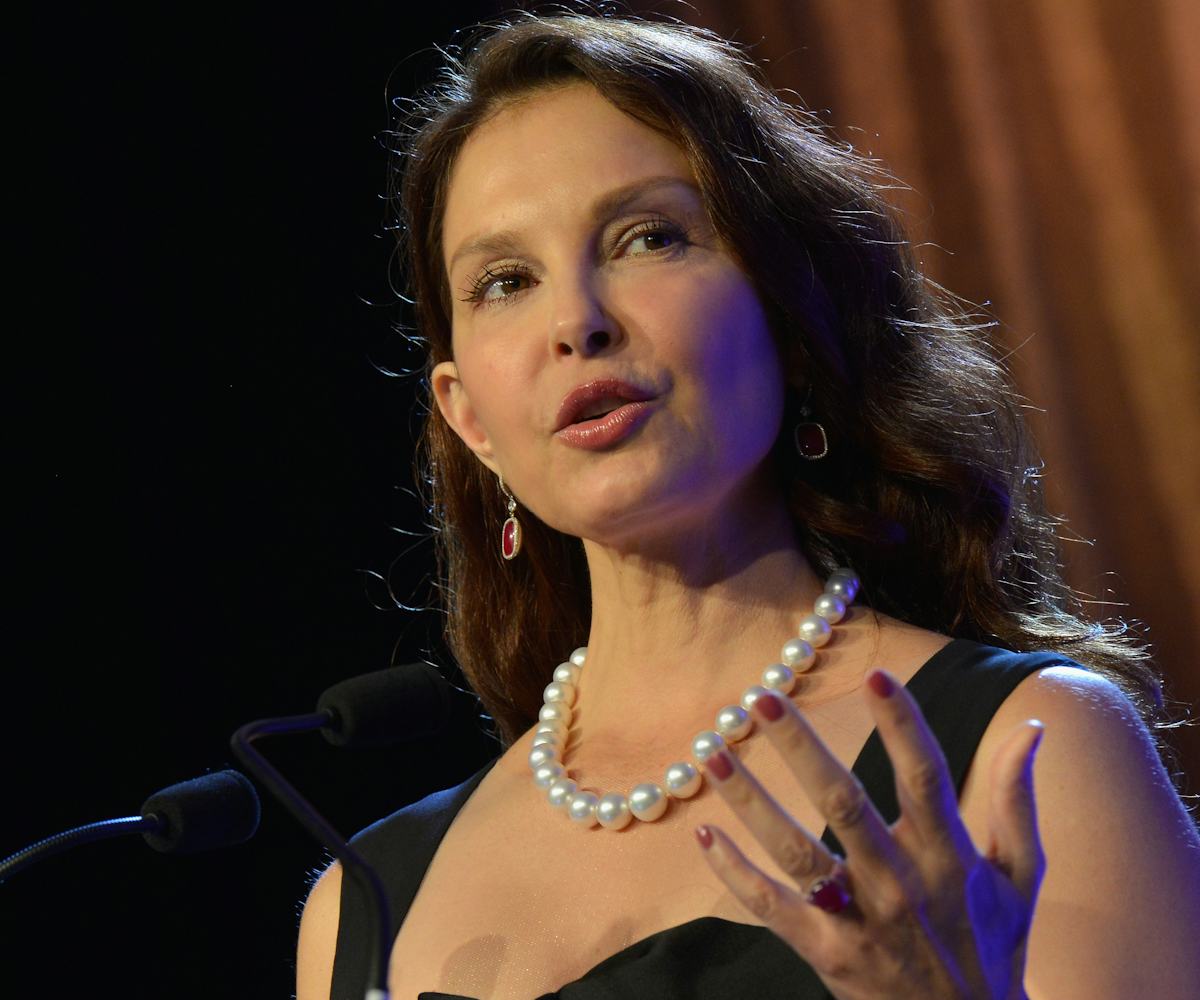 Photo by Duane Prokop/Getty Images
Ashley Judd Is Suing Harvey Weinstein For "Torpedoing" Her Career
She claims his defamatory statements cost her a role in the 'Lord of the Rings' trilogy
Ashley Judd has sued Harvey Weinstein for defamation, sexual harassment, and intentional interference with prospective economic advantage. 
According to E! News, Judd alleges that Weinstein "torpedoed" her career by making inflammatory statements about her in retaliation for "rejecting his sexual demands." 
The specific incident in question involves Lord of the Rings director Peter Jackson and his producing partner Fran Walsh, who were in talks to work with Judd on the Oscar-winning series before Weinstein allegedly made "false and malicious statements... regarding Ms. Judd's professionalism." According to court documents filed by Judd's lawyers, Weinstein said he had "a bad experience" working with her, calling Judd a "nightmare" to be avoided "at all costs." Judd claims that, in addition to the Lord of the Rings job, Weinstein's defamatory comments cost her "future opportunities" to work with Jackson and Walsh.
"The pathetic reality, however, was that Weinstein was retaliating against Ms. Judd for rejecting his sexual demands approximately one year earlier, when he cornered her in a hotel room under the guise of discussing businesses," the suit states. "Weinstein used his power in the entertainment industry to damage Ms. Judd's reputation and limit her ability to find work."
Weinstein's representatives have since responded to Judd's suit, denying the claims. "The most basic investigation of the facts will reveal that Mr. Weinstein neither defamed Ms. Judd nor ever interfered with Ms. Judd's career, and instead not only championed her work but also repeatedly approved her casting for two of his movies over the next decade," a statement from Weinstein's attorney said, per CNN. "We look forward to a vigorous defense of these claims."
According to CNN, Judd is seeking monetary damages and restitution.
Last December—following multiple allegations against Weinstein—Jackson told Stuff that he initially wanted to cast both Judd and Mira Sorvino (who also accused Weinstein of sexual harassment) for Lord of the Rings. However, he recalls Weinstein's company, Miramax, "telling us they were a nightmare to work with and we should avoid them at all costs. This was probably in 1998."
Following the interview, both Judd and Sorvino retweeted the story. Sorvino added, "There it is, confirmation that Harvey Weinstein derailed my career, something I suspected but was unsure." 
Weinstein denied these initial allegations. At the time, he issued a statement that read, "Mr. Weinstein has nothing but the utmost respect for Peter Jackson. However, as Mr. Jackson will probably remember, because Disney would not finance the Lord of the Rings, Miramax lost the project and all casting was done by New Line," per CNN. 
In response, Jackson pushed back via a statement to Deadline, slamming Weinstein's statement as "insincere." 
"Fran Walsh was in the same meeting, and remembers these negative comments about Ashley and Mira as clearly as I do. We have no reason to make it up," Jackson wrote. "This type of comment is not unusual – it can happen with any studio on any film, when different actor's names come up in conversation—but once you hear negative feedback about somebody, you don't forget it."
Read Judd's suit in full here.