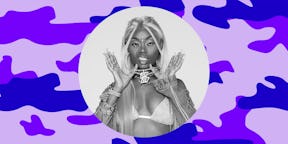 Asian Doll Isn't Just Queen Of The Teens, She's Also Rap Royalty
It Girl: Asian Doll
In the span of a few months, Asian Doll has become one of rap's most talked about rising stars thanks to her glitter-loving fashion sense, signature mean mug, and, of course, her vivacious, confrontational flow.
Self-proclaimed "Queen of Teens," the Dallas-based rapper was propelled to viral fame late last year thanks to her cover of Playboi Carti's "Lame N****z." And in the short amount of time between then and now, she's garnered the attention of some big names, from Nicki Minaj to Bhad Bhabie, who took her on a nationwide tour earlier this year. But perhaps the biggest career accomplishment for Asian Doll thus far has been her signing to 1017 Bricksquad Records. The first woman to ever be brought into the fold, she's now also able to call trap rap founding father, Gucci Mane, her mentor and a father figure of sorts. In so many words, Asian Doll is verified rap royalty now.
But perhaps most importantly, Asian Doll is also a voracious supporter of confident women expressing themselves in unconventional ways, particularly when it comes to the dark-skinned girls who are often silenced. "I just wanna keep inspiring girls to just be their self, and to know that it's a way out. You don't gotta depend on n****s for nothing," Asian Doll told XXL earlier this year. "You can really do it yourself. That's been my goal since day one, since I started to rap"—and judging by the amount of buzz surrounding her recently released mixtape, So Icy Princess, it appears that she's done just that.
Below, we talk with Asian Doll about what it's like to be cosigned by Gucci Mane, where she sees herself in five years, and who her own It Girls are.
Where do you see yourself and your career in five years?
Climbing the charts. Somewhere lit having a good time. Doing more projects and working hard. Working to get more goals accomplished.
What's it been like to join the 1017 family and be cosigned by Gucci Mane himself?
A big dream come true. Something I deserved for working so hard. Blessed. Fun. Feels good to be a part of a family and to be endorsed by such a great legend.
What is the accomplishment you've been most proud of?
Dropping So Icy Princess mixtape. The opportunity to show the world what I am made of and having the fans accept and love my music and showcase my talents.
Who was your It Girl when you were growing up?
Da Brat. Naomi Campbell. Biggest influence overall is Tyra Banks.
Who is your It Girl now?
Myself and Keyshia Ka'Oir.