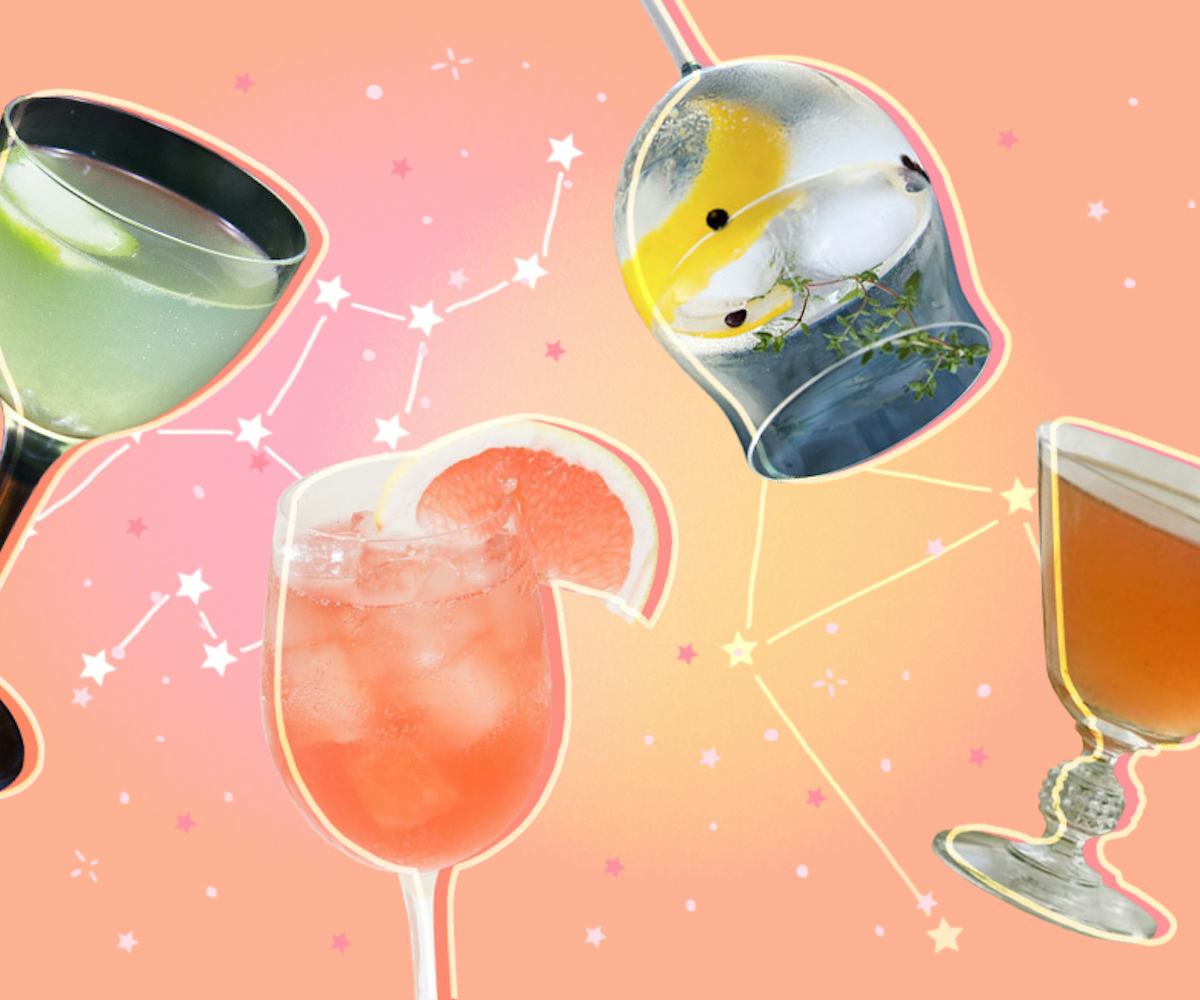 Astrology Meet Cocktails: What's The Best Summer Drink For Your Sign?
It's the height of summer, and while that doesn't mean some of us aren't working our butts off in the sweltering heat, it does mean happy hour seems like it should be every hour and all day long. For those of us who like a little escape, an escape is surely in order. Close your eyes, star children, and imagine a cool summery cocktail sweating right beside you. Maybe you're reading a book, something smart but not too heavy, like We Are Never Meeting in Real Life by Samantha Irby. A breeze kicks up, and you unstick your thighs from that impractical metal chair, some cutie walks by and smiles at you. Life is okay sometimes; life has its small pleasures. Like solitude when it feels permeable—open to beautiful interruption. Like cocktails that taste just right—made for you, even.
Here, I've imagined a lovely drink for each star sign, a cosmic suggestion. I warn you in advance, I suggest rum to no one. If you are looking for rum, you must make that quest on your own.
Aries: Hibiscus Tequila Margarita
God bless summertime when you can find Aries cropping up in your local watering holes and party spots wearing designer T-shirts with whimsical accents. Fiery and sweet, an Aries is equal parts charm and trouble. That's why a Hibiscus Margarita might just do the trick. Its bright magenta color makes me think of an Aries in love, kind of pungent and refusing to hold anything back, lest it ruin the intensity of a romantic moment. An adventurous cocktail that's unusual yet simple; it's bold while being straight to the point, boasting exclusively the flavors of hibiscus, lime, and tequila. 
Taurus: Negroni
I have a Taurus friend who is very good. So good, that she and I share a tattoo: a quote from Janet Jackson (also Taurus), "What have you done for me lately?" on our butts. It's important that I tell you this because a Taurus knows just what to do for themselves. When I asked her what the perfect summer drink is, she said, "Negroni on the rocks, because it feels citrusy and summery, but is also just three types of fucking alcohol—no nonsense. The bitterness of the Campari and the ice is really key. Cold and bitter, it grounds you."
Gemini: Aviation
Listen, the truth is, a Gemini is interested in all sorts of cocktails. They're open-minded pleasure seekers. What a Gemini really likes, though, is beauty—a drink like a butterfly in a glass. Here's where the Aviation flies in and sweeps you right off your feet! Blueish purple and served straight up, an Aviation is all air and flirtation, a Gemini dream. Besides, I know this cocktail is mixed with magic because the first time I tried an Aviation was at a truly meant-to-be Gemini-Scorpio wedding, where it was served as the signature drink.
Cancer: Paloma Cordial
Likes most sensual beings, a Cancer likes a drink that feels good in the mouth. Once a Cancer has decided that their night is young, they're okay with gratification that takes its time, a tipsiness that comes on slowly as their drink wears down its ice. That's why a Paloma Cordial is just what the doctor ordered. A twist on the classic Paloma, this cocktail speaks to the alchemist in every Cancer, the one who is willing to spend an hour preparing a special grapefruit cordial elixir. When mixed with Campari, tequila, and lime, this potion is Cancer's perfect offering and indulgence—yours so long as you're willing to come to them.
Leo: Melon Magic
Here's what happened: It was my best friend's mother's birthday dinner and the party was, in total, five women of varying age. Each one brought a watermelon because each one thought, "Oh hey, it's summer, let's bring a watermelon." With our excess of watermelon, we invoked a general spirit of abundance; those of us who did not get along, got along, and those of us who got along, got along even better. It was a Leo's paradise, a pride of women leaning back into the darkening day, satiated. When the night began to usher the elders home, three of us found ourselves with one ripe watermelon and one bottle of Tanqueray No.10. Listen, blended, these two simple ingredients and a helping of ice made pretty much the most luscious, full-bodied, summer-righteous cocktail we could have ever imagined.
Virgo: Rosé Aperol Spritz
A Virgo is curious and changeable, bubbly one minute and bitter the next. A Virgo likes refinement, history, "an experience for experience's sake," and will probably drop a wad of cash on some nice drinks while exclusively owning socks with holes in them. Virgos are also the only sign I have ever met who describe themselves as sapiosexuals—sexually attracted to others based primarily on intelligence rather than appearance or even gender. That sort of heady approach can get quite heavy-handed in the late-night hour. That's why Virgo needs to drink elegantly and with a light touch, talking about everything until dawn. What better beverage for our ambitious connoisseurs and romancers than a lighthearted yet classic Rosé Aperol Spritz? Seductive and playful, the cocktails blush will have Virgos blushing right along.
Libra: St. Germaine Lavender Gin and Tonic 
I'm not saying Libras are superficial, I'm just saying Libras have great visual literacy. You can find one on a weekday, stopping short on her way home from work, tilting her face toward the sun in the golden hour. A Libra likes to play at elegance, and when she's at the bar wearing a silky thing that sits just so, there's really no better accompaniment than a St. Germaine Lavender Gin & Tonic. Preferably served in a goblet, this cocktail boasts the floral bouquet of St. Germaine and Hendrick's, accented by a sprinkling of juniper berries, a sprig of lavender, and bitter dash of orange. Fancy.
Scorpio: Basil Julep
You know a Scorpio wants it her way even when she's making you believe like she's giving you yours. "Why drink a Mint Julep when you could drink a Basil Julep?" she'll ask, hoisting herself onto a barstool. She'll lean her head lightly to one side and give you that deep penetrating under-the brows glance that lets you and her both know she's not talking about drinks at all. That's the way this cocktail is too, communing on soft and simple, but invoking a savory spicy finish that leaves your tongue tingling for more.
Sagittarius: Lemon Verbena Whiskey Sour
Since a Sagittarius is half-human, half-horse, they're likely to oscillate between convention and invention. Half-human, a Sagittarius likes a pattern, a familiar libation that reminds them of good times from the past. Half-horse, a Sagittarius likes to gallop beyond the horizon line and see something they couldn't see from where they were. Behold, archer, the Lemon Verbena Whiskey Sour. Rooted in a canonical Whiskey Sour, this cocktail offers a honeyed, adventurous, herbal twist with the addition of dashing yet understated lemon verbena. Poured over ice, it's the kind of drink that will have you brushing your hooves against the ground like you just gotta dance or rush right over to that cutie you've been meaning to chat up all night long.
Capricorn: Lemon Rosemary Vodka Fizz
To ply a Capricorn and get to the depths of her heart, you've got to offer her a drink that's no nonsense and all attitude. She's earthy, and she doesn't waste her time, so it's gotta be vodka and gotta be sweet and simple. Alright, but what about leaving a savory note on her tongue? Well, simplicity is sometimes sexiest and, yes, she's open to that if you're buying and coming correct. Just because she's methodical, doesn't mean she's forgotten how to have fun. The tall order? A Lemon Rosemary Vodka Fizz: lemon rosemary sugar reduction poured over a highball with Tito's, seltzer, and ice. A glowing glass of gold sunshine our sea-goat can bask in and spill her secrets from.
Aquarius: Caipirinha
Everyone knows that Aquarians are out this world, and when it comes to the perfect drink, it's a safe bet that it ought to hail from a universe far far away. Well, while I don't know how exactly to cup the stars and make of them a sparkling summer libation, I do know that nary an Aquarian would say no to a caipirinha, Brazil's national cocktail made with cachaça, sugar, and lime. What's cachaça? The short answer is that cachaça is a liquor made from sugarcane. The right answer, and the reason this cocktail is made for a whirlwind girl who's trying to keep it sweet in a shitty world, is that cachaça is the nectar of grace. A caipirinha is made in one large vessel to be poured out amongst dear mortals. If that isn't a metaphor for Aquarian affection, I don't want to know what is.
Pisces: The Last Word
The number of sides a Gemini has is oft explored in Zodiac circles, but rarely do these circles bring up the seemingly dual nature of our beloved Pisces. The symbol of the fish swimming both ways, Pisces is the kind who will fall for you just as quickly as they will ghost you. There's something about their elusiveness, the dream you wish you were asked to enter, that makes this sign particularly seductive and just a little dangerous. How to lure such a slippery thing? Why not pour them The Last Word in a cocktail glass? Green and shimmering, this Piscean cocktail is the kind of drink that's as beautiful and refreshing as it is mysterious. It shouldn't work, with those bold flavors of green chartreuse, maraschino liquor, lime, and gin mixing, but it works so well. Most interesting of all, the Last Word is a drink that dates back to the Prohibition era, which pairs well with our Pisces, the oldest and most magical sign in the Zodiac.