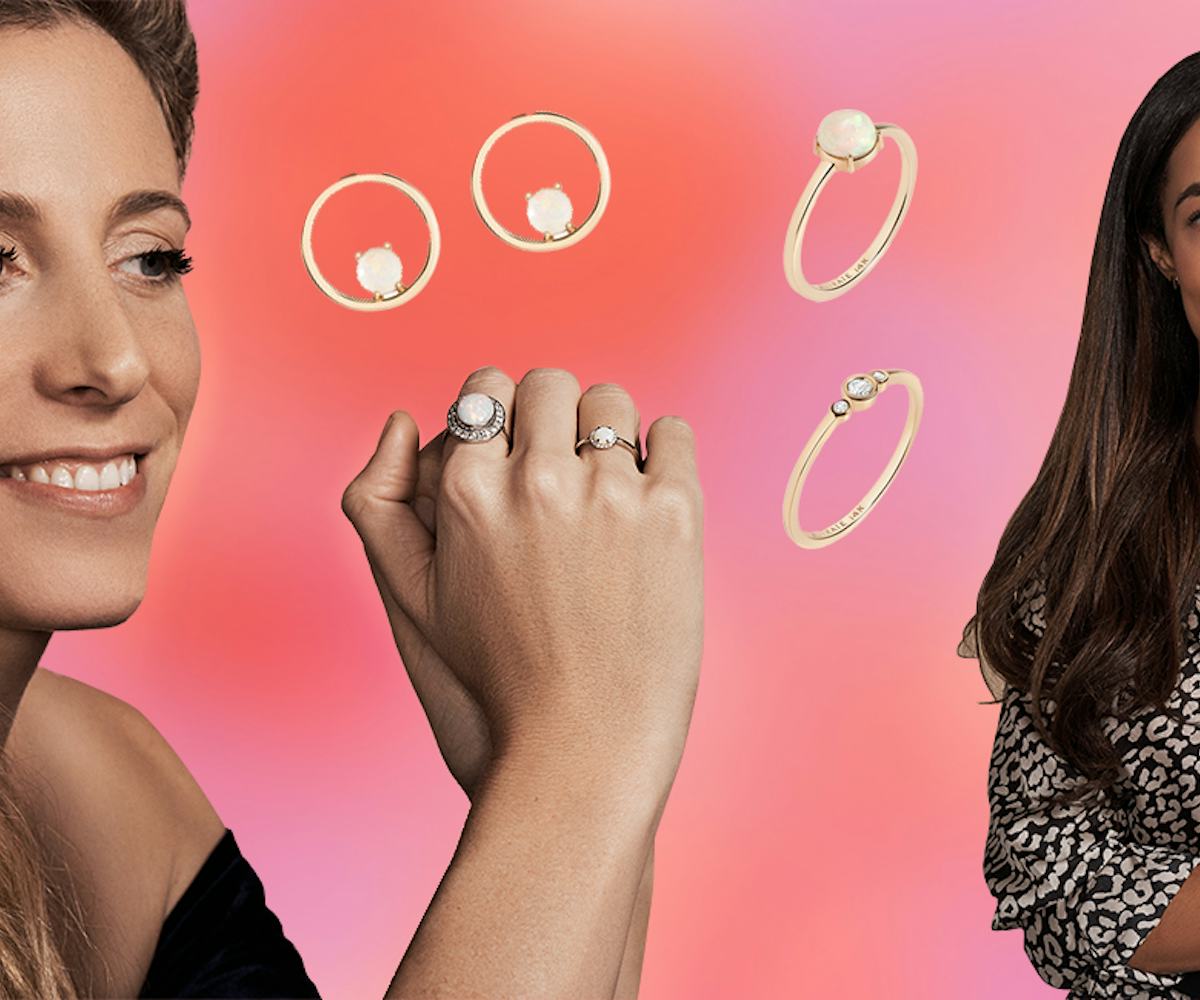 Get To Know The Jewelry Brand That Wants To Change An "Ugly" Industry
And get women to buy their own jewelry
While the fashion world is slowly moving toward a moresustainable and transparent future, there is one part of the industry that still notoriously suffers from malpractices and murky pricing models: fine jewelry. With some on the market still engaging in the blood diamond trade and exploitative gold mining practices, it's no surprise that conscientious millennials are turning away from heritage brands for ethical reasons. And with jewelry stores charging exorbitant amounts of money for the tiniest of gold stacking rings and layering chains, purchasing fine jewelry also isn't in most millennials' budgets either. A somewhat traditional industry where the practices are often passed from family to family, fine jewelry is frequently advertised as something reserved for special occasions—most notably when getting down on one knee. But as more people are rejecting the idea of traditional proposals, they are also refusing to accept that fine jewelry is something reserved for the wealthy or for special occasions.
Enter: AUrate, a fairly priced (read: affordable), contemporary, sustainable fine jewelry brand that is here to dispel the outdated myth that fine jewelry is something you receive from a partner. "AUrate is about empowering women… The whole point of empowerment is, you don't need somebody else to get your stuff, you can get it for yourself," says Sophie Kahn, one-half of the brand. "I think it started with Bouchra [Ezzahraoui] and I, who were empowered to do things ourselves [by starting the brand], and that's kind of the message that AUrate sends." After meeting at Princeton University 10 years ago, Kahn and Ezzahraoui went on to find AUrate in 2015 after discovering the void in the market any woman even remotely interested in fashion has seen. "We couldn't find any jewelry that was fine, contemporary, cool, ethically sourced, and well-priced," Ezzahraoui says. Instead of complaining about the lack of retailers catering to them though, they set up their headquarters and studio workshop in Manhattan's Diamond District and began an Excel sheet with a list of factors they weren't going to negotiate on.
Number one? Sustainability and ethical practices. This was a no-brainer for the two, who wanted to make sure that their jewelry was not contributing to what can be, according to Kahn, an "ugly industry." She says, "It's not even special anymore to be sustainable, to be honest. Like, you should be, and if you're not, I think that's really a shame." As they interviewed the vendors, they went through the list and asked about things like where the gold and the diamonds were sourced from, labor circumstances, environmental standards, and recycling practices. "For each vendor, we would really look into each piece and rate them and talk to them and ask for certificates, to make sure that the chain from A to Z was ethical and sustainable, and helping the environment," says Kahn.
Every AUrate stone can be traced back to an ethical and environmentally sound source, gold is recycled from conflict-free suppliers, and pearls sustainably farmed and harvested in a way to ensure the well-being of the marine biodiversity. They source Akoya pearls from Ise-Shima peninsula in Japan where female ama divers, most of whom are in their 60s now, have spent most of their lives free-diving (30 feet down!) to gather oysters containing pearls. Supporting other women is another brand pillar that Kahn and Ezzahraoui, as two women, try to uphold. "We're jewelry by women, for women, so we love to focus also on the women that help in any way shape or form," says Kahn.
Just today, AUrate debuted its holiday collection, an ode to six women that have inspired Kahn and Ezzahraoui, women who, like AUrate's customers, don't make any concessions when it comes to design, sustainability, or fair price. "Our woman is a self-gifter," states Ezzahraoui, who says that 90 percent of AUrate purchases are done by women for themselves. "She wants something that's high-quality, that's fashion. She also is buying stuff for herself. She's not waiting for a man to gift her a piece of jewelry!" This empowerment stretches to their give-back component. For every purchase, a book is donated to a child in the U.S. to further their education.
"Education is what brought us both to the U.S. and helped us kind of launch our careers here," says Kahn, who explains they wanted to give back "something concrete" as opposed to a percentage from proceeds. Being from the Netherlands, where education is free, Kahn saw the power of literacy; Ezzahraoui, who is from Morocco where a lot of people are still illiterate, saw the empowerment it could bring to people from the other end of the spectrum. "Here in the U.S., we know there's still a huge gap between rich and poor, and education is… there are a lot of places where kids can really still use books, and where literacy can strongly be improved. So that's why we wanted to also give back to the U.S., which is where we've been living for the last 10-plus years and that allowed us to launch everything that we've been doing."
With pieces ranging from $50 to $3,500, AUrate has offerings for customers of varying incomes. "People are conditioned to spend big bucks on pieces of jewelry, so no one has a proper concept of how much things should cost," says Ezzahraoui. "Being direct-to-consumer, educating the customer, and just being in control of our supply chain makes it that, I think, we kept those prices under control and make them affordable." For every piece on the website, AUrate shows how much the markup would be at a traditional retailer, a transparency that both Kahn and Ezzahraoui feel is integral to the brand. "We're very open [about what goes into every piece]—the weight, the thickness—other jewelry brands don't do that," says Kahn. "So it's kind of really trying to just be transparent on anything we're doing and educating the customer that way, because, yeah, sometimes people think, Oh, it's just shiny, so it must be gold, and honestly, that's not the case."
As for the offerings, there are dainty bar necklaces and stacking rings for the woman who likes her accessories simple, but there's also an oversized collar necklace and ornate floral chandelier earrings for those who love to make a statement. It makes sense that the inspiration is as varied as the styles offered—Kahn says they "get inspired by everything" as, often, "we're creating products that we want to wear." But also, they're inspired by their customer. For the new collection, a stacking ring got a diamond upgrade and a gold bar necklace got a new textured design after customer requests. "We're not men creating something for women… [Our inspiration comes from] really listening to real women, whether it's ourselves or our customers, we have focus groups, we get in-person customers all the time," says Kahn.
And it's this power to make choices for themselves that AUrate hopes that women wearing its pieces feel. "The stereotypes that as a woman, you're either beautiful or you're smart or you're, you know, a giver-backer, like this Mother Teresa person—that's BS for us… So that's what we're hoping a woman feels, like, 'Yeah, fuck this, I can look great, but I'm also somebody that gave back to kids, gave back to the environment, I look amazing, and I didn't pay a fortune for something that's not worth a fortune.' So it kind of is this feeling of, I can do it all, I can have it all, I don't have to make concessions'."
Let this serve as a call to shop the brand's pieces and celebrate the women who inspired the holiday collection, below.
Sutian Dong, partner at Female Founders Fund
Ashley Merrill, founder of Lunya
Winta Mehtsun, surgeon at Mass General Hospital
Ariel Kaye, founder of Parachute
Nicole Fasolino, creative director, stylist, and activist