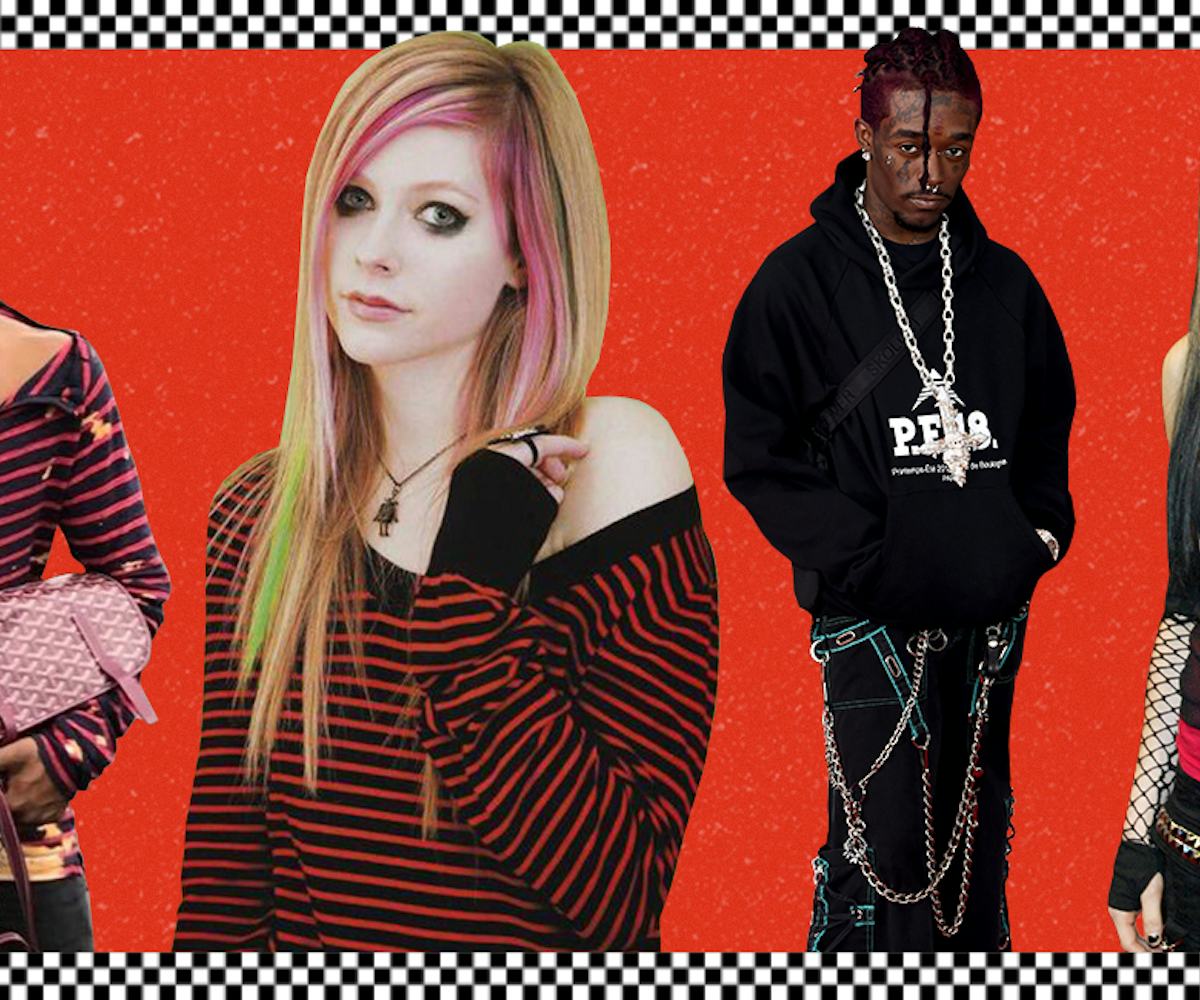 Images by Getty Images/Jamie McCarthy & Donald Weber
Exploring Avril Lavigne's Strange, Enduring Influence On Hip-Hop
Can we make it any more obvious?
In May 2017, Twitter user @wongkarswai (the account has since been deleted) posted a tweet that instantly went viral: "avril lavigne is dead and was replaced by lil uzi vert." Attached to the tweet were two photos. One showed Lavigne at the zenith of her career, her blond hair dyed both pink and green; she was wearing a striped shirt. The other showed Lil Uzi Vert, in a similar striped shirt, the collar cut to expose his shoulders, and a pink handbag cradled in his arm. Prior to its deletion, the tweet had nearly 80,000 retweets and 190,000 faves.
There are many reasons the tweet went viral—it played, for example, on an impossible-to-kill internet myth that Lavigne died years ago and was replaced by a look-alike. And it was difficult to deny the resemblance in wardrobe. More than 15 years after she released Let Go, the chart-topping debut album that catapulted her into teen stardom, Lavigne's distinctive style remains startlingly recognizable and, for a certain generation, inextricably linked to her: the pink-black color combo, the spiky silver jewelry, the dyed hair. 
I don't know whether Lil Uzi Vert is a Lavigne fan, or whether he took inspiration from her early aughts look. (The rapper was unavailable for comment, although my DMs are open.) But if he were, he wouldn't be the first rapper to do so. There are traces of Lavigne's influence scattered across contemporary rap and hip-hop, some more obvious than others. Former G-Unit member Lloyd Banks name-checks her in his angsty track, "It's Okay (Born Alone, Die Alone)," in which he raps, "I'm TRL next to Avril Lavigne, all my karats are green/ The Buddha is purple, be rude and I hurt you." Vic Mensa, who's dabbled in skater and punk culture, shouted her out in "Almost There," singing: "I'm still a skater boy, I'm flippin' out like Avril Lavigne/ I tweak on every little thing, that's why it took me so long." In his The Marathon track "Dreamin," California rapper Nipsey Hussle used an Lavigne reference to explain his rise to fame: "Most of the niggas from back then in penitentiaries/ And now they see me on they TV like, "How can it be?"/ It's complicated how I made it like Avril Lavigne."
It's difficult to name another pop-punk princess with this much currency among rappers and hip-hop artists. And it makes sense. For a certain generation, Lavigne was one of the biggest pop stars in the game. Let Go was one of the top five best-selling debuts of 2002, and remained on the Billboard charts for two years in a row (Under My Skin, her sophomore follow-up, was there a subsequent two years). In 2007, after Lavigne released "Girlfriend," rapper Lil Mama hopped on a wildly entertaining remix of the track. The genre crossover potential was so high that there were rumors (later denied by Lavigne's label reps) that she had a collaboration with Lil Wayne on the way. 
"[Avril] was such a big pop star, and she was the kind of pop star who had the added image of being, like, 'edgy,' which is what I think a lot of the hip-hop community associates with [punk] music," says rapper Fat Tony.
There are also, says Fat Tony, similarities between the two genres: The American punk music movement made way in New York City in the '60s and '70s, around the same time and place that hip-hop music was gaining popularity. They both have do-it-yourself cultures—the only barrier to making good hip-hop or punk music is talent; neither takes money in order to enter the field. As an artist who made pop music, Lavigne provided an accessible entrance to punk music and skater culture for kids who didn't grow up listening to, say, the Ramones. 
"If you're in the hip-hop community and you are kinda familiar with skaters and kinda familiar with punk and kinda familiar with pop music but don't know a whole lot about all three, she delivered a great visual catchy package that describes all of them," says Fat Tony. "So if you were in the hip-hop community, or in the hood, and trynna fuck with some skateboarding or some punk, Avril Lavigne was a gateway to it." 
For a new generation of young rappers, Lavigne remains that same gateway. Bali Baby, the 21-year old rapper and pop artist from Atlanta, explained to The Fader that her music video for "Backseat" was like "if [the] Disney Channel let Avril Lavigne have her own series in 2001." John River, a 22-year-old Canadian MC, said the first album he ever bought was an Avril Lavigne record. Artist Noname, from Chicago, said there was a time where she listened to "nothing but Avril Lavigne." 
"She is a perfect representation of being hard and soft," says DMV rapper Rico Nasty, explaining why she named one of her alter egos, Trap Lavigne, after Avril. "She hated the term punk. But she was sooooo PUNK rock. I mean, she was one of the first rebels I had seen growing up. She made me wanna be myself. 'Cause that's what she was. If it wasn't for her, I wouldn't have picked up a board."
If the comparison between Avril Lavigne and Lil Uzi Vert feels unlikely, perhaps it shouldn't. Lil Uzi Vert is 23 years old, and certainly old enough to have encountered Avril Lavigne while she was still popular. Both Lil Uzi Vert and Avril Lavigne are known for making music stuffed chock-full of moody reflection and existential angst. Like Lil Uzi's, Lavigne's music gave her young listeners permission not only to sit in their sadness but to announce it to the world, inscribing it on their bodies and notebooks and Vans slip-ons. 
More recently, Princess Nokia—who referenced "Sk8er Boi" in her debut album, 1992—unveiled the cover of her follow-up album, A Girl Cried Red, in which she's pictured wearing a Slipknot T-shirt, silver stud jewelry, and a black-and-red striped shirt that looks very similar to the one Lil Uzi and Lavigne are wearing in the meme. Can we make it any more obvious?