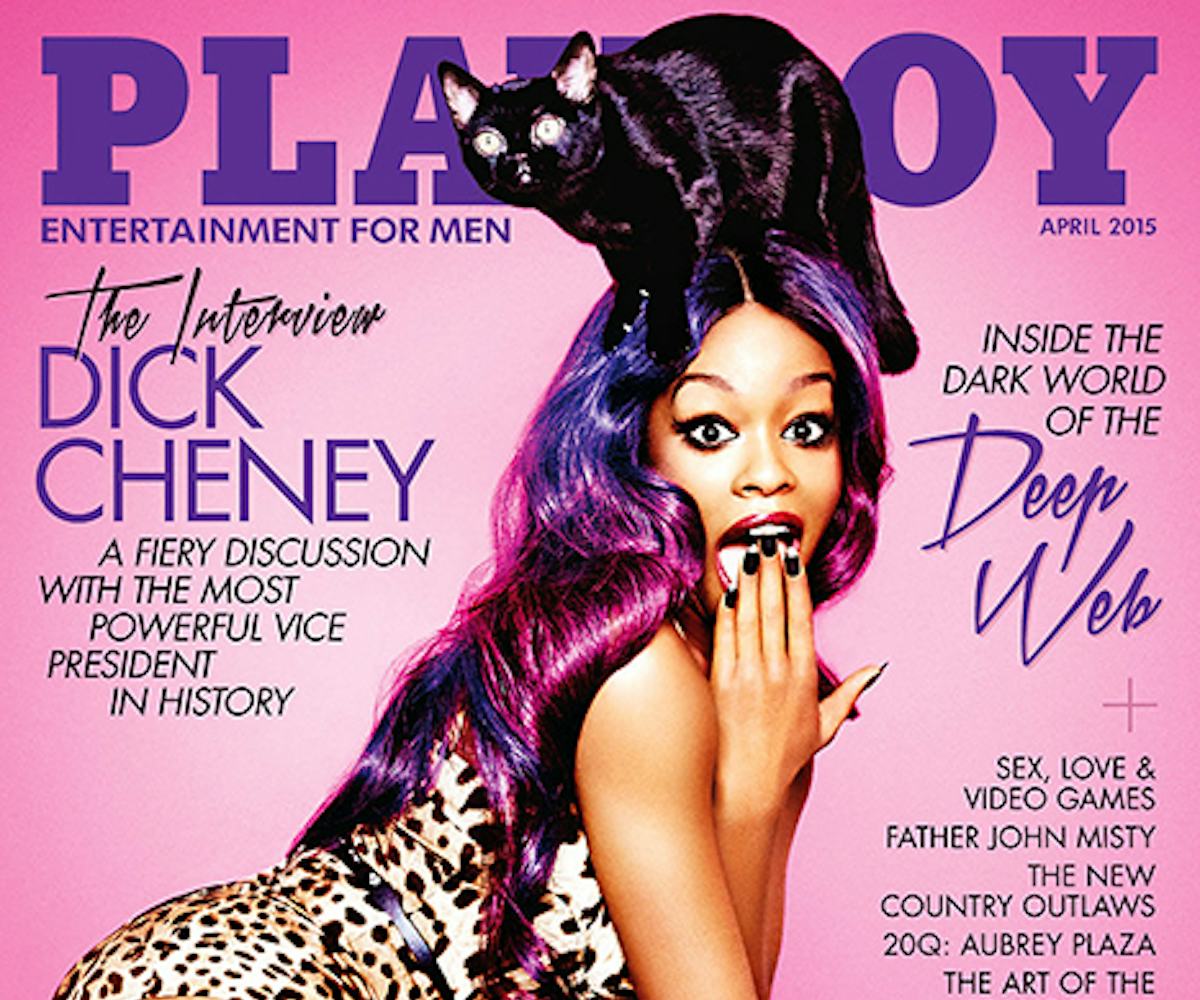 Photo Courtesy of Playboy
azealia banks does not hold back in this playboy interview
on race, religion, and lorde
Throughout her career, Azealia Banks has made it her trademark to spark controversy, whether on social media or during interviews. Most of the time her outspokeness has overshadowed her music, which is a shame since she put out one of last year's best rap albums. Banks' latest head-turning remarks come from her sprawling Playboy cover story where, unlike most of the women who cover Playboy, Banks touched upon issues of race, the music industry, religion, and sexuality. 
The pull quote making the most noise on the Internet today comes at the expense of who Banks referes to as "fat white Americans":
"I hate everything about this country. Like, I hate fat white Americans. All the people who are crunched into the middle of America, the real fat and meat of America, are these racist conservative white people who live on their farms. Those little teenage girls who work at Kmart and have a racist grandma—that's really America."
Banks, who grew up in Harlem, has been vocal about race relations in the past, most notably when talking about the music industry. She started a social media war with Iggy Azalea over accusations that the rapper was reappropriating black culture without a proper understanding of it. She didn't mention Azalea in the interview, but did mention some other of her peers and their relation to American culture:
"The race thing always comes up, but I want to get there being very black and proud and boisterous about it. You get what I mean? A lot of times when you're a black woman and you're proud, that's why people don't like you. In American society, the game is to be a nonthreatening black person. That's why you have Pharrell or Kendrick Lamar saying, 'How can we expect people to respect us if we don't respect ourselves?' He's playing that nonthreatening black man s---, and that gets all the white soccer moms going, 'We love him.'"
And as if she was predicting the backlash she'd be getting for this interview, she compared how people react to her comments to how they react to someone like Lorde's. Banks suggested it all comes down to race: "Lorde can run her mouth [on Twitter] and talk s--- about all these other bitches, but y'all aren't saying she's angry," she said. "If I have something to say, I get pushed into the corner."
She also dropped a pretty great metaphor on atheism and the existence of God: 
"I don't understand how someone could be an atheist. Think about God as software, right? If you were to look at God's face, your head would explode. Because your head is a calculator, and the amount of information that would be embedded in his face would fit only on a Google-size data center. Your head cannot handle that much information. Stop looking for God."
You can read the rest of the interview here. It's well worth it.