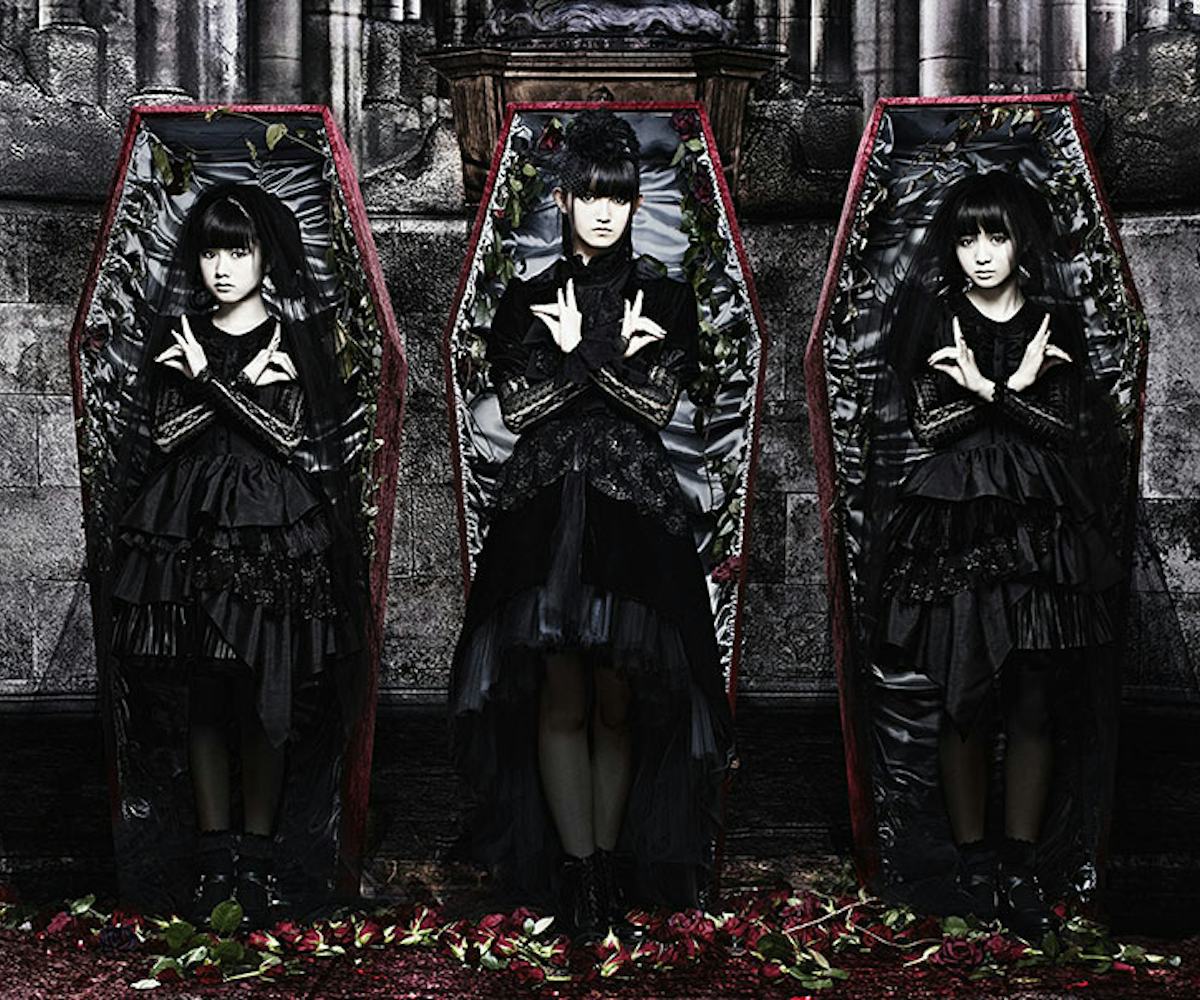 Photo via Babymetal facebook
Cute/Terrifying Music Sensation Babymetal Talks Overlords And Ariana Grande
Japanese idol culture has nothing to do with Keith Urban or jazzy interpretations of Tracy Chapman's "Fast Car." The idol performers are interchangeable figurines who, unlike American pop culture icons, are not individualized. Idols typically sing saccharine, Kawaii-styled J-pop, but there are rare occasions in which these teenage performers jump genres, moving away from the existing, seizure-inducing model. Yuimetal, Su-metal, and Moametal are the trio behind the Japanese sensation Babymetal—a group that both embraces and defies the Idol genre.
Before her turn to the dark side, Su-metal was a member of two bands, Sakura Gakuin and Karen's Girls, both of which produced up-tempo dance pop. Now, with the help of the Fox God, their fictitious, benevolent spiritual overseer, Su-metal and the rest of the gang have transitioned into hardcore music overlaid with j-pop vocals. The result is undeniably fantastic and bizarre. Babymetal is a craze, drawing tens of thousands of diehard fans into arenas around the world. Read the transcript below, or watch NYLON's interview in which we sweat under the sheer force of this epic teenage trio. 
Hi this is Mickey from Nylon and this is…
Su-metal: Su-metal
Yuimetal: Yuimetal
Moametal: Moametal
Su-metal: We are…
All: Babymetal!!!
What is the craziest thing you've seen at a concert?
Moametal: Once when we performed at a festival there were between 50, 000 and 60, 000 people in the audience we were so shocked. It was crazy.
Nylon: Who is your favorite singer?
Yuimetal: Ariana Grande.
Oh! Mine too. Can you sing any part of any Ariana Grande songs for us?
Who is the Fox God and what is his purpose?
Su-metal: we don't really know a lot about the Fox God, but we believe in him. We never imagined ourselves in this unbelievable situation that we're in today such as having concerts all over the world and we believe this is all given to us by the Fox God.
How do you communicate with the Fox God?
Su-metal: We receive revelations through Kobametal the only person who can receive revelations directly from the Fox God.
And who is Kobametal?
Yuimetal: The producer.
What are the Babymetal fans called?
Su-metal: We are called 'the one.'
Oh, so all of them together are 'the one.' Alright. Powerful. Who are your typical fans and what do they look like?
Su-metal: Depending on the country there are different types of fans from older generations to kids, males, females, pop fans, and metal fans, there are varieties of fans that like different genres.
What happens when your pop fans and your metal fans come together and mix it up in the mosh pit?
Su-metal: Well, I think the pop fans were surprised by the metal fans in the beginning but now they all enjoy moshing and getting together.
So how do you guys talk to your fans? Is there a scream or is there a gesture or is there a hand movement?
Su-metal: We always do this fox sign that appears in our choreography very often. Our fans enjoy doing this sign together at our shows.
What is one thing that you love about America?
Yuimetal: I like the freedom America has in Japan people tend to think too much about others' opinions and how to be like everybody else but to Americans it seems more important to be who you are and find your own way.
So as a very rad and intimidating metal singer yourself is there anything you're afraid of?
Yuimetal: Ghosts.
Oh ghosts? Me too. I'm terrified of ghosts. And you?
Moametal: My mom when she's mad… 
Me too.