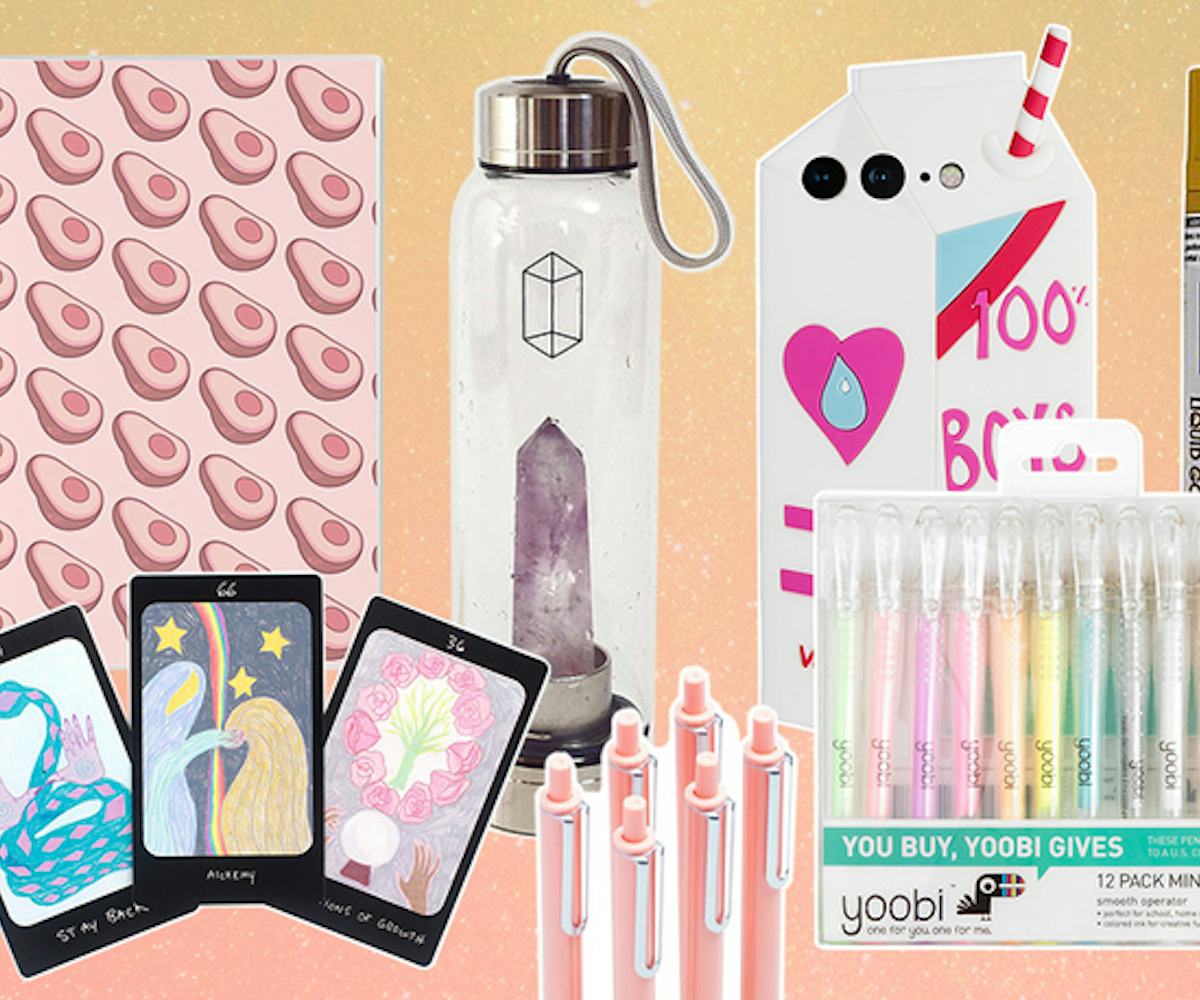 25 Back To School Essentials To Get You Pumped For Your First Day
Back to school blues? Not here
Ah, back to school season. Before you know it, you'll be sliding out of that bikini and into a... classroom. Whether this gives you anxiety or makes you excited, it's coming, so you might as well get ready.
In preparation for this monumental day, we rounded up the must-have supplies you'll need to get you through it (with your personal style in mind, of course, because that's important). From notebooks and writing instruments to things to keep you entertained in between bells—oracle cards, anyone?—we've got you covered.
Click through the gallery, below, to check out the goods, and stay tuned for next week's fall backpack roundup. I mean, what else are you going to carry all of this in?
The Millennial MinimalistSchool supplies for the millennial who isn't afraid to show it. You love marble, millennial pink, and anything avocado-themed.
1. Redbubble, Millennial Pink Avocado Notebook, $12, available at Redbubble.
2. Russel + Hazel, Marble iPhone Case, $30, available at NYLONshop.
3. Happy Plugs, Earbuds Plus Pink Gold, $29.99, available at Happy Plugs.
4. Poppin, Blush Retractable Gel Luxe Pens, $10, available at Poppin.
The New Age WitchFor those of you that aim to bring your craft into the classroom. Whether it's by sipping amethyst-infused water throughout the day or giving oracle readings in between classes, the above has you set for a witchy school year.
1. Frends, Layla Black And Gold Evil Eye 2-in-1 Bundle, $179.99, available at Frends.
2. Hauswitch, Jotter Notebooks, $8 each, available at Hauswitch.
3. Glacce, Amethyst Bottle, $84, available at Glacce.
4. Vitruvi, Focus Roll-On Oil, $38, available at Vitruvi.
5. Iris, Oracle Deck, $48, available at The Wild Unknown.
The PrepFlorals, rugby stripes, and girly details galore, these school supplies are Blair Waldorf-approved.
1. Swarovski, Crystalline Ballpoint Pen, $35, available at Swarovski.
2. The Container Store, Bow Paper Clips, $2.99, available at The Container Store.
3. Ban.do, Get It Together Folio, $34, available at Ban.do.
4. Kate Spade, New York Rugby Stripe Water Bottle, $26.66, available at Amazon.
5. Sugar Paper, Navy Small Dot iPhone 7 Case, $36, available at Sugar Paper.
The Whimsical ScholarBring out your inner magical unicorn fairy mermaid with holographic, sparkling, and rainbow-inspired accessories—and don't forget the glittery gel pens.
1. Yoobi, Mini Glitter Gel Pens, $4.99, available at Target.
2. Fred and Friends, Tape Dispenser, $12, available at Fred and Friends.
3. Ban.do, 17-Month Classic Agenda, $20, available at Ban.do.
4. Kate Spade, Wireless Headphones, $150, available at Kate Spade.
5. Casetify, Say My Name Glitter Case, $45, available at Casetify.
Rebel RebelFor the rule-breaker at heart. Punk studs and tongue-in-cheek accessories are made for the rebel's back to school supply needs—just don't let them catch on to your bathroom graffiti game.
1. Wicked Audio, Revolt Headphones, $199.99, available at Wicked Audio.
2. Jam Paper, Gold Paint Pen, $4.99, available at Staples.
3. Bkr, Spiked Jet Water Bottle, $40, available at Bkr.
4. Valfre, Eye Rolling Forever Journal, $20, available at Valfre.
5. Valfre, Boys Tears 3D iPhone 7 Case, $38, available at NYLONshop.