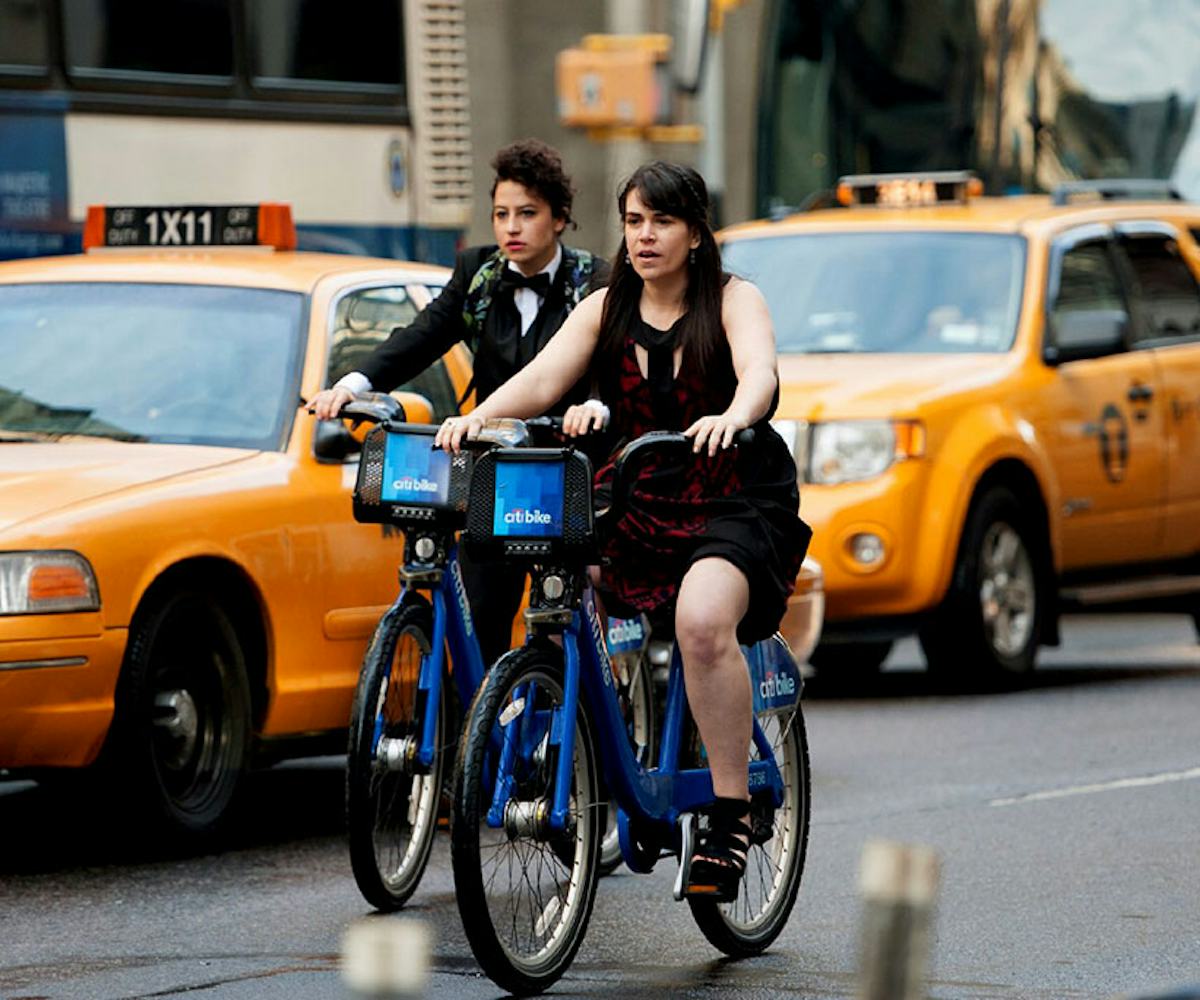 Photo via Comedy Central
What It's Like on the Sets of 'Broad City' And 'Younger'
In New York, you never know when you'll run into a celebrity. Chances are greater if you're working alongside them. Like many others in New York City, I make my living multiple ways. One of my most interesting extra sources of income is background acting. Last fall, I got to be a part of the next batch of the hit shows set in New York City: Comedy Central's Broad City with Ilana Glazer and Abbi Jacobson (in season two's dog wedding scene), and TV Land's Younger with Sutton Foster and Hilary Duff. Ahead, what I've learned from being on the sets of TV's next big shows.
Clothes and looks are everything. What you wear tells a story (see: Ilana's best costumes). While you will get direction from the wardrobe department, think about your ensemble ahead of time. Don't wear distracting brands, logos, or words (i.e. "Namastay'd in Bed" or "Kale") unless specifically requested and don't try to steal the spotlight with neons. And, life lesson: always bring multiple options. 
Even if you're not a union member, background acting a great way to spend time to experience new parts of the city through the eyes of television writers. Gone are the days of Sex and the City brunches and Gossip Girl rendezvous in Manhattan. Everyone's talking about various up-and-coming lively neighborhoods of Brooklyn.
Again, the setting is also a character of influence. Williamsburg shines on shows like Younger or Girls. The neighborhood even rubbed off on Hilary Duff, who is currently rocking mint green hair and a "BK" tattoo. Must mean love.
Although you're not supposed to interrupt filming, playing a small role is the best way to cross paths with your idols. While on the set of Younger, I was able to introduce myself to creator Darren Star. As a SATC superfan, I almost died. Seeing how he directs off the script was amazing.
On that note, you'll find celebrities are generally nice! During a break, I Hilary Duff I was a fan of Beauty & the Briefcase. She was super-sweet.
Oh, and celebrities really are just like us. 
It's really hard not to laugh on set with comedians. Webby Awards host and Justin Bieber roaster Hannibal Buress is a riot on Broad City. When he's improvising outside the script, he's somehow even more funny.
Even if you're an extra, you play an integral part of the overall story. You fill the space that needs movement for the set to feel authentic, even if you're at a bar at 10 a.m.
During brief moments of downtime, you're able to really connect with other dreamers and doers on set. Everyone's hungry to be a part of the creative space. I always leave inspired.
When you're watching the season premiere months later, you realize how much details matter. Facial expression and body language are key in communicating what you want. Great acting and projection are key. 
In the end, you forever live as part of the cultural climate. It also makes for a great conversation starter.