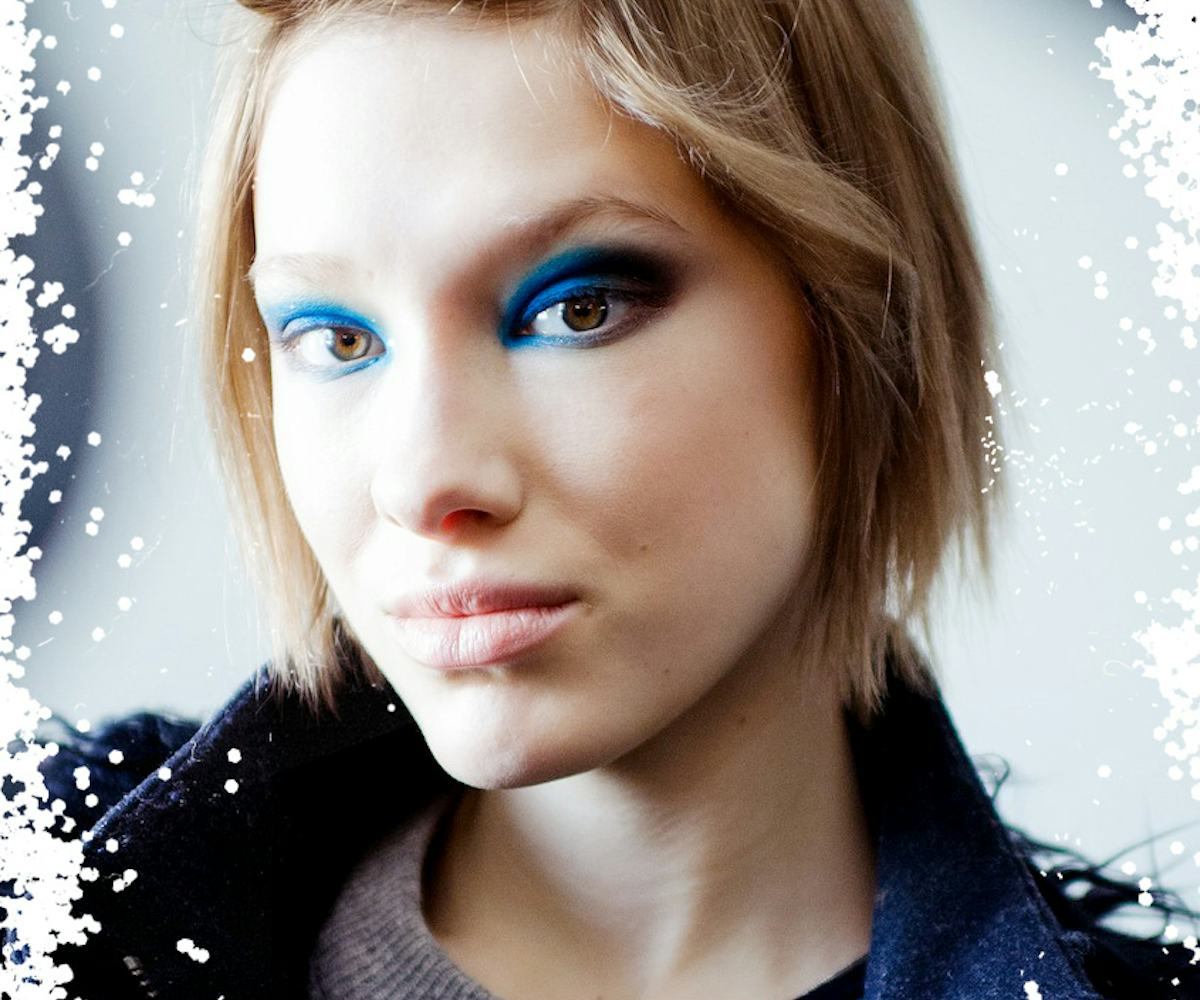 photo by collins nai
how to copy nyfw's coolest beauty situations
8 how-tos straight from the runway
Runway beauty looks might appear complicated, but usually they're really simple—which makes sense, considering backstage at Fashion Week is all about getting the models in and out of the chairs as quickly and efficiently as possible. Here, we take our favorite looks and spill the secrets for how to copy them. They may be bolder than you're used to, but that's what makes them so great. Hey, you only live once, right? 
Backstage at Karen Walker, Sephora Pro makeup artist Benjamin Puckey proved that for a killer smoky eye, you only need two bold colors. He used brown and blue, creating a fashion-peacock vibe that was at once '60s-influenced and futuristic. Copying it is simple, if you know the tricks: Puckey layered eyeshadow on top of eyeliner in order to get the color to really pop. He applied Sephora's Contour Eyepencil 12hr Wear Waterproof in Cocoa to the outer corner of the eyes, and then put Sephora's Tiramisu eyeshadow over it. Then, he applied Urban Decay's Gonzo Eyeshadow from the Electric Pressed Pigment Palette around the inner corners of the eyes. Using a clean blending brush, he buffed the two colors together, and then extended the pigment into the exaggerated cat-eye shape you see here. 
Screw a natural-looking bold brow: Go big or go home, right? Rather than being delicate with a brow gel, use grease paint and really have fun with broad strokes. Also, using an actual paintbrush (like, from a $.99 store) will help you get those broad, messy lines. The idea is that is should look like eyebrows from far away but have that kind of Blade Runner feel, which is coincidentally where head Maybelline artist Yadim Carranza got his inspiration.
The perfect burgundy lip is in the eye of the beholder—and the lip of the wearer. To get the exact-right moody wine shade for your pout, steal a page from Sarah Lucero, Stila's Global Director of Creative Artistry. Backstage at Alice + Olivia, she layered Stila's Stay All Day Liquid Lipstick in Fiery, a matte red, underneath Stay All Day Vinyl Lip Gloss in Merlot, a black-based pink gloss. "This adds that kind of lacquer finish, but the red underneath gives it the pop," she explains. Adjust the amount of gloss over the matte red to control the depth of the color until you get the perfect shade. 
To complement the high necklines in Wes collection at Made Fashion Week, L'Oreal hairstylist Syd Hayes created a grungy, undone bun. To get the look, work a mousse through your wet hair and then blow dry it. Then apply L'Oreal Mythic Oil Milk to give your hair a slightly greasy look. Create a center part, and then throw your hair into a ponytail with a regular black hair band. Instead of pulling it all the way through, though, loop it over itself (leaving the hair band exposed). Pin it in place, leaving the tail flipped out. The whole style can be done in under five minutes—it doesn't get much better than that.
Another amazing Made Fashion Week designer, Webb's styling proved once and for all that elegant updos don't need to be perfect—nor time consuming. TRESemmé hairstylist Jeanie Syfu whipped up this braided chignon on a load of gals before the show. First, she prepped wet hair with TRESemmé's Perfectly (un)Done Wave Creation Sea Foam, rough drying it and then creating a center part. After securing it into a ponytail, she divided the pony into two sections and then tied those sections into a knot. She braided what was left, fastening with an elastic and then wrapping the braid into a bun at the nape of the neck. If you can tie a knot, and braid your hair, you can do this—but no one has to know it was this easy. 
We know you know how to put your hair into a ponytail, but how about this super-chic asymmetrical situation? Start by applying Moroccanoil Volumizing Mousse from root-to-tip and then blowdry it straight (obviously skip this step if your hair is already straight). When it's mostly dry, work in some styling gel and then straighten it. Create a deep side part, and pull your hair into a ponytail at the nape of your neck, leaving a section in front loose. Then, simply mist with a hairspray and add a shine product like Moroccanoil Glimmer Shine to finish. 
We've already sung the praises of this incredibly cool block-eye. To do it yourself, do as makeup artist Alice Lane did and use Maybelline's graphic liquid liner, which makes drawing thick, precise bold lines super easy—once you have that on hand, it's just a matter of placement. Trace a cat-eye over your lid but only actually press down when you get to where the flick would be. Then, draw a line extending outwards. It's the coolest take on our go-to liner look we've seen yet. 
We don't necessarily have the steadiest of hands (thank you, coffee addiction) but that doesn't mean we don't like a little fancy nail art now and then. That's why we were so excited about this trick used backstage at Tadashi Shoji. Instead of trying to use the nail polish brush, use a sponge! To get this exact look, apply butter LONDON Nail Lacquer in Cotton Bud on the tip of your nail, fading the color up diagonally "like a cloud." Then, take the opposite side of the sponge, and apply butter LONDON Nail Lacquer in Full Monty (gold), softening any harsh lines and blending the gold and the white ever so slightly. Finish with a top coat to add some shine.