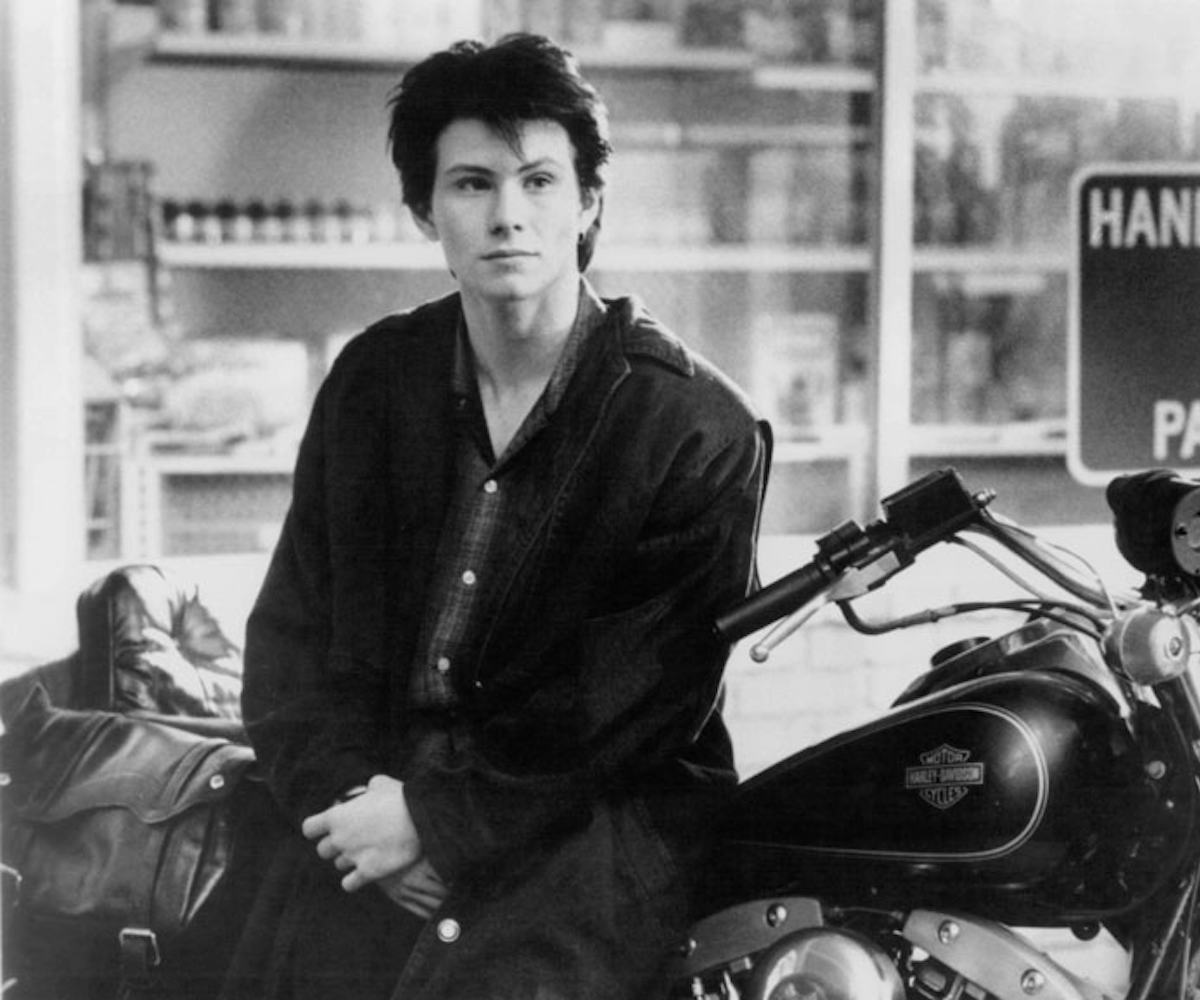 Photo via New World Pictures
the hottest bad boys + girls of all time
what you gonna do when they come for you?
Sociologically speaking, human beings are attracted to things that are, well, bad for them—especially when it comes to love and lust. It oftentimes comes in stages—during your rebellious teenage years, after a traumatic event (like a breakup or death in the family), and after you realize you've been in a monotonous rut (or so the movies would lead us to believe)—but for some, it's a constant desire. And while there are certainly various psychological and physical reasons for the "bad boy/bad girl" allure, one thing is relatively certain: Popular culture has a deep-rooted fascination with Hollywood's baddest. Whether it's their "I don't give a f**k" attitude, or the fact that they seem so unattainably cool, we're not exactly sure—but who cares? When you're hot, you're hot. Click through the gallery to see our list of the hottest celebrity rebels of all time.
**Please note that when we say bad, we're referring to a certain attractive rebellious quality—not bad in the sense of committing violence against another person. In fact none of these hotties are known perpetrators of abuse.
Colin Farrell
In the late '90s and early aughts, it seemed as if the atmosphere was completely consumed by Farrell's overwhelming testosterone, cigarette smoke, and thick Irish brogue. And while we were all becoming increasingly aware of the dangers of secondhand smoke, we were all okay with it. Because even though we all knew that "hanging out" with the part-actor-part-player meant falling into a cycle of week-long benders and heartbreaks, it all seemed worth it (and probably was).
Winona Ryder
Dark, broody, and self-assured, we'd probably aid in her shoplifting ventures. After all, her smirk and dark eyes are rather witchy and hypnotic. 
Kate Moss
Like the rest of the earthly population, the moment we saw her first Calvin Klein advert, we knew there was something special about Kate Moss. Not only did she switch up the fashion world, but she completely changed pop culture—ushering in the era of heroin chic. And while there's not much true glamour to drug use, Moss always seemed to be more than that. She has this ominous half-smile that allows her to pul off her odd sense of humor (ex: "Americans are really obsessed with their teeth being white and straight, aren't they? I saw this little girl the other day with one of those whole head braces. Elastic all the way around! How traumatizing for a child to have to wear one of those! You look like a monster.").
Justin Bieber
Oh Justin... You may easily be one of the most entitled (and, as a result, revolting) people on the planet, but you somehow have managed to capture the adoration of millions of pre-pubescent girls and boys around the world. They say that children are the future, so, we suppose you may be the first in a string of new bad boys to come—one that we don't necessarily understand, but one we must acknowledge nonetheless.
Macaulay Culkin
From Home Alone to underage kegger host, Macaulay navigated the aftermath of childhood stardom like a true pioneer. He stopped acting when he learned to make his own decisions—staying true to his needs and desires. He captured the heart of Mila Kunis and he sure as hell captured ours. If you're not already familiar, check out his internet-age Velvet Underground band, The Pizza Underground.
Kanye West
Sure, he may have an unhealthy admiration for Beyoncé and extremely strong opinions, but we ask this question: Who doesn't? Where he was once hard and defensive, he is now sympathetic and bright-eyed ( comparatively speaking), thanks to the love of his life (and American reality TV) Kim Kardashian and his daughter, North West, who just so happens to have a more expansive, expensive wardrobe than our entire office combined. But even if he wasn't the planet's most affable douchebag, we would still listen to his music on repeat. Because it's too good not to.
Shia LaBeouf
Much like the aforementioned Mr. West, LaBeouf seems to be a changed man as of late. Still, even when he was in the height of his bizarre performance art and plagiarism scandals, there was something about LaBeouf that made us stop in our tracks. Was it his beard, so robust that you knew one make out would account for all the times you forgot to exfoliate in your lifetime? Or perhaps it's the fact that his pheromones were so pungent that you could sense them through a computer screen? Or maybe it's the fact that he pulls off a paper bag better than anyone else could ever imagine?
Kristen Stewart
Let's get one thing straight: Kristen Stewart doesn't give a f**k about your opinions of her. As apparent by each of her public appearances, she isn't in it for the spotlight—she's in it for the art. And the eyeliner. 
Madonna
Unapologetically sexual and all-in-all badass, Madonna could care less about how you want her to act. She's just doing her own thing, seducing the masses one bicep curl at a time.
Miley Cyrus
Her tongue launched a thousand ships, her twerk, a thousand tweets. She can't stop—being a revolutionary, dressing like a bird of paradise, and attempting to perfect the crotch grab. But she's not looking to be a maverick; as she's told us before, she's just being Miley.
Rihanna
She calls herself "Bad Gal RiRi," so it's obligatory to include her on this list.
Christian Slater
Never was there ever a sociopath more attractive than Christian Slater. Christian Bale put up a hell of a fight, though.