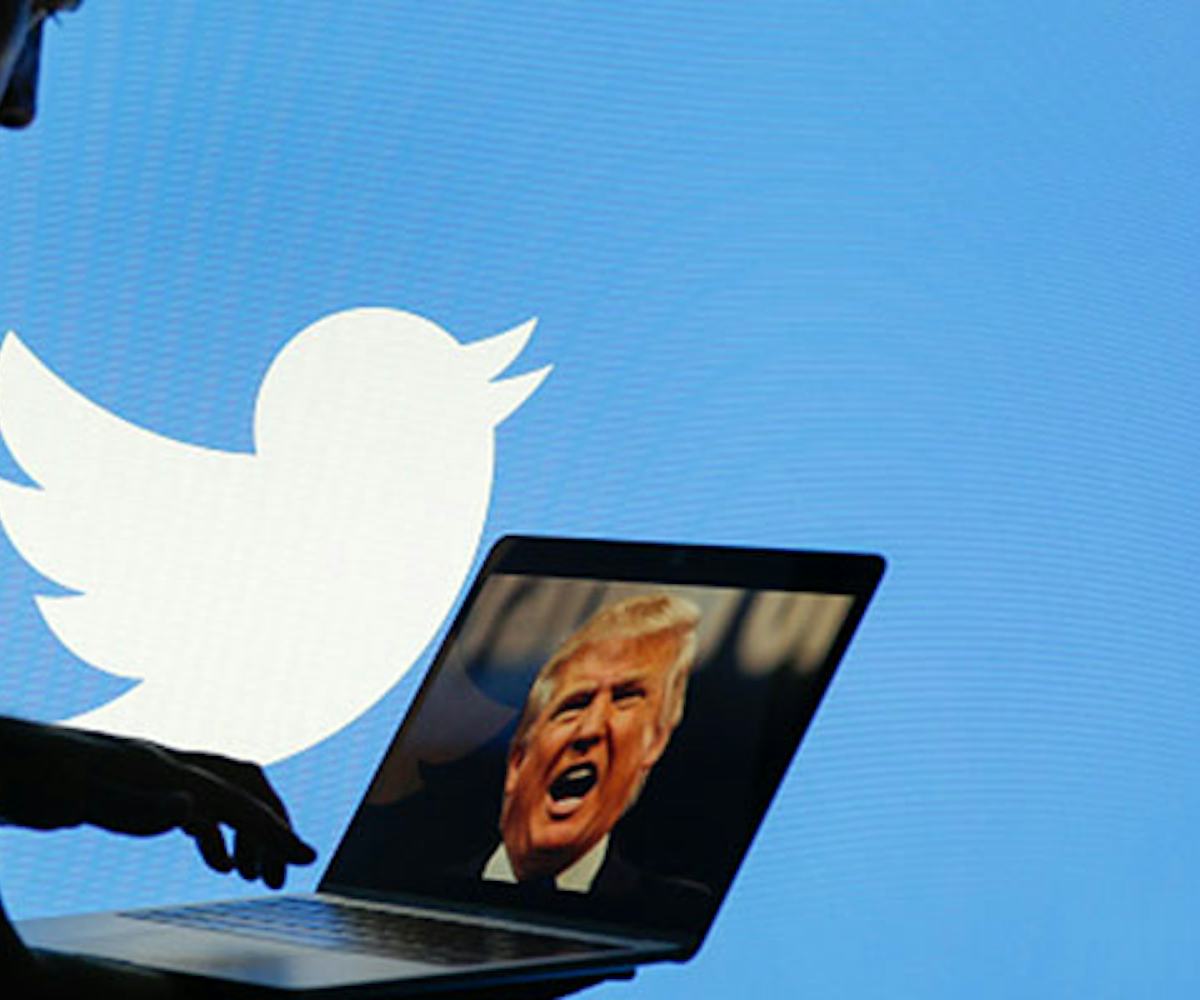 Photo by Jaap Arriens/NurPhoto via Getty Images
Meet The Hero Who Deactivated Donald Trump's Twitter Account
He deserves his own holiday
For 11 long, glorious minutes on November 2, Donald Trump's Twitter account was deactivated. We didn't have to read his sad tweets about how a magazine (never) asked him to be on its cover. We didn't have to watch him retweet xenophobic videos from a well-known British hate group. We didn't have to fear imminent nuclear war with North Korea. The hero responsible for what will likely be our only break from Trump's insane ramblings for the next three years is Bahtiyar Duysak, a third-party contract employee at Twitter who on his last day of work deleted the president's account and gave us all a moment of peace.
Here is what we know about him. According to BuzzFeed, Duysak, who was working in Twitter's Trust and Safety division, is originally from Germany and has a master's degree in banking and finance from the University of Birmingham in England. He finished a postgraduate program at California State University and worked for other tech companies as a contractor, including Google and YouTube. From what can be gathered from his Facebook page, Duysak seems like a compassionate person. He was a former volunteer security guard at a Bay Area Muslim community center, and the group's Facebook page featured photos of him delivering bikes and school supplies to underprivileged and refugee children. 
While this incredibly generous act seems like it would be typical for Duysak, he actually didn't delete Trump's account on purpose. (Or so he claims.) He told TechCrunch that a Twitter user had reported Trump's account and he took the step to deactivate it, claiming he didn't expect it to actually work. "I didn't hack anyone. I didn't do anything that I was not authorized to do," he said. "I didn't go to any site I was not supposed to go to. I didn't break any rules."
He simply reported Trump's offensive behavior as a "throwaway gesture," TechCrunch writes, closed his computer, and walked out of the building. Duysak apparently didn't even realize what had happened until a woman approached him on the street. Then he saw the news. Two days after he deactivated Trump's account, Duysak changed his Facebook cover photo to a waving American flag. "Love America!!" he wrote, just to complete the Olympic-level troll. 
The fact that Trump's account was deactivated should tell us that the president is violating Twitter's user policies. Sadly, the company protects Trump's account from being deactivated over Terms of Service violations, claiming that some tweets, while they go against policy, are nevertheless "newsworthy" and it's in the public's best interest to keep them live. That's why Duysak didn't think his account would actually be deactivated.  
Unfortunately, after this incident, Twitter is now conducting a full internal review and implementing measures to prevent something like this from happening again. But we'll always have those 11 minutes.