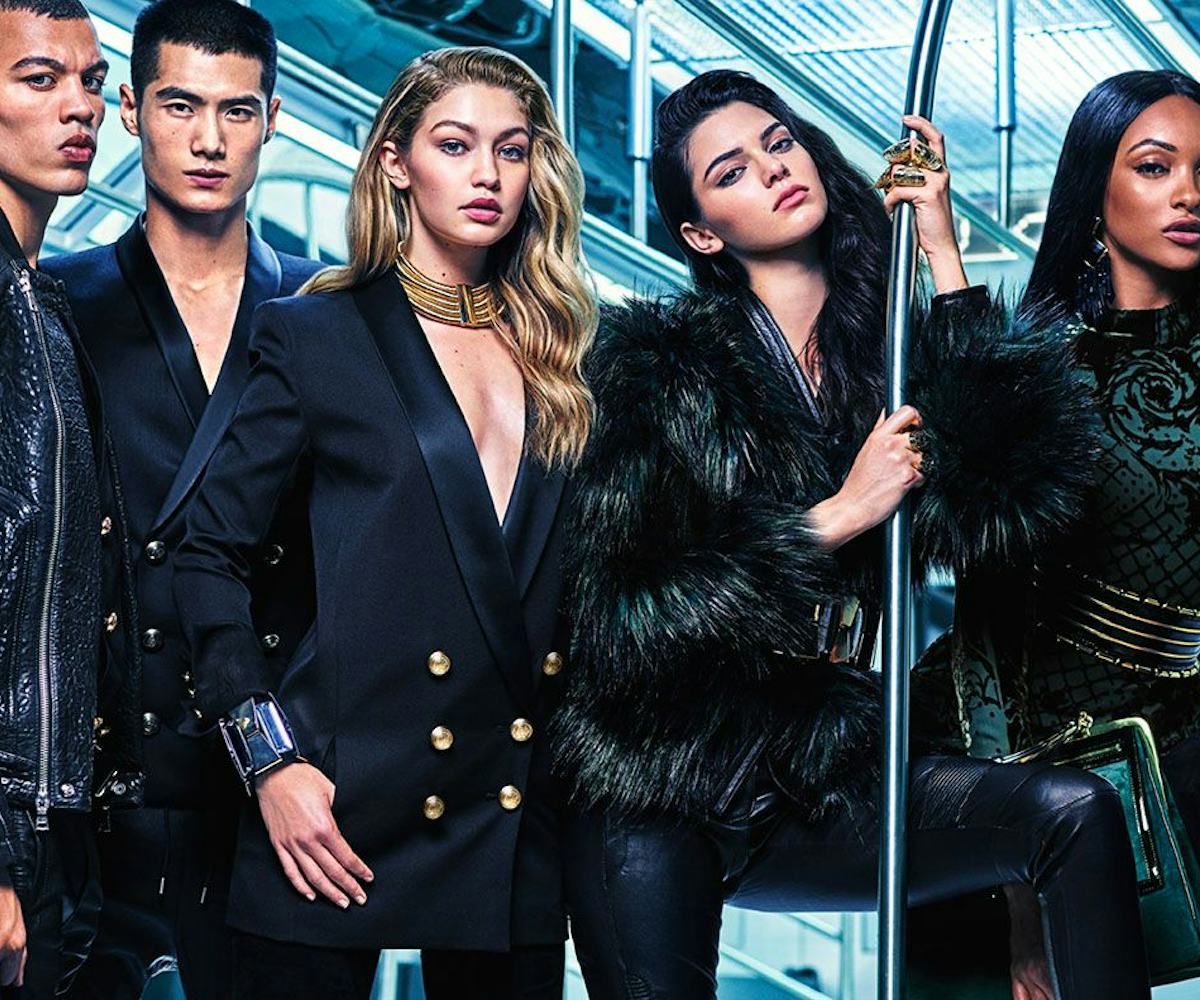 Photo by Mario Sorrenti/Courtesy of H&M
The Balmain x H&M Collection Will Be Debuted With An Epic Dance-Off
november 5 can't come soon enough
Since Kendall Jenner helped debut Olivier Rousteing's luxurious Balmain x H&M collection at the Billboard Awards, we've been counting down the days until we can score one of its lust-worthy, hand-beaded dresses and faux-fur jackets. Now, as its November 5 release date creeps forward, more news about the covetable collection is keeping us on edge as we wait to blow a paycheck on it. And with tomorrow's launch event, things are getting more and more exciting.
Tomorrow, the collection will not be shown off in a fashion show. Rather, the lucky attendees of the H&M x Balmain launch party will bear witness to a dance party—but not just any dance party. Rousteing has rounded up his favorite models (including campaign stars Kendall Jenner, Jourdan Dunn, and Gigi Hadid) for a Paris Is Burning-style dance off on a two-level runway with a customized staircase. These models may frequent the pages of Vogue—but hopefully, we'll see if they also know how to vogue. And never fear if you weren't one of the elite invitees: H&M will be airing the show live on Periscope for all to see. For a preview of what's to come, Yahoo Style also aired a behind-the-scenes video of Kendall Jenner rehearsing with the professional dancers who will also be in the show. If we know one thing, this event is going to be one hell of a party.
And while you're gawking at what may be the fashion show of the year, you can also start planning your shopping strategy. Images of the entire collection have been released, along with prices. Be warned, though: Prices for this collab are much steeper than previous ones, ranging from $35 for a Balmain tee to $570 for the collection's most expensive dress, which features $250,000 hand-sewn beads. You get what you pay for. And this luxe collection may very well have us breaking our piggy banks so we too can join the #BalmainArmy.