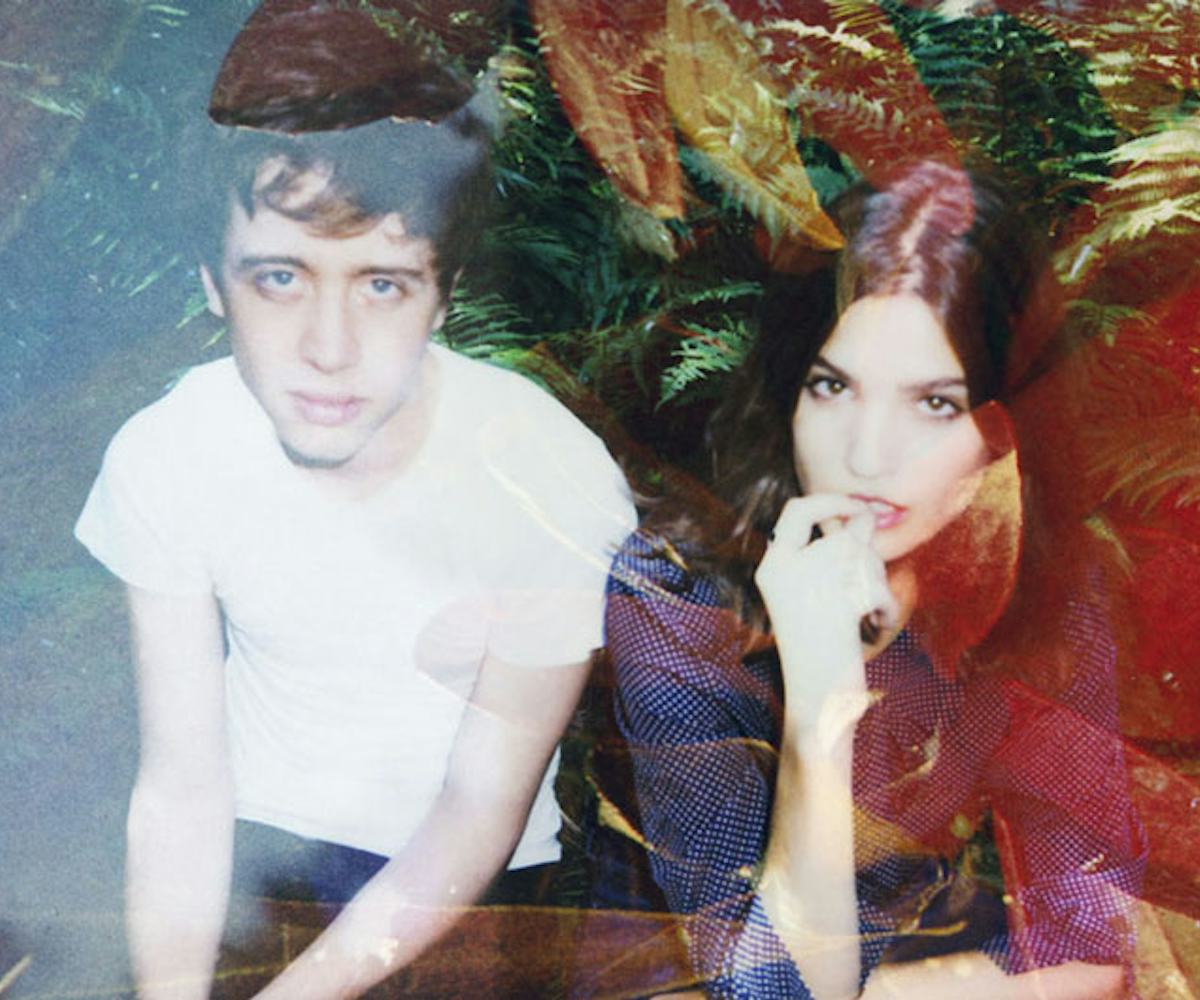 photo courtesy of burning peacocks
band crush: burning peacocks
sensual, psychedelic dream pop
If you need a break from all the synth jams overtaking music blogs, look towards Parisian duo Burning Peacocks. Comprised of Alma Jodorowsky and former sound engineer David Baudart, Burning Peacocks create immersive experiences that engage your senses in a visceral way. Their video for "Games," the floating debut single off their debut EP, plays like a short film—which makes sense given Jodorowsky's background. The model, Chanel muse, and Blue is the Warmest Colour actress, is also the granddaughter of Alejandro Jodorowsky, one of cinema's most important experimental filmmakers. "It's very inspiring because it makes me stay in a creative process," Jodorowsky says of her movie making experience. "It also makes me explore my inner self and in that way it's complimentary with my work as a songwriter." We caught up with them recently to find out more about their music, who they are, and how they see themselves.
How would you describe your aesthetic?
David: Warm and dreamy.
How did your career get started?
David: I asked Alma to write the lyrics of our first song, "Games."
Where do you hope to be professionally in 5 years?
David: Collaborating with artists and directors I like.
Alma: To stay true to ourselves and our project. To continue to discover, work and evolve in a good direction.
What are you most proud of so far in terms of your career?
David: I don't know yet... It's difficult to think about it, it's just the beginning... But it's been a great beginning.
Alma: The fact we have kept working hard to make our band exist. 
What famous person dead or living do most wish you could have as a roommate?
David: David Lynch, David Byrne, or David Hasselhoff. We would all live in a big house in Malibu.
Alma: I think Marlon Brando would be a good roommate. But since the apartment would be too small, unfortunately he would have to share the room with me. 
What is your favorite driving music?
David: "Ainsi soit il" by Louis Chedid, a French singer.
Alma: "Mon fils ma bataille" by Balavoine, a very popular French singer too. I like to sing that song out loud with my boyfriend. 
Whose career would you most like to emulate?
David: Alma Jodorowsky!
Alma: David... Bowie!
If you had to live in a past time, what do you think would be the most fun era and why?
David: Madchester.
Alma: A mythological time.
How do you wind down before bed?
David: I'm reading the Andrew Loog Oldham's autobiography. He was the first Rolling Stones manager.
Alma: I watch a movie while eating candy.
What kind of people were you in high school?
David: I was shy, but friends with everybody.
What are some new hobbies you would like to take on?
David: Playing the drums.
How do you hope to grow as creative people?
David: I would like to keep in mind that it's just music, that I'm nothing in a empty venue...
Alma: To keep searching and learning and loving what I do with the same passion. 
If there was a phrase that you think best sums up your approach to life what might it be?
David: "When the seagulls follow the trawler, it is because they think sardines will be thrown into the sea." Big up Eric Cantona.
Alma: "Moisture is the essence of wetness, and wetness is the essence of beauty." - Derek Zoolander