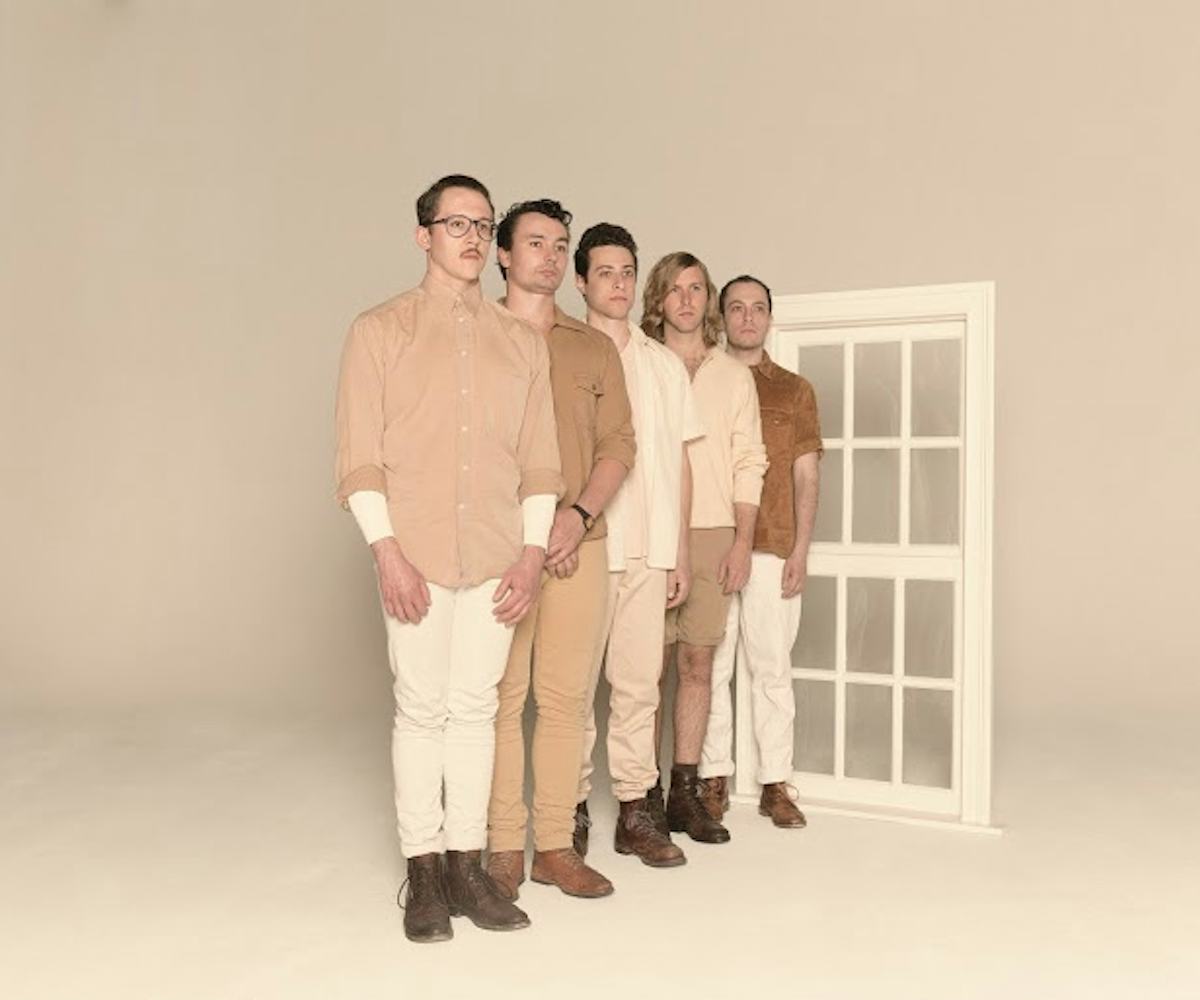 photo by Michelle Huynh / art direction by Shawn Carney
band crush: fort lean
still riding the chill wave
You could say that there's some history between us and Fort Lean. We've actually had a crush on this indie rock band for a while now— three years to be exact. Back in 2012, we described their sound as "surf-inflected melodies and grungy indie rock" and were impressed by their debut performances at CMJ. As we all know though, it's what you manage to do after the breakout phase that really counts, so we're jazzed to see that Fort Lean has maintained their effortless chill vibes.
We're super stoked about the upcoming release of Fort Lean's new record Quiet Day, so we had to find out everything you need to know about it. For the most part, it's got this fundamentally carefree nature to it, as exhibited in the tracks on their SoundCloud page. Mark your calendar for June 23. And while you get to know the dudes here, listen to their latest single "New Hobbies" below. (If you really want to get connected, follow the band on Twitter.)
How and when did the band get started?
Zach Fried: In early 2011 we'd all recently finished playing in other bands and decided it would be cool to start a new project together. We'd all played in bands together before in different configurations, but this was the first one since we'd all entered "the real world."
Why is the band called Fort Lean? Is there a story there? 
We like to say that Fort Lean is a place you can go. It sounds like a place you've maybe been before, but it isn't. It's just the name of our band.
What were you all like in college when you attended Wesleyan University?
ZF: Drunk? Excitable? 20? Most of us were wearing women's jeans and trying to learn how not to offend anyone. We all played in mediocre bands and took classes called things like "Days and Knights of the Round Table" and "Sun Ra and Karlheinz Stockhausen." 
What is everyone's background in music and role in the band?
ZF: We've all been playing music since we were kids. The lines blur a bit with who does what because we can all write songs and play multiple instruments, but the simplest answer is that Keenan sings and plays guitar, Jake plays bass, Sam plays drums, Will plays keyboards and guitar, and I play guitar.
Can you tell me about the creative process for putting the LP together? How long did it take?
ZF: From the point that we started until completion took about a year and half, but we didn't know we were writing the record when we started those first songs. We're always writing new songs, and there isn't a single way they come together. Usually someone starts with a simple idea and we play around with it and it morphs into the ultimate iteration. Other times songs show up pretty much fully formed. And then once the songs were written we went into a recording studio called Dreamland near Woodstock and did a bunch of the recording there.
What's the theme of the LP? Why is it called Quiet Day?
ZF: If there had to be a theme, it would probably be aspirations colliding with reality. We didn't exactly set out to have there be a thematic thread, but one of the images we've gone back to is that of a kid on vacation with his parents stuck inside the hotel room on a rainy day. You're in a great place and it should be really fun, but you're kind of trapped as you stare longingly out the window.
What are some of your musical influences?
ZF: Todd Rundgren, Felt, Air, Wilson Pickett, Kurt Vile, The Zombies, David Bowie, and Stevie Wonder.
In three words, how would you describe your sound?
ZF: Pure Unadulterated Ecstasy
What's next for Fort Lean? Are you going on tour?
ZF: Forward motion. We're going on tour a bunch this summer and probably through the fall and into next year. We're also already working on the next album so hopefully once we're done touring we can get to work on that right away.
Is music your full-time gig, or is it a side hobby?
ZF: We'd all love for it to be a full time gig, but at this point we're also doing what's necessary to pay the rent. But we haven't given up hope yet, so I'd say more than a hobby but not a full time job.
What is your guiltiest music pleasure?
ZF: Rammstein? I don't really know, I don't feel guilty about listening to anything. Some music is hilarious to me, but I also love it in a genuine way. Rammstein is both stupid and awesome.
If you had to pick one song to listen to every morning when you wake up, what would you pick?
ZF: Smokey Robinson's "Tears of a Clown" because that's just who I am. 
What music releases are you looking forward to this year?
ZF: Frank Ocean, Chairlift, and Shamir.
If you could tour with any artist living or dead, who would it be?
ZF: Captain Beefheart probably. I just think it would be really insane and maybe a bit scary, which sounds fun and memorable.