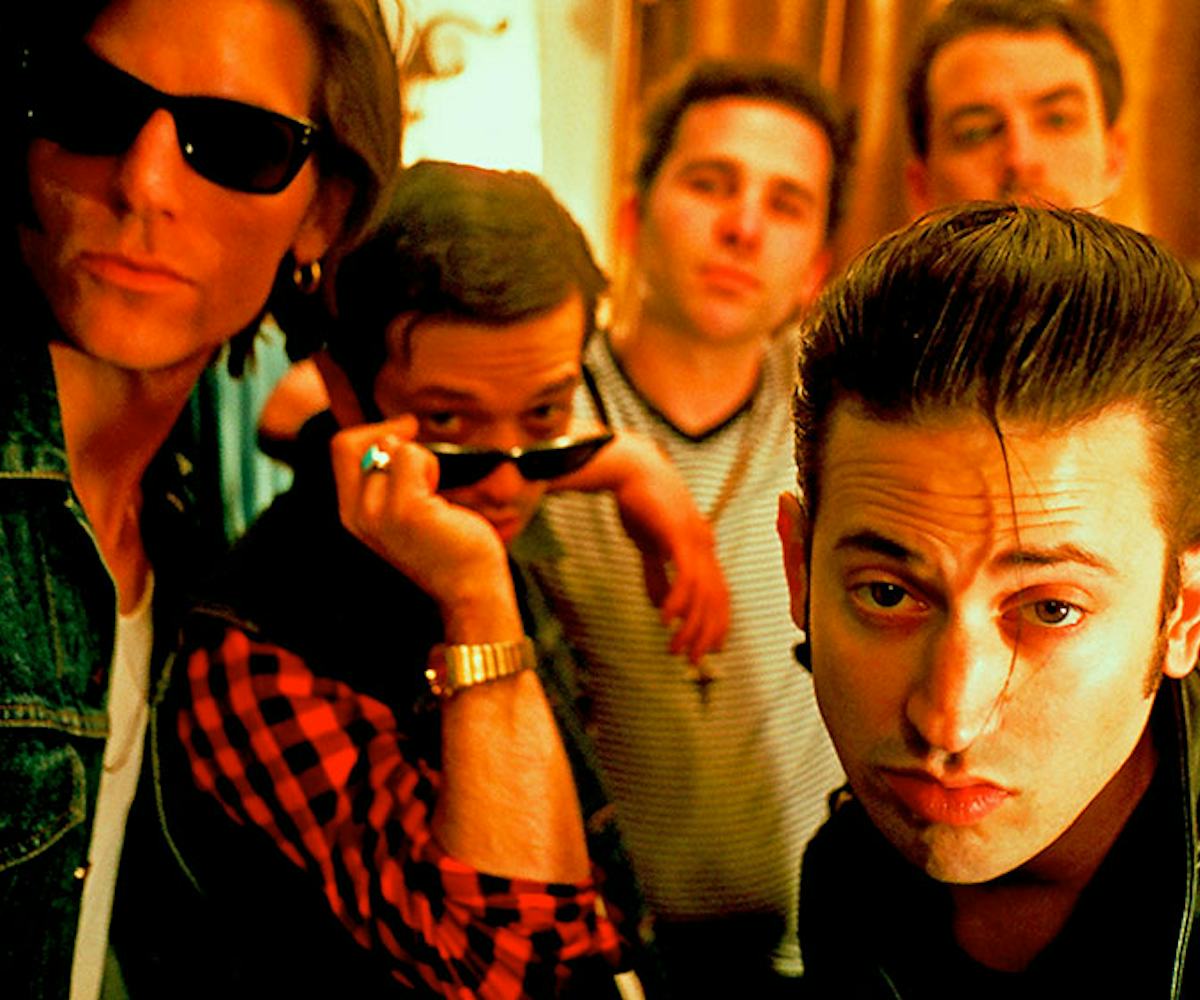 photo courtesy of jeremy & the harlequins
band crush: jeremy & the harlequins
boogie-woogie rock 'n' roll.
by yasmeen gharnit + rebecca deczynski
When we think rock 'n' roll, we think classic badass—and there's nothing quite as badass as writing an entire album in just one week. Leave it to
to come together by chance, click, and churn out a record that evokes the crooners and jammers of times past in just a few days. With some melancholy yet playful vibes reminiscent of both Elvis and Buddy Holly, the group of five stays true to their acoustic rock roots while mixing in their own definitive style. It's not vintage—it's retro.
With their new album, 
American Dreamer,
out February 10, a vinyl release scheduled for May, and a song in the recent Tom Cruise film
Live Die Repeat: Edge of Tomorrow,
Jeremy & The Harlequins are poised to start a classic rock 'n' roll revival. Their new song "Some Days" is the perfect cloudy day jam, giving classic rock vocals and percussion a personal touch, making for a song that works just as well in 2015 as it would in 1955.
Read our interview with singer Jeremy Fury and listen to "Some Days" below. Check out the band on Facebook. 
How would you describe your aesthetic?
Rock 'n' roll boogie-woogie chic.
How did the band get started?
Craig and I had been working on music for awhile after our previous bands split.  It took us awhile to find a few more members to add to the gang. My brother, Stevie, just happened to be back in the USA visiting. We started working together and the sound just came together. As far as Patrick, we miraculously met Patrick only a day before we started working on the record. We met Bobby very recently at a rock 'n' roll show.
Who are some of your influences?
Buddy Holly, Gene Vincent, T-Rex, Mott the Hoople, New York Dolls, Elvis (both of them), Roy Orbison, and the band that guy who Kanye West recently collaborated with used to play in.
What are you most proud of so far in terms of your career?
Our new record, American Dreamer.
What is your favorite driving music?
Johnny Cash, The Ventures, and Neil Young.
Whose career would you most like to emulate?
Michael Keaton.
If you had to live in a past time, what do you think would be the most fun era and why?
I think Woody Allen had it right with Midnight in Paris. Take that how you will.
What kind of people were you guys in high school?
I was quiet and played a lot of music. Stevie was everybody's best friend. Craig was the cool skater dude. Patrick was the class clown. Bobby wore black jeans and a leopard print jacket.
What's a serious side of you that people are unlikely to know about? Either in terms of interests, hobbies, or personality?
Stevie was a chef in Paris at the US embassy and use to cook for diplomats and generals. He quit to play rock 'n' roll with us. Craig is into all things design whether it be rebuilding his apartment from scratch or taking photos on old cameras. Patrick has a little boy named Teddy. Bobby is an Aikido master. I watch Bob Ross Joy of Painting videos to fall asleep at night.  
What are some of your favorite Internet "memes" of all time?
Most any of the ones with that guy from Ancient Aliens.
If there was a phrase that you think best sums up your approach to life what might it be?
Do what you want to do with the people you want to do them with.