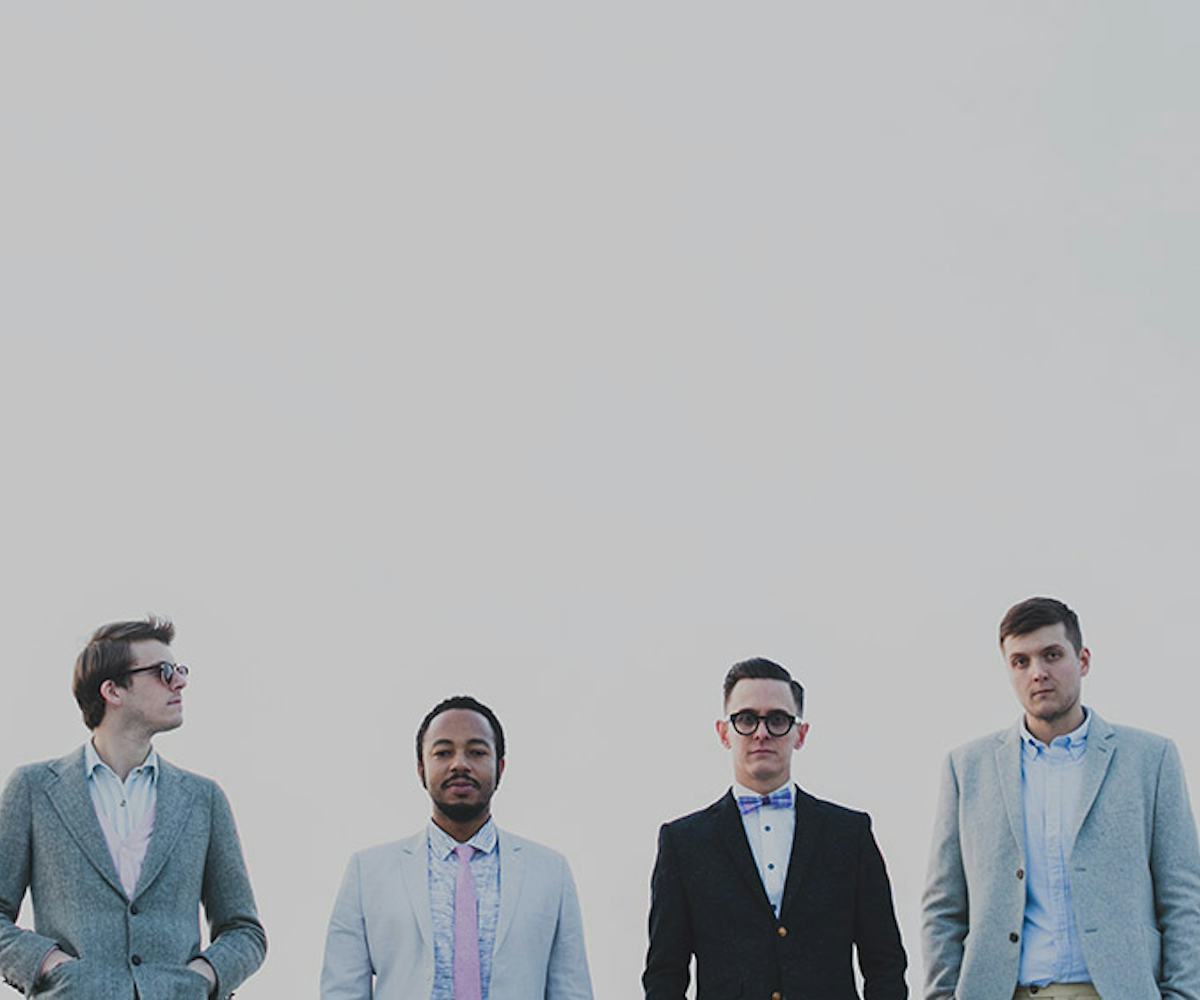 band crush: miniature tigers
these lyrics sound like they're straight from your summer '14 diary.
by written by jackie yaeger / lyric art by liz riccardi
Whatever it is that you're getting into this summer: a swimming pool, a break-up, a long distance text-ationship, Miniature Tigers' tracks--especially those off of their latest Cruel Runnings record--will get you through it. With lyrics like "Our love was worn like a VHS tape of Aladdin, now our love is so cold, laser disc of Cruel Intentions," (from their latest single "Used To Be The Shit"), listening to these pop rockers is like listening to your own diary entries from a crazy-wild summer, read out loud by your hot neighbor.
Normally, this would be a totally terrifying experience. But thanks to the record's summery aesthetic and addicting synthpop beats, it's more like re-reading your diary in the sun, while eating your favorite candy and sipping on a Mondo Cooler (not so bad).
I had the chance to chat with frontman Charlie Brand and guitarist Algernon Quashie of the indie four-piece about their favorite rom-coms, where their lyrical inspiration really comes from (not my diary, surprisingly), and how they pass their time on the tour bus. Check out the interview below!
Your lyrics basically feel like you've hacked into my personal diary. Where does the inspiration come from?
CB: It mostly comes from personal experience. Also, too, for the new album, I tried to write lyrics that had that, "Oh I can relate to this or I understand this," feel to them, finding things in my own life that I could translate to almost anybody, trying to find those universal things. I think that makes for a more enjoyable song experience.
I feel like your tracks could be their own mini rom-coms. What are some of your favorites?
CB: My all-time favorites are Nancy Meyers' films; Father of the Bride, It's Complicated, Something's Gotta Give. She is the Stanley Kubrick of rom-coms.
It's cool how you asked your fans for to make their own "Used to Be the Shit" videos for that single. What was one of your favorite submissions?
CB: All the early Internet stuff from AOL 3.0, GeoCities, Angelfire, and Tripod. "Hey, Algernon, I don't want to put you on the spot here, but I do want you to send the link to your old Ska band."
AQ: Yeah, I think that was on Tripod...
You pretty much started the band through MySpace. How do you think the online music world has changed since then?
CB: I started putting stuff up on MySpace, and that's where I met Rick, our keyboardist, and we became fans of each other's music. We really became penpals without really knowing each other, and long story short, we put the band together.
AQ: Penpals gotta come back.
How do you pass the time on the tour bus?
AQ: We play a lot of "Would You Rather?" That takes up most of the time. It's kind of like a sleepover...Spin the Bottle.
Where's the best pizza in the whole world?
AQ: There's different classes of pizza. There's "Let me go get a slice of the closest pizza," and then there's "Let's wait in a 40-minute line for this pizza." But, I'm going to stick to the classic and say "Not Ray's Pizza."
CB: I have not been to this place, but apparently it's been voted "Best Pizza in America" several years in a row...the place that Oprah said was the best place.
AQ: Yes, that place that Oprah went to.
CB: It's called "Pizzeria Bianco."
AQ: That's one of the "Let's wait in a 40-minute line for this pizza."
CB: It's like "Let's wait for two hours for this pizza, pizza."
Where are some of your favorite spots around the US?
CB: Austin--Galaxy 10 Theatre.
AQ: NYC--Bedford Hill for brunch. It's a nice little café spot and it's pretty cool during the day. It's like a coffee house, and then in the afternoon it turns into a bar.
CB: Boston--Middle East! Great Turkish coffee, really good food.
CB: The best city ever is McAllen, Texas. It's way way way down in Texas, and since bands don't play down there a bunch, it's always fun when we do because people get really excited and go nuts. There's like, really sweet, genuine cool people down there and also very good Mexican food and a good vibe. They're one of the best crowds in the country. The people are really into music so it's really nice to play for them.
Check the gallery for some of my favorite Miniature Tigers lyrics!
"Used To Be The Shit" - Miniature Tigers Cruel Runnings
"Oblivious" - Miniature Tigers Cruel Runnings
"Tchaikovsky & Solitude" - Miniature Tigers Tell It to the Volcano (2009)
"Like or Like Like" - Miniature Tigers Tell It to the Volcano (2009)